Our analysis of networks and cities.
Raw results here. See also: Digital Results, Spin Cycle.
Networks
Southern Cross Austereo
HIT Network
The HIT brand enjoyed rises of 0.2 in Brisbane and Adelaide and a 1.4 gain in Perth. But in Brisbane that 0.2 was enough to "catapult" the HIT105 from 4th place to second. Such is the way of the ratings gods.
In Melbourne the news was not so good with FOX slipping -0.8 and placing it 3rd on the FM band (5th overall) 0.5 behind smoothfm and 1.9 behind GOLD104.3. But as HIT network CD, Gemma Fordham points out FOX has been subject to some serious disruption with Fifi Box on maternity leave. Ms Fordham expects the station to rebound on her return.
In Sydney, 2DayFM, playing nothing but the hits in breakfast managed just a 3.9 share awaiting a new line-up (yet to be announced) next year?
Triple M
Couldn't be a steadier survey for Triple M with only small variations in each market, most of them upwards. Sydney +0.1; Melbourne +0.3; Brisbane 0.0; Adelaide -0.3; Perth +0.4
NOVA Entertainment
smoothfm
Both smooth outlets in Sydney and Melbourne remained in lockstep (well, almost) – Sydney was up +0.1 and Melbourne went down -0.1 to land on a 9.3 and a 9.1 share respectively.
Nova Network
As of today, Nova can now boast the number one station in Brisbane, Adelaide and Perth. As is often the case, Adelaide's 91.9 won the survey after it farewelled its breakfast team which had nice rise in this survey.
In Sydney and Melbourne the Nova stations were steady with 96.9 returning a 7.6 share and Melbourne's 100 a 7.1.


Australian Radio Network
Not a bad outing for ARN. While NOVA dominates the three smallest metro markets and has a strong foothold in Sydney (#1FM) and in Melbourne with smoothfm, ARN has the #1 and #2 FM breakfast shows in Sydney with Kyle and Jackie O on KIIS and Jonesy and Amanda on WSFM.
But the biggest coup for ARN and its management is the success of its bold experiment with Christian O'Connell in Melbourne. At the half way point in his three year contract, O'Connell Breakfast show has reached #1 FM in Melbourne helping to propel GOLD 104.3 to a 12.5 share and #1 FM and #2 overall. It vindicates the whole strategy that seemed so improbable at the time.
On the other hand, the experiment on KIIS in Melbourne with Jake & PJ remains, shall we say, a work in progress with the station languishing on a 5.5 share.
In Brisbane 97.3 is locked in equal 3rd place with Triple M on an 11.0 share overall, just 0.1 behind 2nd placed HIT105 and 0.9 behind market leader NOVA on 11.9. The venerable 4KQ remains a comfortable #1 AM on an 8.7 share.
In Adelaide, though, ARN suffered a crucial setback. The once unassailable MIX103.3 shed just -0.4 but gave up its crown to Nova 91.9. Meanwhile CRUISE1323 continues to chug-a-long nicely with a +0.2 gain.
In Perth there were great expectations for 96fm which had risen +5.0 from 6th to second place over the past two surveys. Just 0.8 behind first placed NOVA, could they take the lead in Survey 7? Answer: They could have but no they didn't. Instead the station gave up -0.8 of its +5.0 gains. Nonetheless it retained 2nd place and lives to fight another day… er, survey.
MacRadio and other Talk
Despite the controversy and noise surrounding the talent, the numbers remain strong and help vindicate Nine's decision to purchase the network. 2GB, which eased ever se slightly (-0.1) is the only station in Sydney with double figures – a 13.3 share.
13.3 is also the second highest share of listeners of any metro station in Australia. The highest share belongs to its sister station, Melbourne's 3AW on a 15.2. Their Breakfast show with Ross and John commands an astounding 20.6 share.
In Brisbane, 4BC which is largely networked from 2GB gained +0.5 to sit on a 6.4. By comparison, 6PR Perth, which is live and local, dropped -0.7 to land on a 7.6 share.
Meanwhile, in Adelaide, the Nova Entertainment owned FIVEaa returned a 10.3 share, up from 10.0 last time.
Macquarie Sports
The east coast sports network remains anchored to the bottom of the ratings ladder in each market. No doubt with new owners, Nine, more change is coming.
ABC
Local Radio

Not much movement of the stations in the network, just some ebb and flow.
ABC Sydney: -0.2 for an 8.1 share
Melbourne: +0.6 for 9.2
Brisbane: -0.5 for 6.6
Adelaide: -0.2 for 10.0
Perth: +0.2 for 7.2

triple j

Apart from a huge result in Sydney where triple j shot up +1.3 to land on a 6.0 share (which is good for them in that market) the network remained fairly steady across the nation.
Melbourne: 0.0 for 3.9
Brisbane: -0.5 for 6.6
Adelaide: -0.5 for 5.4
Perth: 0.0 for 6.8
Outgoing breakfast duo Ben & Liam finishing on a 5.5% market share, up 1.3% from last ratings period.
Cities
Sydney
Triple J lost most in the Sydney market this survey, down 1.3 to 6.0%. RN and NewsRadio both had small gains. Most movement was steady.
Top station 2GB continued its run, slipping 0.1 to 13.3% overall, more than 4 share points ahead of its nearest rival
Smooth consolidated its second position, up 0.1 to 9.3%
Third placed KIIS slipped 0.1 to 9.0% overall
Fourth placed ABC Sydney lost 0.2 to 8.1%
Fifth placed Nova was steady at 7.6%
With the end of the football season, before the cricket season starts, both sports stations were at the bottom of the barrel, with Macquarie Sports Radio last in the surveyed stations (2SM does not subscribe to the surveys).
2GB won breakfast ahead of KIIS. 2GB won mornings, smooth won afternoons, 2GB won drive, evenings and weekends.
2Day breakfast recorded one of its lowest shares this year, gaining 0.1 to 2.6% of the breakfast audience. The station's previous breakfast show began the year in the 4s, but steadily declined until it was replaced by a more music format recently.
Nova won the 10-24 demographics, KIIS won 25-39s, smooth won 40-54s, 2GB won the over 55s.
Melbourne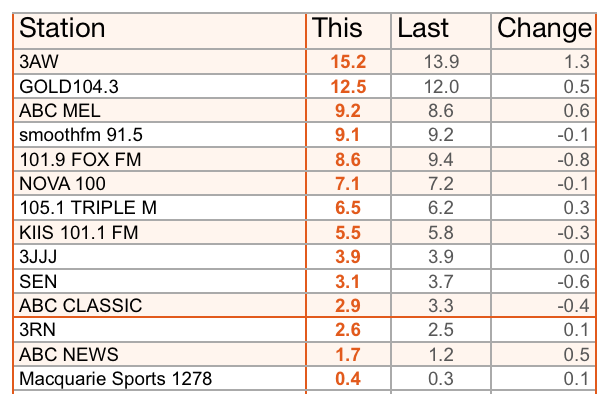 Spring Racing Carnival season in Melbourne saw 3AW gain the most this survey, with Gold, ABC Melbourne, and NewsRadio also lifting slightly. Fox fell most, but its movement was less than one share point.
Top station 3AW gained 1.3 to 15.2% and has the top breakfast show overall
Gold consolidated its second place position, gaining 0.5 to 12.5% and recording the top FM breakfast show
ABC Melbourne moved back into third place, gaining 0.6 to 9.2% overall
Smooth dropped to fourth position, down 0.1 to 9.1%
Fox dropped into fifth place, losing 0.8 to 8.6%
Nova won 10-17s, Fox won 18-24s, Gold won 25-54s, 3AW won the over 55s.
Talk dominates in Melbourne at breakfast time, with 3AW and ABC Melbourne the top two stations overall (AM and FM) in that timeslot. After just 17 months on air Christian O'Connell has proven his worth, securing the top FM breakfast slot in the market after a fall by Fox, where Fifi Box is in maternity leave.
3AW won mornings, Gold won afternoons, 3AW won drive, evenings and weekends.

Brisbane
All movement this survey was under one share point, with Nova and Macquarie Sports Radio dropping most and ABC Classic FM gaining most.
Top station Nova retained its position despite slipping 0.9 to 11.9%
Hit gained 0.2, moving into second place on 11.1%
97.3fm slipped into third place, down 0.3 to 11.0% overall
Triple M was steady on 11.0%, dropping into fourth place due to the rise of Hit
Fifth placed 4KQ rose 0.3 to 8.7%
Nova won 10-17s just ahead of Hit, Hit won 18-24s, Nova won 25-39s, Triple M won 40-54s, 4KQ won 55+ demographics.
Reflecting the close contest at the top of the market, Nova and Hit tied for breakfast dominance on 11.1% in that timeslot. Triple M won mornings just ahead of 97.3fm, Triple M won afternoons, Nova won drive, evenings and weekends.
Adelaide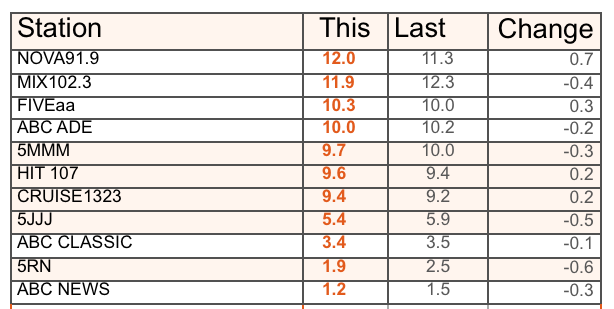 Another market where there was not much significant movement, and all changes were under one share point. Nova gained most and RN lost most.
Nova jumped into first place with a gain of 0.7 share points bringing it to 12.0%. The station's previous breakfast team, Dylan and Hayley, had their last hurrah in part of this survey, helping the station achieve its number one position in their last survey.
Previous leader Mix fell to second place, slipping 0.4 to 11.9%
FIVEaa moved into third place, up 0.3 to 10.3%
ABC Adelaide dropped to fourth place, down 0.2 to 10.0%
Fifth placed Triple M lost 0.3 to 9.7%
ABC Adelaide won breakfast, ahead of rival talk station FIVEaa, then Mix and Nova. Nova's Dylan and Hayley gained this survey, but their timeslot was still less than the station average.
Triple M won mornings and afternoons, Nova won drive, FIVEaa won evenings and Nova won weekends.
Nova won the 10-24 demographics, Hit won 25-39s, Mix won 40-54s just ahead of Triple M, Cruise won 55-64s and ABC Perth won the over 65s.
Perth


Hit had the biggest rise this survey, while 96fm had the biggest fall.
Top station Nova slipped 0.2 to 13.3%
Second placed 96fm fell 0.8 to 11.9%. See our earlier story on Gary Roberts here
Third placed Mix gained 0.4 to score 11.3% overall
Fourth placed Hit had the biggest rise of the survey, up 1.4 to 10.7%
In fifth place, 6PR lost 0.7 to 7.6%
Nova won 10-17s, Hit won 18-39s, Mix and 96fm both dominated the 40-54s, Mix won 55-64s and ABC Perth won the over 65s.
Nova won breakfast comfortably, ahead of Mix then ABC Perth. 96fm won mornings and afternoons, Nova won drive, ABC Perth won evenings and Nova won weekends.
It's that time of year… Looking for a job?
Check our jobs page here.