Networks
Nova Entertainment
smoothfm
The normally reliable smooth brand in Melbourne, at least, dropped another -1.0 to reach a 6.5 share, a low number not seen in several years as Covid continued to have a severe impact in the market while the survey was being conducted.
In Sydney, on the other hand, where the impact of the virus was considerably less, smooth managed to claw its way back to double digits, 10.8 to make it #1 FM and #2 overall behind the 3AW juggernaut.
Nova
Nova's best performance of the day was in Brisbane where it gained +0.4 to kick away from the FM pack and consolidate it's lead on an 11.9 share. Adelaide also gained +0.4 for fourth share of the market and number two FM. In Perth, though, Nova 93.7 shed -0.4 to relinquish its lead to ARN's 96FM.
In Sydney, Nova 96.9 lost -0.5 to land on 6.1 overall, while in Melbourne, Nova100 gained +0.3 for a 5.6 share.
ARN
It was not a bad outing for ARN in Survey 7. Both KIIS and WSFM in Sydney enjoyed modest gains returning 8.7 and 8.3 shares respectively.
In Melbourne where 3AW and ABCMEL, hoovered up more than 32 per cent of the available audience between them GOLD managed to claw back a few points from the swag they lost last time – which was okay given that most other FM stations around them lost share, leaving GOLD 104.3 clear FM leaders. KIIS101.1, on the other hand continued its Covid slide, down to a 4.4
Brisbane wasn't good for either, 93.7 which suffered a -1.2 loss to become 5th in the market while the venerable 4KQ plummeted -2.1 to be 4th on the AM band.
Things started picking up again in Adelaide where both MIX102.3 (+0.4) and CRUISE1323 (+1.5+) up with MIX consolidating its lead in the market. But the best to come was in Perth where 96FM put in blinder to knock Nova off its perch and claim #1 spot with a 13.2 share.
Nine Radio and other talk
The figures for 3AW are astronomical. The Breakfast show went up by a further +2.3 for a staggering 28.4 per cent share of Melbourne's ears, 10+ years of age. Mornings presenter, Neil Mitchell was also up by +3.5 to a 22.6 and then every shift thereafter was on the up and up to return the station a massive 20.6 share.
In Sydney, where Covid-19 was less of a talking point, 2GB eased back a little to 13.7 overall while Ben Fordham's Breakfast show also came off the boil somewhat, it still returned a very healthy 16.1 share of the time slot.
Brisbane's 4BC had the best results they've had for years following the installation of new local Breakfast and Drive shows with a 9.5 result overall. The one major networked show, Mornings with Ray Hadley, piped in from Sydney, posted a 13.8 share, good enough for #1 in that market.
In Perth, things stayed on an even keel with 6PR which nudged upwards by just +0.1 for an 8.6 share.
Meanwhile, in Adelaide, FIVEaa, owned by Nova Entertainment, shed -1.2 yet remained in double digits on 11.0 overall

SCA
The day started off well enough with a good rise for both their Sydney stations, +0.7 for Triple M and +0.1 for 2Day-FM. Triple M Melbourne carried on the good news with a +0.3 gain when most of its FM competitors were losing share. But FOX lost another -0.7 to be down to 5.2 overall.
In Brisbane, B105 edged up by +0.1 to win second place from stablemate Triple M, down -0.4, now in third.
It was a bit up and down in Adelaide too with Triple M gaining +0.6 and SAFM shedding -0.2 with the overall shares being 8.8 and 8.4 respectively. In Perth, MIX94.5 on a 12.0 share, found itself relegated to third place behind new market leader 96FM and Nova 93.7. Meanwhile 92.9 remains on 8.7 and 5th place on the Perth ladder.
ABC Local
ABC local stations lost ground in every metro market except Perth which enjoyed a +0.1 gain, with their biggest drop, in Sydney, -2.2, in the post Covid survey there. Melbourne also went backwards by a relatively modest -0.7 that still leaves it at 12.0 share and clear number 2.
In Brisbane, ABC was down by -1.0. and in Adelaide, by -0.1.
triple j
In contrast with ABC Local, triple j was up everywhere except Brisbane where it was -0.8. In Sydney it was +0.1. Melbourne, +0.7. Adelaide, +0.6 and in Perth, +1.0
Cities
Sydney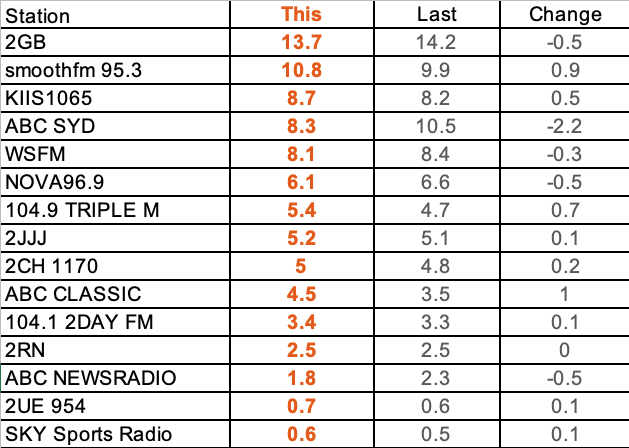 ABC Sydney had the biggest fall in a survey with not much other significant movement in this market.
Top station 2GB slipped 0.5 overall to 13.7%, with some of the shine going off Ben Fordham's breakfast shift, which dropped 1.2 share points in that timeslot.
smooth jumped into second place, up 0.9 to 10.8%
KIIS consolidated its third position, up 0.5 to 8.7%
ABC Sydney dropped form second to fourth palce, losing 2.2 share points to 8.3%
WSFM slipped to fifth place, down 0.3 to 8.1%
Other notable points from the survey include smoothfm securing a record cume of 1,084,000 to be the station with the most listeners in Sydney and 2CH gaining share, possibly as a result of format change publicity. The 2CH music format will no longer be heard on AM1170, whcih will be replaced with SEN sport programming, but it will still be heard on DAB+.
Nova won the 10-24 demographics, KIIS won 25-39s, WSFM won 40-54s and 2GB won the over 55s.
2GB had the top breakfast show ahead of KIIS and ABC Sydney. 2GB won mornings, evenings and weekends. Smooth won afternoons and drive.
Melbourne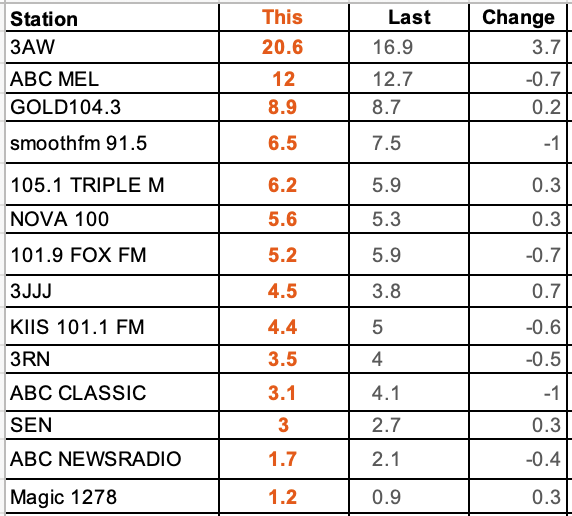 3AW scored a huge increase during Melbourne's covid lockdown and smooth lost the most share this survey. There was little significant share movement in other stations.
3AW consolidated its hold on the market, jumping 3.7 share points to score 20.6% overall, the station's best result in decades.
Second placed ABC Melbourne slipped 0.7 to 12% overall.
Third placed Gold gained 0.2 to 8.9%
Smooth had a rough survey, dropping 1 share point to fourth place on 6.5%
Fifth placed triple j gained 0.3 to 6.2%
Nova was fractionally ahead of KIIS in the 10-17 demographic, triple j won 18-39s, Gold won 40-54s, and 3AW won the over 55s.
3AW's new breakfast team consolidated their lead, gaining 2.3 share points in that timeslot, ahead of ABC Melbourne then Gold FM. 3AW won every timeslot in the market.
Nova's new drive show with Kate, Tim & Joel (4 to 7pm) is the most listened to FM drive show in Melbourne, with an audience of 380,000.
Brisbane
4BC's return to local talk presenters paid off, with the station gaining the largest increase this survey. 4KQ lost most, down 2.1 share points to 7.1%, slipping out of the top 5. ABC Brisbane and 97.3 also lost share.

Nova consolidated its top position with an increase of 0.4 to 11.9%
B105 moved into second place, rising 0.1 to 10.5%
Sister station Triple M slipped into third place, down 0.4 to 10.1%
4BC jumped into fourth place, up 2.4 to 9.5%
97.3Fm dropped into fifth place, down 1.2 share points to 9.3%
Nova won the 10-17 demographic, B105 won 18-24s, Nova won 25-54s, 4KQ and Triple M tied for leadership of the 55-64 demographic and 4BC won the over 65s.
Nova won breakfast ahead of 4BC then ABC Brisbane. 4BC won mornings with Ray Hadley, Triple M won afternoons, Nova won drive and weekends, ABC Brisbane won evenings.
Adelaide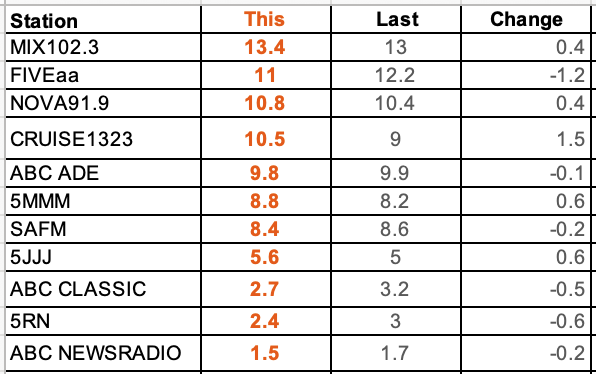 Cruise had the biggest rise of the survey, while FIVEaa fell the most.
Top station Mix consolidated its lead, up 0.4 to 13.4%
FIVEaa lost 1.2 share points to 11% overall, but retained second place
Third placed Nova gained 0.4 to 10.8%
Cruise moved into fourth place, up 1.5 share points to 10.5%
ABC Adelaide dropped into fifth place, down 0.1 to 9.8%
Nova won all the 10-39 demographics, Mix won 40-54s, Cruise won 55-64s and FIVEaa won the over 65s.
ABC Adelaide won breakfast ahead of FIVEaa then Mix. Mix won mornings and afternoons, Nova won drive, FIVEaa won evenings and Mix won weekends.
Perth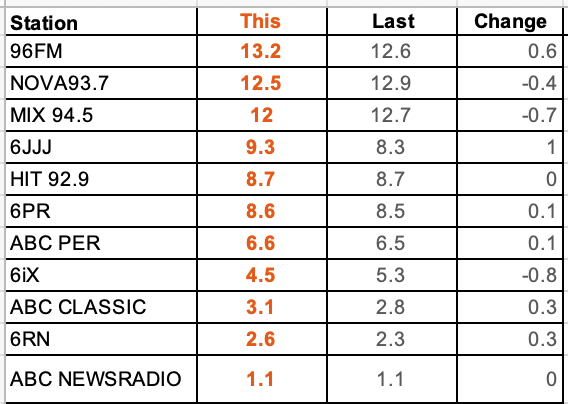 Triple j gained the most while 6IX slipped most this survey. There is a new market leader.
96fm, now managed by Gary Roberts, moved into third place with a gain of 0.6 shar epoints taking it to 13.2% overall
Nova slipped into second place, down 0.4 to 12.5%
Mix dropped into third position, down 0.7 to 12% overall
Triple j moved up to fourth place, gaining 1 share point to 9.3%
His was pushed into fifth place, steady on 8.7%
6PR, with new Perth Mayor Basil Zampelis about to depart breakfast, was placed sixth, up 0.1 to 8.6%, ahead of rival talk station ABC Perth on 6.6%.
Nova won the 10-17 demographic, triple j won 18-24s, Nova won 25-39s, Mix won 40-54s, 96fm won 55-64s and ABC Perth won the over 65s.
Nova won breakfast, ahead of 6PR and Mix. Mix won mornings and afternoons, Nova won drive, 96fm and ABC Perth tied for leadership in evenings and 96fm won weekends.