Our analysis of the networks and cities in this survey period, which included the football grand finals.
Raw results here, Trend Graphs here, Digital highlights here.
Refresh this page during the morning to see the latest additions.

Networks
Southern Cross Austereo
In a mostly great survey for SCA, the highlights were Triple M Brisbane – an unlikely winner last time – extending its lead in that city to 2.0 whole points ahead of second placed Nova… a margin between ist and 2nd not seen in Brisbane for years. While in Perth, Mix 94.5 regained the lead from Nova.
Triple M Network
Apart from Brisbane where the brand boosted its share by ­1.7 on the back of a breakfast show that was ­1.8 it was a fairly quiet day in the office with more ups than downs for the House of M. Sydney was ­0.1, Melbourne -0.3, Adelaide ­0.4 and MIX in Perth was ­0.9.
HIT Network
In Sydney, 2Day FM has hung on to stay in 5+ territory easing back a little from last time -0.1. In Melbourne, FOX went up by as much, ­0.1. In Brisbane, though, the brand dropped -1.1 but made ground in Adelaide ­1.3 while HIT 92.9 in Perth was ­0.6.


Nova Entertainment
smoothfm
Great survey for smooth with both stations in the Sydney-Melbourne network enjoying a rise to be the leading FM station in their respective markets. In Melbourne, 91.5 rose 0.8 to land on a 10.6 share overall to be the only other station besides 3AW in double digits.
NOVA
In Sydney 96.9 benefitted from a giant leap by Fitzy and Wippa in Breakfast, ­1.3 which helped the station (­0.7) to a very respectable 8.6 share of audience overall. Melbourne too saw a gain ­0.8 but on a 7.5 share there's still work to do.
In Brisbane NOVA shed just -0.2 but the gain of ­1.7 by Triple M meant it was now 2.0 behind the leader. In Adelaide, NOVA hit double figures with a ­0.6 gain while in Perth, NOVA's reign as market leader proved to be short lived. While suffering a – 0.7 downgrade, MIX 94.5 gained ­0.9 to win back the lead.


ARN
It was mostly good news where it mattered most for ARN. In Sydney, they owned the #1 and # 2 FM Breakfast shows with Kyle and Jackie O on a 10.5 share and Jonesy and Amanda on 9.0. But that wasn't enough to make either station #1 FM. That honour went to smooth.
As they say happiness is the relief of pain and there was plenty of relief for both talent and management with the release of the Melbourne book this morning. At GOLD 104.3 the great gamble looks to be paying off with Englishman Christian O'Connell raising his Breakfast stakes ­0.5 on top of a ­1.2 gain in Survey 7. Although that gain translated to just a modest ­0.2 uptick for the station, it was enough for it sneak past FOX for second place on the FM ladder behind smooth.
KIIS 101.1 too provided some relief with the other big experiment Jase & PJ up a tad ­0.2 and the station ­0.5. But on a 6.1 share (Mon – Sun) there's still plenty to do.
Brisbane is more of a problem. The once top rating (or there abouts) 97.3 FM is now running fourth on a 9.7 share behind Triple M on 13.3 followed by Nova 11.3 and HIT 10.2. The venerable 4KQ was also down a little – 0.4 to an 8.5 share.
In Adelaide both MIX and Cruise were fairly steady, just -0.1 each with MIX 102.3 retaining its market lead on a 12.9 share. In Perth 96FM enjoyed a nice gain ­1.0 but still a long way from the top on an 8.6 share.


Macquarie Media and other Talk, Sport
In Sydney, 2GB was down a bit while in Melbourne 3AW was up a bit. Both remained far and a way the most popular stations in their markets. Nothing to see here folks.
In Brisbane 4BC is up ­1.0 to record its highest overall ratings in two years, 7.0.
In Perth, 6PR eased back a tad -0.4 while in Adelaide, the NovaEnt owned FIVEaa was -1.0 and relegated to 4th rung on the ladder.
Macquarie Sports Radio
The MacSport brand almost doubled its listener share in Sydney ­0.5 to a 1.1 but halved its audience share in Melbourne to a 0.1. In Brisbane the brand went from a 0.4 share to a 0.6.


ABC Local
Not a great survey ABC Local Radio. For the most part, momentum had stalled on its climb back to where it was a couple of years ago. Aunty's best result was in Sydney where the station managed a modest gain (­0.4) which was good enough for a 9.2 share which put it into its more accustomed second place behind 2GB.
In Melbourne, though, the ABC branch lies in 5thplace even though it has a 9.0 share, just 0.2 behind its Sydney sister.

ABC Brisbane was up 0.5; Adelaide -0.3; Perth -0.9

triple J
A very steady survey result for the j's. Four up, only one down.

Sydney +0.1; Melbourne +0.1; Brisbane +0.7; Adelaide -0.4; Perth +0.3.
Cities
Sydney

2CH had the biggest drop while Nova gained most in this football final survey.
Top station 2GB slipped slightly, down 0.2 to 13.9%.
Second placed ABC Sydney jumped 0.4 to 9.2%, pulling away from third placed Smooth, up 0.3 to 9.1%.
KIIS was in fourth place, up 0.2 to 8.8%.
Fifth placed WSFM gained 0.5 to 8.7%.
Nova won all demographics from 10-39, smooth won 40-54s, ABC Sydney won 55-64s and 2GB won the over 65s.
2GB won breakfast, ahead of KIIS then ABC Sydney. 2GB won mornings, evenings and weekends, smooth won afternoons, Nova won drive.
Melbourne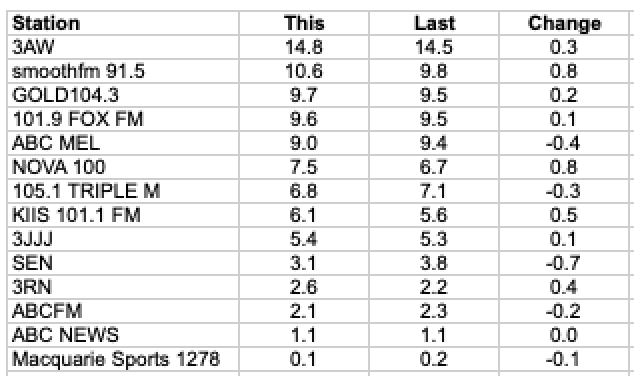 It was a pretty stable survey in Melbourne, with no movement above one share point. SEN dropped most, down 0.7 and smooth gained most, up 0.8.
Top station 3AW rose by 0.3 share points to 14.8%.
Second placed smooth gained 0.8 to 10.6%.
Gold was up 0.2 to 9.7% in third place.
Fourth placed Fox rose 0.1 to 9.6%.
ABC Melbourne was in fifth place, down 0.4 to 9.0%.
Nova won the 10-17 demographic, Fox won 18-24s, Nova won 25-39s, Gold won 40-54s, 3AW won the over 55 demographics.
3AW was streets ahead in breakfast, over 9 share points more than its nearest rival, ABC Melbourne, in that timeslot. ABC Melbourne won mornings and smooth won afternoons. 3AW and Fox tied for leadership of the drive timeslot. 3AW won evenings and weekends.
Brisbane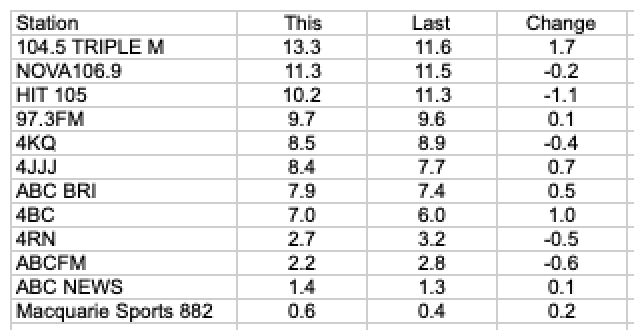 Triple M had the biggest gain while sister station Hit 105 suffered then biggest loss this survey.
First placed Triple M solidified its position with a gian of 1.7 share points to 13.3% overall.
Second placed Nova lost 0.2 to 11.3%.
Third placed Hit dropped 1.1 to 10.2%.
97.3 was in fourth place, up 0.1 to 9.7%.
4KQ held fifth position depsite a drop of 0.4 to 8.5%, with triple j close behind.
Nova won 10-24s, Hit won 25-39s, Triple M won the 40-54 demographic, 4KQ won 55-64s and 4BC won the over 65s.
ABC Brisbane won breakfast in a tightly fought race, just ahead of Nova and Hit. Triple M won mornings and afternoons, Nova won drive, evenings and weekends.

Adelaide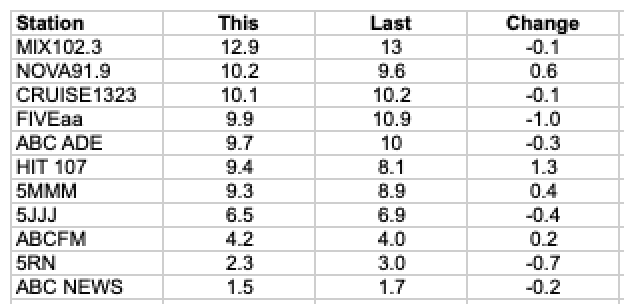 Hit 107 had the biggest gain this survey, while FIVEaa had the biggest drop.
Top station Mix slipped 01. to 12.9%.
Nova gained 0.6, moving into second place with 10.2%
Cruise was in third place, down 0.1 to 10.1%.
FIVEaa dropped into fourth place, down one share point to 9.9% after the footy season ended.
ABC Adelaide was in fifth place, down 0.3 to 9.7%.
Nova won the 10-24 demographics, Hit won 25-39s, Mix won 40-64s and ABC Adelaide won the over 65s.
ABC Adelaide won breakfast ahead fo FIVEaa. Mix won mornings and afternoons, Nova won drive, FIVEaa won evenings and Mix won weekends.
Perth

96fm had the biggest gain and ABC Perth had the biggest drop this survey.
Mix jumped into first place with a rise of 0.9 share points pushing it to 14.8% overall.
Nova slipped into second place after dropping 0.7 to 13.7%.
Third placed Hit gained 0.6 to 11.0%.
triple j was in fourth palce, up 0.3 to 9.0%.
96fm moved into fifth place, rising one share point to 8.6%.
Nova won 10-17s and 25-39s, Hit won 18-24s and 40-54s, Mix won 55-64s and ABC Perth won the over 65s.
Nova won breakfast ahead of Mix. Mix won mornings and afternoons, Nova won drive, Mix won evenings and weekends.