Our Survey 1 analysis of the networks and cities.

Networks
Southern Cross Austereo
First, the good news, SCA stations hit101.9FOXFM and Triple M are number one and two FM in Melbourne respectively – if only by a whisker in a market where there is only 0.7 between first and last of the six major commercial FM stations.
There was good news in Perth too with MIX 94.9 increasing its lead in the market on a 14.9 share.
The rest of the news is not great. On this performance it seems that the Today Network's traditional listeners are not taking a shine to the new "hit" brand with Adelaide, which was the first station to take on the new livery taking the biggest "hit" (sorry) plummeting 2.2 to land on a 5.9. Perth 92.9 was down 1.8 with losses not as dramatic in Brisbane and Melbourne – where despite a 0.9 loss 101.9 FOX managed to retain its number one FM spot. In Sydney, though, they can celebrate a 0.1 uptick to a 3.6 share overall.
Triple M fared better with Sydney improving over the summer (up 0.5) despite a dip in breakfast. In Melbourne, on the back of a 1.5 surge in Breakfast courtesy of Eddie McGuire et al, the station also improved by 0.6. Brisbane was steady with just a 0.1 slip to an 8.7 share while Adelaide shed 1.1.
ARN
Coming into this survey it seemed that ARN's greatest worry would was whether Kyle and Jackie O would beat Jones and Amanda for FM Breakfast supremacy in Sydney. Although both breakfast shows took a bit of a whack, they remain well in the lead with K & J now on a 10.7 share now 2.3 ahead of their stable mates.
Overall, in Sydney KIIS was steady (+0.1) while WSFM shed 1.0.
If early indications are any guide, the rebrand of Mix 101.1 to KIIS in Melbourne has had a positive impact with a 0.8 gain with both Breakfast and Drive making positive contributions.
The addition of Hughesy and Kate in Drive has paid instant dividends in both Sydney and Melbourne.
The news gets even better in Brisbane where 97.3 put in a blinder to leapfrog Nova106.9 for the outright lead and now be 3.8 ahead on a 14.6 share. Even the venerable 4KQ managed a 1.5 gain.
In Adelaide it will take more than a 1.8 loss in overall share to dislodge Mix 102.3 from the number one spot while Cruise 1323 rose by 1.1 to a respectable 9.2 share.
And for the first time, in Perth, ARN can smile with their latest purchase, 96FM enjoying a 1.3 gain to land on a 11.5 share which puts it at number two in the market ahead of Nova 93.7

Nova Entertainment
There's not much to say about the smoothfm brand other than, three years old and it just keeps growing. Now its into 7+ shares in both Sydney and Melbourne.
In Sydney, smoothfm on a 7.3 share is now just 0.3 behind its sister station Nova96.9 – which was up 0.1 but down in Breakfast to a 6.3 share.
Nova's share was dented in Melbourne with a 0.5 drop to put it in the middle of the FM pack on a 7.3 share overall.
While Adelaide did well to nudge 0.1 upwards the Perth and Brisbane took more serious damage. In Perth 93.7 gave up a strong second place to 96FM while in Brisbane it surrendered the lead to 97.3FM in a 5.0 turnaround.
Talk Stations
It would be remiss not start by welcoming SKY Sports Radio to the family of rated radio stations. SKY Sports is now open for business in Sydney and has opened its account with a 0.9 share putting in last place. Still, it's better than an asterisk and they have everything to play for. Meanwhile, established sports station in Melbourne SEN shed 0.5 over summer and can't wait for the footy season to start when it traditionally gains about 1.5 over winter.
Much to Fairfax Radio's delight (at least at Board level) 2GB has again topped the Sydney ratings with a 13.0 share – the only station in the market with double figures and 3.5 ahead of second placed ABC702. Strangely, while Alan Jones gained a whopping 2.0 on Breakfast, Ray Hadley lost 2.3 in Mornings – go figure.
And the MRN shareholders had something to smile about too with 2UE edging upwards by 0.1 and the John and Gary Breakfast Show up by 0.5. It was a mixed bag in other shifts with Mornings up, Afternoons down and Drive steady. Inexplicably, nights crashed from a 9.1 share to 4.9.
Cricket broadcasts, newly re-established this year on Fairfax seemed to help the already strong lineup that includes George & Paul and Tim Webster bringing the station up overall to number two on weekends on a 9.1 share. In fact, Weekends did well in every market, except in Brisbane where they tanked by 2.2.
The new Fairfax/MRN entity will be smiling about the Melbourne result too with 3AW gaining ground to lead the market on a 13.6 share – almost 2.9 ahead of of the number two placed ABC774.
In Brisbane, despite the injection of Alan Jones and his well publicised stint on the station leading up to the Queensland elections, 4BC tumbled to a 4.0 share from a previous 5.1.
In Adelaide, Nova Entertainment one FIVEaa shed 1.0 but remained in double figures to take out 4th place in the market.
In Perth though 6PR gained 1.1 to settle on a 8.4 share overall.
Of the AM Music Stations, Brisbane's 4KQ did best, up 1.5 to be on 8.6. In Sydney, 2CH was steady on 4.4 while in Melbourne, Magic 1278 is also on 4.4 after shedding 0.7.
ABC
ABC Local stations all went up in every capital city. In Melbourne, while 774 enjoyed a healthy rise of 0.7, Red Symons on Breakfast had a blinder, jumping 2.9 for a 16.6 share. More than a third of Melbourne listens to either him or Ross & John on 3AW (18.1 share) in the early shift.
ABC Local also made huge gains in Brisbane and Adelaide, 2.2 and 2.5 respectively while Perth made do with a healthy 0.7 rise.
triple j normally enjoys a surge over the summer months with live events and its Hottest 100 Countdown helping to boost listener numbers. And verily it did well with gains in Melbourne, Brisbane in Adelaide. But it eased back in Sydney and tanked in Perth where it lost 2.0 but remains it's performing outpost overall on a 9.0 share.

Cities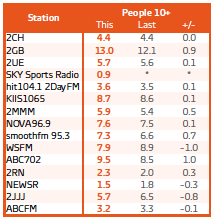 Sydney
ABC702 gained most this survey, up 1 share point overall to 9.5%. WSFM dropped most, down 1 share points to 7.9%, perhaps with some of its older listeners perhaps lured away to cricket on the ABC.
Market leader 2GB increased its lead, up 0.9 to 13%. ABC702 was in second place, followed by KIIS, up 0.1 to 8.7%.
Smooth continues its gradual climb. Sky Sports Radio (previously 2KY) returned to the ratings.
2GB won breakfast, ahead of ABC702 and KIIS. 2GB won mornings and afternoons, evenings and weekends. 2GB and Nova tied for dominance of drive.
Melbourne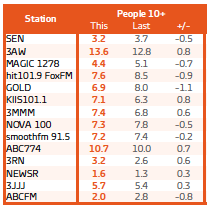 Gold had the biggest drop of the survey, down 1.1 share points overall to 6.9%. Sister station, the newly renamed KIIS 101.1, had the biggest gain of the surveu, up 0.8 to 7.1% overall.
Market leader 3AW also gained 0.8, in top position at 13.6%, followed by ABC774, up 0.7 to 10.7%. Triepl M was third on 7.4%, up 0.6.
3AW won breakfast ahead of ABC774 and Triple M. 3AW, won all other shifts. Both 3AW and ABC774 were broadcasting cricket this season.
Brisbane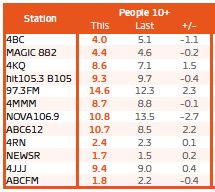 Nova suffered a big drop, down 2.7 to 10.8%, losing the top spot in the market to 97.3, which was up 2.3 to 14.6%.
B105, which was renamed to the hit brand just after the survey finished, was down slightly by 0.4 to 9.3%.
ABC612 was third, up 2.2 to 10.7%. ABC broadcast the cricket and so did 4BC, which dropped 1.1 to 4.0%.
ABC612 won breakfast ahead of 97.3 and Nova. 97.3 won mornings, afternoons and drive. ABC612 won evenings and 97.3 won weekends.
Adelaide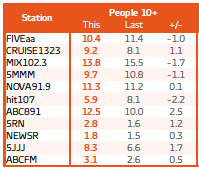 Market leader Mix 102.3 dropped 1.7 to 13.8%, but retained top spot. ABC891 moved to second place, up 2.5 to 12.5%.
Nova 91.9 is third, up 0.1 to 11.3%.
Adelaide was one of the first markets to rebrand a Today network station to hit. The former SAFM dropped by 2.2 share points, from 8.1% overall to 5.9% during this cricket summer survey.
ABC891 won breakfast, ahead of 5AA then Mix. Mix won mornings, afternoons and drive. 5AA won evenings and Mix won weekends.
Perth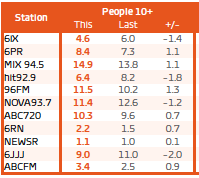 Mix 94.5 retained its lead, up 1.1 to 14.9%. 96Fm was second, up 1.3 to 11.5% followed by Nova, down 1.2 to 11.4%.
The newly rebranded hit station in Perth, previously 92.9, slipped 1.8 share points overall to 6.4%.
ABC720 won breakfast, ahead of Mix then 96fm. Mix won mornings, afternoons and evenings. Nova won drive, and Mix won weekends.