Our network and city by city analysis of Survey 7.
Refresh for the latest updates and see Spin Cycle releases here.
Networks
Southern Cross Austereo
Not much to get upset about for SCA in this survey. Although the Triple M brand lost ground in three out of four markets it managed a healthy uptick in Sydney where it was really needed – which would have pleased all concerned given the effort put in by the Grill Team – and Gus Worland in particular who ran the New York Marathon. What a guy. In any case, as Triple M's group CD Mike Fitzpatrick keeps telling us, 'we're not interested in the overall shares. We're only interested in reaching anyone who pees standing up. And we do that in spades!'
On the Today and/or Hit side of things, the results were even better. 2Day did poorly again, but the call sign is now only a placeholder for better things to come (they hope) in 2015. In Brisbane B105 did okay with a small gain. In Adelaide the newly ordained hit107 stayed about the same as when it was SAFM, which at this stage means nothing.
But it would be on account of the Melbourne result where medium if not high fives would be issued all 'round with The FOX consolidating its FM lead with a gain of 0.7 on the back of some pretty healthy day time numbers and ironically (because they'll make way for Hamish and Andy next year) a good showing for Dan and Maz in Drive.
In Perth, SCA had good results for both mix94.5 and 92.9.
ARN
What a lovely little problem to have. It's like watching your kids play leapfrog at a picnic. KIIS goes up a bit, WSFM goes down (but retains the FM lead) while Kyle and Jackie O regain the FM Breakfast lead from Jones and Amanda.
In Melbourne, not so good. GOLD has slipped to number 3 FM behind FOX and NOVA100 while Mix 101.1 had a tiny gain which means naught since it will be a KIIS in a few months.
In Brisbane ARN's market leader 97.3 remained rock steady on a 13.0 share but has a rampaging NOVA 106.9 breathing down its neck on a 12.9. Next survey may be telling. Meanwhile the venerable 4KQ on AM is chugging along, also steady on a 7.5
In Adelaide both Mix 102.3 and Cruise 1323 went down slightly but retained their respective positions – Mix still way out in front.
Nova Entertainment
Just to show how different the Sydney and Melbourne markets are in terms of the nature of the competition, the smoothfm brand which has mostly been stronger in Sydney and was level pegging in both markets just a few surveys ago has completely turned around. While Sydney's 95.3 has shed a whole 1.0 to land on a 5.7, Melbourne has recorded it's best ever result with a 7.2 share placing it equal with GOLD and ahead of Triple M.
Meanwhile, the NOVA brand went up everywhere. Wait, it shed 0.1 in Perth where it is a strong number 2 behind mix and ahead of triple j – those being the only three stations in double figures in that market. Okay, in Adelaide, NOVA didn't exactly go up either. It remained locked in at an 11.8 share, good enough to hold down number 3 in the market overall while most of the others lost ground.
NOVA kept its best for the eastern states. In Brisbane the station shot up 1.4 to be a tantalising 0.1 behind market leader 97.3 while in Melbourne it gained 0.5 to make it number 2 FM behind FOX. And in Sydney, which has always been a challenge for the brand it gained 0.4 with a similar uptick for Fitzy & Wippa.
Fairfax, Macquarie and other AM
Perhaps it was not a survey for Talk given that both the genre's powerhouses, 2GB Sydney and 3AW Melbourne lost audience share. AW down 1.4 and GB 0.9. Still, neither would worry too much as both retained their leads in their respective markets.
A massive drop of 1.9 in audience share did not prevent 2GB's Alan Jones from cruising to his 100th consecutive survey win.
In Brisbane 4BC went up a little while still languishing in the 4's and 6PR in Perth took a bit of hit to land on an 8.5.
But in Sydney they'll be mutedly thrilled at the modest 0.2 rise for 2UE that puts them on a 5.9. Almost every shift recorded gains. Maybe, just maybe, the strategy is paying off. Only time, and lots of it, will tell.
Meanwhile NOVA Entertainment's one AM Talk station FIVEaa in Adelaide is doing nicely, steady as she goes on an 11.2 share.
Post football, Melbourne's sport station SEN, like Triple M, has taken a bit of a knock to land in familiar (for them) territory on 4.5
While 2CH is on 4.7 Fairfax's Magics in Melbourne and Brisbane are sitting in the 5's
ABC
Not a good result for Local Radio – down everywhere except Melbourne where 774 bucked the trend. Brisbane's 612 took the biggest hit. -2.1 closely followed by Sydney's 702 which plummeted 1.9.
It was the reverse for triple j – up everywhere except Brisbane. It's biggest rise was in Adelaide where it put on 1.3.

Cities
Sydney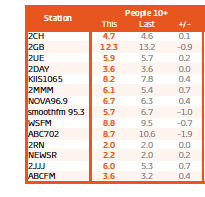 First placed 2GB slipped 0.9 to 12.3 overall, well ahead of the next batch of stations. Alan Jones had his 100th straight survey win.
Second placed WSFM scored 8.8%, down 0.7, followed by ABC702, which had the bigest drop in the survey, down 1.9 to 8.7%.
KIIS gained 0.4 share points, in fourth place on 8.2% overall. Fifth placed Nova gained 0.4 to score 6.7%.
Nova won 10-17s, KIIS and Nova tied for leadership of the 18-24 demographic. KIIS won 25-39s, WS won 40-54s and 2GB won the over 55 demographics.
2GB's Alan Jones retained top breakfast spot, followed by KIIS' Kyle and Jackie who jumped ahead of ABC702 and WSFM to win second breakfast position. 2GB won mornings, afternoons and evenings, ABC702 won drive. 2GB and WSFM won weekends.
Melbourne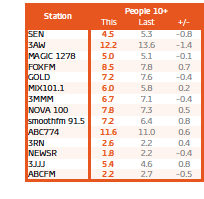 First placed 3AW had the biggest drop of the survey, down 1.4 to 12.2%, with second placed ABC appearing to reap the benefits of footy grand final season with a rise of 0.6 to 11.6%.
Third placed Fox FM gained 0.7 to 8.5% overall. Nova was fourth with 7.8, a gain of 0.5.
Smooth and Gold tied for fifth place with 7.2%, with smooth gaining 0.8 and Gold losing 0.4.
Fox won 10-24s, Nova won 25-39s, Triple M and ABC774 tied for leadership of the 40-54 demographic and 3AW won the over 55s.
The Breakfast timeslot was won by 3AW, which dropped by 1.6, closely followed by a rising ABC774, which gained 2 share points in that timeslot. 3AW won mornings, Fox won afternoons, ABC774 won drive, 3AW won evenings and weekends.
Brisbane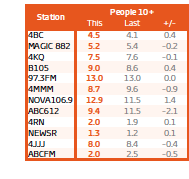 Market leader 97.3 was steadfast at top spot with 13.0%, but Nova closed the gap with an increase of 1.4 share points consolidating its hold on second place at 12.9%.
ABC612 dropped to third after a significant fall of 2.1 to 9.4%. Fourth placed B105 gained 0.4 to 9.0% and Triple M was placed fifth on 8.7, down 0.9.
B105 won 10-17s, Nova won 18-39s, 97.3 won 40-54s, 4KQ won 55-64s and ABC612 won 65+.
ABC612's Spencer Howson lost top breakfast position, conceding it to 97.3 followed by Nova. 97.3 won mornings, Nova won afternoons and drive. 97.3 won evenings and weekends.
Adelaide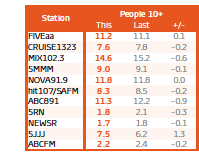 Mix 102.3 retained top spot desppite a drop of 0.6 to 14.6%. Nova919 was second with a steady score of 11.8%.
ABC891 was third on 11.3% after a drop of 0.9, closely followed by 5AA, up 0.1 to 11.2%. Triple M was fifth on 9.0%, down 0.1.
Nova won the 10-24 demographics, triple j won 25-39s, Mix won 40-64s and ABC891 won the over 65s.
Mix 102.3 won breakfast just ahead of ABC891. Mix also won mornings and afternoons. Nova won drive, 5AA won evenings and Mix won weekends.
Perth
Mix94.5 consolidated its lead with a gain of 0.9 this survey, bringing it to 14.5% overall. Second placed Nova 93.7 dropped 0.1 to 13.5%.
Triple j was third on 10.4%, up 0.7. Fourth placed ABC720 scored 9.6%, down 0.5, followed by 96fm on 9.4%, significantly down after a drop of 1.3 share points.
Nova won 10-17s, triple j won 18-24s, Nova won 25-39s, Mix won 40-54s, ABC720 won 55+.
ABC720 won breakfast ahead of Mix and Nova. Mix won mornings and afternoons, Nova won drive, ABC720 won evenings and Mix won weekends.
See also our Results and Spin reports.