A Credit Suisse advisory report has predicted that APN will soon lead in radio revenue, quoting the recent Deloitte figures (see our earlier report) and recent ratings results.
The report, quoted in the Sydney Morning Herald, also predicts that SCA will face continuing revenue problems in the face of the 2Day network's falling ratings.
Since January, APN News & Media shares have risen more than 75%, whereas Southern Cross Media shares are down by more than 30%.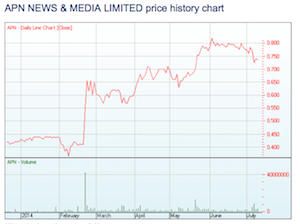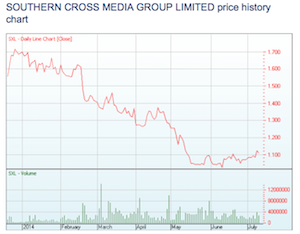 The SMH reports also quotes CIMB analyst Daniel Blair, who disagrees with the Credit Suisse view and says SCA has stabilised the fall in its ratings and share price.
Read the SMH report here. Further reading: APN's annual report. SCA's annual report.
Meanwhile, a global advertising study has predicted that advertising growth for paid media across the world will continue to grow over the next few years, but that more and more money will be allocated to digital ad spending:

"eMarketer estimates that digital ad spending will increase 16.7% this year, totaling $140.15 billion and surpassing 25% of all media ad spending for the first time.

"Within the digital category, advertising on tablets and smartphones continues to be a key catalyst for growth. Mobile ad spending worldwide will increase 84.7% in 2014 to reach $32.71 billion this year, eMarketer estimates, totaling nearly one-quarter of all digital advertising spending (which includes paid media spending on ads of any format delivered to any internet-connected device).
"In the most mature digital advertising markets, such as the US and the UK, for example, we expect mobile ad spending to take a majority share of digital ad spending in the near future."
The study charts US Ad spending in the diagram below.