Andrew Denton, broadcaster, writer and comedian is actively working to encourage changes to the law required to support assisted dying.

The former Triple M breakfast announcer recently hosted and produced the acclaimed Better Off Dead podcast series, investigating the stories, moral arguments, and individuals woven into discussions about why good people are dying bad deaths in Australia.

Andrew is asking everyone including the radio industry to support Go Gentle Australia, of which he is the Director.
"No-one should have to die a lingering, painful death. Go Gentle Australia has been established to try and see that a compassionate voluntary euthanasia law is written in this country, reflecting the wishes of more than 70% of Australians,"​ he says.

Surveys show that around 75% of Australians support the legalisation of voluntary euthanasia to allow for better choice at the end of life, but despite this, there's still no law.
SA politicians will soon vote on a Voluntary Euthanasia Bill.

Go Gentle Australia was established to help relieve the distress, helplessness, and suffering experienced by Australians with incurable or terminal illnesses, their families and carers. We argue for the right of all Australians to have a choice about what happens to them at the end of their lives and not to be forced, when they are at their most vulnerable, into cruel and avoidable suffering.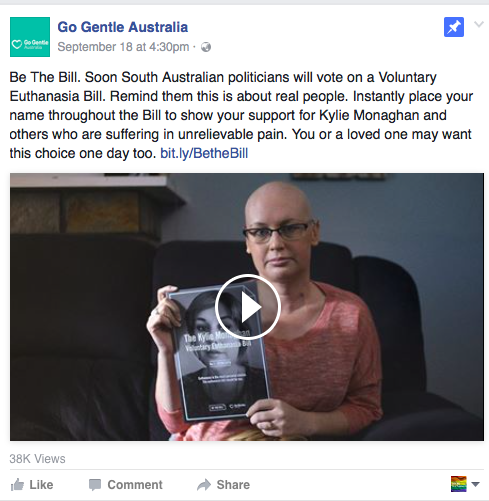 "The outcome of this vote won't just affect one State. It will affect us all."

You can also like the Go Gentle Australia Facebook page and Twitter.