The Angels perform Am I Ever Gonna See Your Face Again live on Hot Breakfast. Producer nervous.
Triple M Melbourne mounted one it its Friday Live broadcasts again this week on the Hot Breakfast show. When The Angels performed Am I Ever Gonna See Your Face Again, the producer's finger was ready on the dump button.
"Austereo is on its last chance thanks to Kyle Sandilands," Eddie McGuire told the audience, explaining the fact that the well known 'peoples chorus' response to that Angels song was dumped from the broadcast.
The show tweeted this message just before the song went to air.
After the live performance Eddie asked: "Are we still on air?" Mick Molloy responded: "That song should be our national anthem!"
For those who have never been to an Angels concert or never heard the song on the dance floor, the lyrics go like this:
Am I ever gonna see your face again
And the people's chorus response is always
No way, get fucked, fuck off!
But you won't find the audio on the podcast or on Triple M's website because the station doesn't want to highlight it.
While the decency provisions of the Kyle ruling do not strictly apply to Triple M's Hot Breakfast, the station was understandably acting cautiously to avoid offensive words going to air in the breakfast show timeslot where there may be children listening. ACMA will be happy.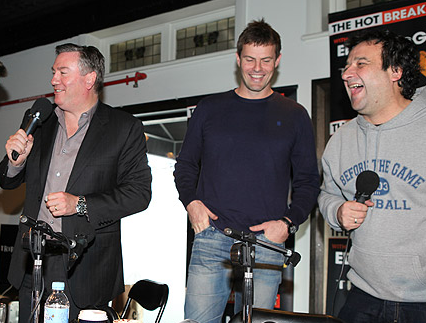 Listen to this morning's podcast here.
And for those craving a taste of the famous Angels song, here it is from a live performance in 1976.