In one of the first sessions of today's Radiodays Asia virtual conference, Ezra Zaid hosted a panel of speakers who gave an overview of how radio is coping with the effects of Covid around the region.

Guests were Aaron Pinto, the Head of Content at Astro Malaysia, Kim Bum-soo, a Senior Producer at KBS Korea and Jana Rangooni the CEO of the Radio Broadcasters Association of New Zealand.

In New Zealand, radio revenue was 15% down over the past year. At the worst of the covid crisis revenue decreased by 50%, but it has come back now and the year has evened out as well as could be expected.

New Zealand's listening audience has increased and there is more digital consumption due to people working from home. Because New Zealand has recovered very well form the crisis and most cities are now working normally, consumption habits have returned almost to normal.

As a result of new habits, such as online shopping, the increased during lockdowns, digital retail clients are now promoting their digital offerings more in their radio ads and they are also advertising more in the digital sphere.

"Anything to do with home, health and wellbeing has had huge increases in revenue and that content has increased in listenership," said Jana Rangooni.

The NZ government regularly surveys which mediums people use in times of crisis. According to Rangooni, the latest survey during covid showed that radio is still the most important medium in emergencies: "Radio is the number one channel used in a crisis according to the government research. people may get alerts via messages on phones or socials, but the research shows that they will then turn to radio to check and facts and get more details, because they have a relationship they can trust."

Businesses have had to be very flexible about changing and cancelling plans during covid, especially music and entertainment venues. "This has been good for radio because we are so immediate. Radio can change details of events and advertising quickly to respond to uncertainty and the fast changes that are happening to events arrangements."

In Malaysia, listenership numbers have held up, but listening patterns have changed. "Consumption has moved later in the day, with traditional early morning breakfast timeslots not as high but listening rising from 9am. Revenue has been not so good," said Aaron Pinto.

Astro Radio was down 78% on revenue. The company recovered after the first lockdown in July, but the second Malaysian lockdown in October made revenue stall again.
"Revenue is down but listenership is ok. Listener stats and online streaming traffic is up, clients are returning and planning more advertising for the end of Ramadan," said Pinto.

The lesson from covid for Pinto is that "radio needs to develop a suite of audio products to reach all the listeners everywhere, so that we will be in all the spaces to reach our audience if the pandemic gets worse or for future crises in the future."
The lesson from covid for Pinto is that "radio needs to develop a suite of audio products to reach all the listeners everywhere, so that we will be in all the spaces to reach our audience if the pandemic gets worse or for future crises in the future."

Astro offered airtime and messages on its social channels to help businesses doing it tough, by getting Astro's listeners to support these businesses. "People are supporting one another."

In Korea, the first interaction about Covid was on January 20 last year. The KBS radio news service connected to the situation room and got the first information about the virus.
"These disease experts have become our regular guests and we have had covid content on most channels every day since then," said Kim Bum-soo.

KBS has moved more towards doing more radio interviews using a video conferencing system called VMax. This brings the ability to have two guests at the same time and the radio interviewer can see the interviewee, so they can get the visual cues that they would get if the interviewee was sitting opposite them in the studio.

80% of listeners in Korea tune in while driving. During covid, with many people working from hom, it was bad news for some KBS domestic radio channels, and ratings dropped temporarily. To offset this, more people turned to KBS News because of concerns with Fake News and now more people are consuming KBS than previously. "More people are listening to radio but there is shrinking revenue."
In the trade section of the conference today, RCS Zetta's browser based interface was demonstrated and Triton Digital were featured.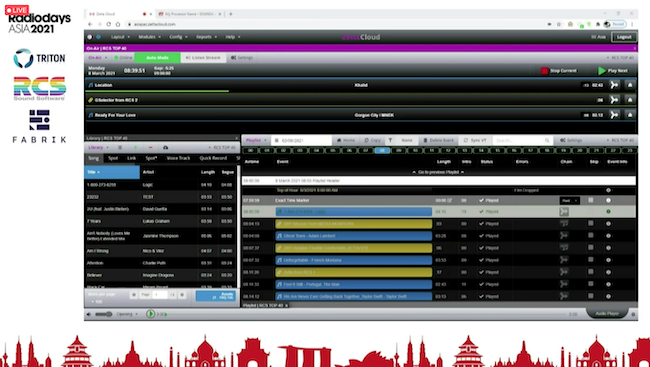 The conference continues tomorrow and Friday from 1pm Australian Eastern time (AEDT). If you are registered, you can log in with the details here.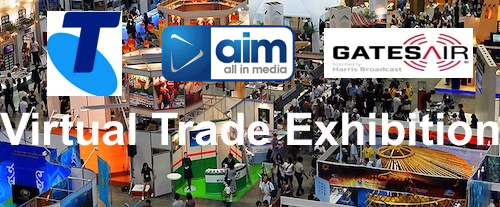 Related coverage on our sister site AsiaRadioToday:
It's an exciting time for podcasting in India: #RadiodaysAsia
Launching new channels in Singapore: #RadiodaysAsia

---
Subscribe to the radioinfo podcast on these platforms: Acast, Apple iTunes Podcasts, Podtail, Spotify, Google Podcasts, TuneIn, or wherever you get your podcasts.