Chart Highlights – 21 May 2020
Biggest Mover: Ariana Grande & Justin Bieber up 213 spins to No.12 with 'Stuck With U'​
New Music: The Jonas Brothers & Karol G debut at No.38 with 'X' earning 169 spins​
Heating Up: Marshmello & Halsey's 'Be Kind' rise 13 places to No.16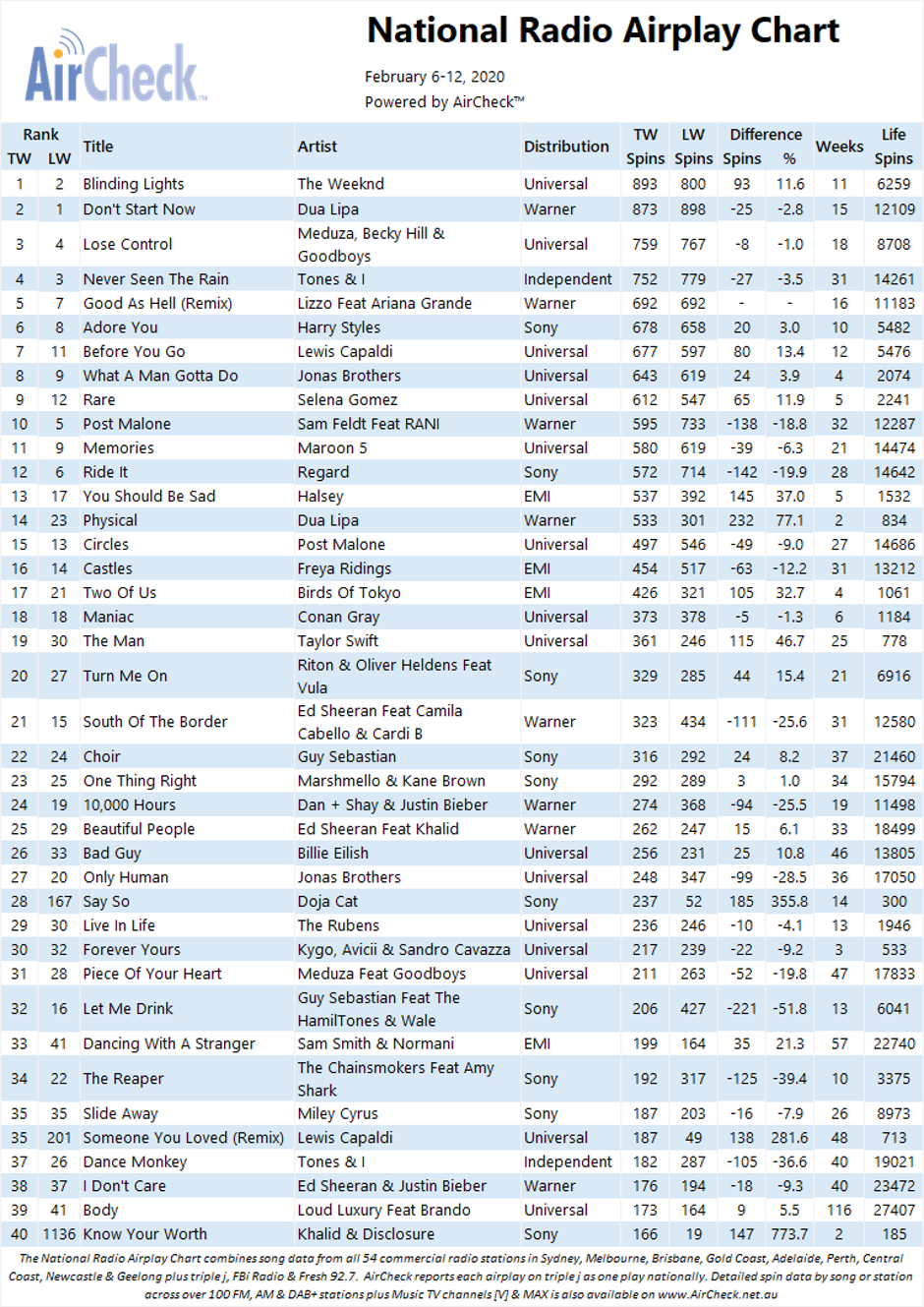 This week Ariana Grande and Justin Bieber's 'Stuck With U' was the biggest mover on the AirCheck National Radio Airplay Chart, gaining 213 spins rising to No.12 with 489 spins. The track released on 8 March, earned spins on 20 stations nationwide, with Hit 105 Brisbane and KIIS 101.1 Melbourne the top spinners, each adding 33 instances. Both the Hit and KIIS networks doubled spins last week as the track gained popularity.
The Jonas Brothers teamed up with Columbian singer songwriter Karol G on 'X', debuting at No.38 with 169 spins. Hit 90.9 on the Gold Coast showed the most support for the new release adding 20 plays, while as a whole the Hit network accounted for 67% of the week's airplay. But it was the KIIS network that backed the release first, with the Sydney and Melbourne stations the only ones to spin the track straight after it dropped.
Marshmello & Halsey's 'Be Kind' continued to rise up the chart, reaching No.16 with 407 plays. Melbourne's Fox FM and Brisbane's Hit 105 were out in front each contributing 32 spins, followed by Hit92.9 Perth with 31 instances. The same 20 stations spun the track both last week and this week, however it was the Nova network that added an extra 20 spins on each of their five stations, upping spins by 450%, that triggered the song's lift.
---
Subscribe to the radioinfo daily flash briefing podcast on these platforms: Acast, Apple iTunes Podcasts, Podtail, Spotify, Google Podcasts, TuneIn, or wherever you get your podcasts.