Where does Nova Entertainment's Paul Jackson fit into that?
Read on to find out.
The "Swinging 60's," as they are fondly remembered, brought forth a new world order of all that was considered cool to that point – a seismic shift away from New York, L.A. and Paris to London, England made merry again thanks to British Rock..
With the advent of The Beatles and Stones, Animals and Kinks, to mention a few, the former conservative, stiff upper lip of Europe suddenly became sexy. The world's centre of fashion was no longer The Champs-Élysées but Carnaby Street.
London became a magnet for young Australians wanting to become part of "the scene." Among them was a bunch of young groovers seeking adventure on the high seas as pirates. They took to rusty old scuppers moored off-shore. Instead of cutlass and cannon, they were armed with turntables and transmitters. Their ammunition was a treasure trove of the very latest hits that young Britons were hungry to hear.
With the venerable BBC still way behind the times, Pirate Radio emerged to fill the void.
"From 1964 through to 1967," writes legendary 2UE presenter John Kerr, (pictured left, 50 years ago) "the British Government did everything in its power to close them down, eventually being successful with the introduction of The Marine Offences Bill on the 14th August, 1967 making it an offence for any British subject to work on these ships. We could still broadcast but landing back on British soil we would be arrested."
As it's the 50th anniversary of the death of British Pirate Radio next month, a huge reunion is planned in London and Glasgow. Disc Jockeys and other staff from all over the world will be attending.
As a spin off from the London festivities the lads and lassies who worked aboard "Radio Scotland" are travelling by train to Glasgow where there'll be 3 days of reunion activities, culminating in a Civic Reception put on The Lord Provost of Glasgow in the city Town Hall on the 11th August.
Kerr, worked aboard Radio Scotland for 18 months and was there on the last day. He recalls, "The only Scotsman during my time aboard "Radio Scotland" was Richard Park.(far left, circa 1964). Richard and I became real good pals and we've visited him at his home on a couple of previous visits. Richard went on to be voted Best DJ on the 1st commercial station in Scotland, Radio Clyde. He then moved through the ranks rapidly being Program Director in London for Capital Radio – on the board at Capital Radio and various other English stations. He hosted a national TV talent show and now is co-owner of a major UK radio network. His son Paul Jackson (left, circa today) is Group Program Director for Nova Entertainment based in Sydney."
Going to the UK from Australia for the events are;
Ian MacRae – Graham Webb – Dermot Hoy (known in Britain as Bryan Vaughn ( ex 2CH ) – Norman St.John ( who worked Queensland radio on return to Australia) – Carole Miller who with her then husband Noel operated a pirate station off the coast of Newcastle (UK), and John Kerr.
He says, "There's quite a few English radio people who started their radio careers on the pirates and amongst them are today's British stars Tony Blackburn and Johnny Walker, both of whom will attend the London function.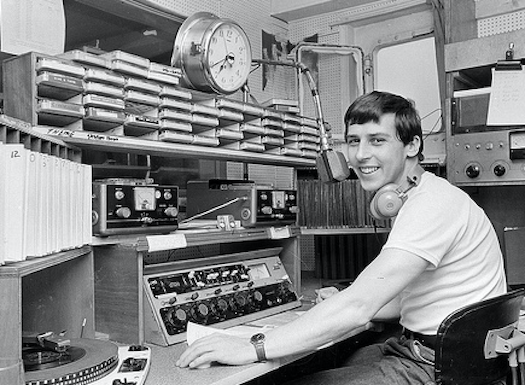 Above: Graham Webb, father of smoothfm's Byron Webb in the studio aboard Caroline, 50 years ago.

"As two further side lines – the major pirate station was "Radio Caroline" and their former staff are having a separate get together on the weekend leading up to 14/8. The BBC as they have done before are recreating the pirate stations aboard a lighthouse vessel off Harwich and broadcasting 60's music all day with original disc-jockeys doing the various shifts. Norman St. John is doing the morning shift," says John Kerr.


Peter Saxon
BTW: As we are talking about a reunion for pirates, I just happen to have a favourite joke on that very topic.
After many years, two old pirates meet at a function somewhere in the Caribbean. One of them is looking quite the worse for wear. He is now sporting a peg leg, a hook for a hand and a patch over one eye.
The other pirate is curious as to how his old friend acquired his wounds and the first one tells him,
"I lost my leg wading to shore one day. A shark came right in to the shallows and took it off in one bite. Now I get around on this wooden stump.
"I lost my hand in a sword fight with a British Admiral. With blade in one hand, the other up in the air for balance, some scurvy knave crept up behind me and sliced my free hand right off. Now, all I've got is this metal hook where my hand used to be.
"I lost my eye when I heard the cry of an albatross. As I looked up to see where the sound was coming from, the Albatross shat right in my eye – a big, thick lump of stinking goop."
The other pirate, a little incredulous, inquires, "I can understand that an Albatross unloading in your eye like that would be unpleasant but surely you could just wipe it away with your hand. Why would you lose your eye?"
"Ah," says the other, "It was my first day with the hook."