Crystal Vas who, along with previous co-host Chris Nairn has been nominated for a 2016 ACRA for Best On-Air Team – Country, now teams up with former 91.9 Sea FM Sunshine Coast Breakfast Presenter – Brad Blissett, to form the newly launched Crystal & Brad In The Morning.

Brad is making a welcome return to brekky radio after a stint as a Primary School teacher in Queensland.

"After teaching little primary kids it's great to work with someone like Crystal, who doesn't ignore what I'm saying, throw tantrums, or pick their nose. Well… two out of three ain't bad."

Chris Nairn has moved across to sister station 2EC as Drive Announcer and Music Director.
Power FM also welcomes Kim Bowden from Move FM Lithgow to the on-air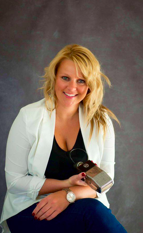 line-up. "Kimbo" will take on the 10am-2pm weekday shift, as well as copywriting.

"I'm really excited to join the skilled Grant Broadcasting team on the NSW South Coast, keen to get to know the locals and check out the beauty of the area. I feel many adventures and a whole lot of fun is to be had."

Program Director for Power FM and 2EC, Gregg Easton says it's fantastic to have both Brad and Kim as part of our team.

"This is a major step in strengthening our on-air line-up, and reinforcing Grant Broadcasters commitment to quality 'live and local' radio and digital content for our Far South Coast listeners".