The new Lawrence Mooney breakfast show debuted on Triple M, Sydney last Monday but the station didn't start posting a daily catch up on their website until Wednesday. No matter, radioinfo had its panel of programming of experts, codenamed Big Ears, up early on Day One to provide their initial impressions.

Here are their notes;

Subject: Mooney is a Melbourne based comic who has recently been working in Brisbane. Doing breakfast show from Triple M Melbourne from this week.

Will Sydney go for Lawrence? Listeners loved Matty Johns.He was by far the star of the show. Will take time.

Good chemistry for first show.

Does lots of impersonations like Malcolm Turnbull – a bit dated now.

Content:
I'm a Celebrity
Ice addiction rave very funny – Should Lawrence be doing jokes about ice addiction though? NO
Segment on Karl Stefanovic marriage split ex wife Cassandra. Funny !
Phone Topic – What have you seen ice addicts doing, they can be a lot of fun ? Only got one call. Not funny or appropriate !
LM locked up in Jamaica for marijuana possession. Funny

Do listeners still want wacky, funny character voices on radio these days?

Not many funny players on Sydney radio besides Kyle.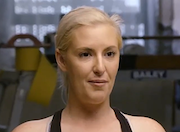 Co-host Jess Eva (a Queenslander – left) sounds like a ''Queenslander." Has potential, so let's hope Sydney male audience go for her. Triple M listeners haven't had a feisty women on their breakfast show before. Jess is not in the billing. Sounds very western suburbs!

Chris Paige is the anchor – ex Grill Team.

How will the unknowns go in Sydney is the million dollar question?

Promo for a "million dollar "giveaway" that won't really be a million. WS doing the same thing for Survey One.

Where will they get listeners from is the real big question. Any new audience will mostly come from WS and 2DAYFM

The other big question is how long will SCA give this new show after the number of breakfast shows they tried on 2DAYFM?

Music:

It's Still rock and roll to me – Billy Joel
When I come around – Green Day
Desire – U2

Music format now 70's 80's 90's
Very 45+ much older than before.