2WEB takes over The Western Herald, resumes publication.


Just before Christmas, the little town of Bourke in outback NSW got the bad news that their town's 130 year old newspaper would have to close.

The newspaper that once employed Henry Lawson under the pseudonym Joe Sparrow was one of the last independent regional newspapers left in Australia, but, like other regional papers, has suffered years of disruption, rising costs and competition.

The weekly newspaper, which started in 1887 during the heyday of the outback wool trade and Darling River paddleboats, was owned by three generations of the Charmichael family, who eventually sold it to a cotton grower. Upon his death, the paper passed to his Navoc family trust. At the end of last year the trustees closed the paper and made staff redundant.

But that's not the end of the story.

Outback community station 2WEB has come to the rescue of the iconic publication.

The non profit WREB (Western Regional Educational Broadcasting) co-op that operates 2WEB has taken over the assets of the Western Herald and begun printing it again, saving the masthead from extinction.

WREB Co-Op Chairman Ian Cole told radioinfo:

"This is what community media is all about, supporting your community. 2WEB has shown our commitment to this town for 40 years, we know how to run a successful community media operation, so it only made sense that we should save the paper.

"We now have a very small team running it and we are using the synergies with 2WEB to make sure it is viable."

Cole, a communications graduate from Bathurst's Charles Sturt University was once the manager of 2WEB, but left to take up a career in cotton farming. However his commitment to local media has never left him.

"Since we took over the paper we've put together a small team to publish it… I've been helping out with some of the editorial in the short term, I'm as happy as a pig in sh… er… mud to be back doing something I love, but I won't continue it in the long term, I'm just glad to have had a part in saving the paper."

At the time of its closure the newspaper had three and a half staff, who lost their jobs. Now the news reporting part of the operation has been moved into 2WEB's office, working with existing news staff. "It fits like a glove," says Cole.

The newspaper now employs a news editor, Marek Wiess and one journalist, Trisha Duffield, with Cole and several other volunteers helping out. Sales are now being handled by David Sharp, who also sells 2WEB sponsorship and daily management is overseen by manager Wayne Harrison. The paper is laid out by the new team and the file is sent to Tamworth for printing.

"The Western Herald used to send the files to Dubbo, but Fairfax closed down that printing plant some years ago and since then the paper has been printed in Tamworth. It is sent back to us for inserts and posting on Thursday," says Cole.

Over the years 2WEB has gathered a small but passionate group of volunteers in the town of 2000 people, who present shows and assist in running the station. They have now also enthusiastically become part of the newspaper venture.

"We have a good crew… Our oldest volunteer is 82 year old May Watkins (pictured), who comes in every day to present her shift and help with admin – she has now added stuffing inserts into the paper to her jobs," explains Cole. "Ash Keenan (pictured) and his dad Mick, who used to be the editor of the paper years ago, have also come onboard to help with the first few editions."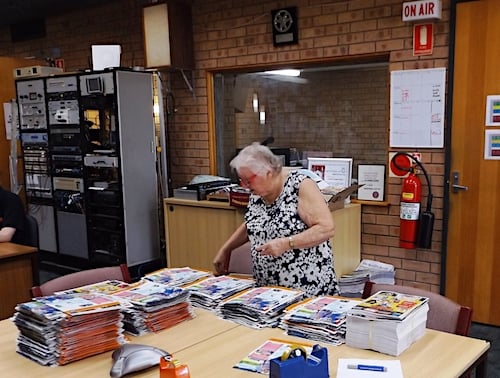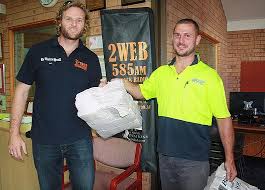 It would have been easy to let the paper fold, but Cole says the Co-op felt they had to acquire the assets of the paper and try and keep it going for the sake of the town. "This is about the survival of community media, we are using our skills to keep our local news media alive… we checked with the ACMA and they have no objections to what we are doing."

It hasn't been easy, but four weeks in, Cole says there is enough momentum to believe that the newspaper and the radio station can both continue to operate successfully. "Revenue is up 50% now that we are selling both radio and print together… we will be ploughing all of that back into our operation… we are a non-profit organization that exists to serve our community," Cole told radioinfo.

What about concentration of media ownership? Cole laughs:

"You know, a bloke from the ABC asked me that recently and I said to him, you've got a hide to ask me that, look at you blokes, you've got four radio stations beaming in, you've got regional news websites and two tv stations coming into my town and you've got the hide to ask me about concentration of media… [more laughter]

"This is not just a one radio station and newspaper town, we have the other community radio station CUZ FM, the ABC, three commercial stations relaying into town, there's a newsletter and dozens of facebook pages about Bourke, there's plenty of old and new media… some of them don't take coverage of our area very seriously, but we do."

Below: Ian Cole (right) with Mick Keenan outside the old Western Herald Office.