Dene Broadbelt, alias Dene Mussillon, has disappeared again after a music talent agency he founded with a new identity was exposed.
Broadbelt has been using the alias Harry O'Connor in his latest con, which went wrong this week when an employee of the company recognised his photo and exposed his identity (see our other story).
We can now report on the behind the scenes manoeuverings Broadbelt/O'Connor made in his attempts to cover up his identity.
Last month we warned radioinfo readers that Broadbelt may have been at it again in this message.
A few days later our Admin Manager Wendy received this correspondence from 'Harry O'Connor' saying: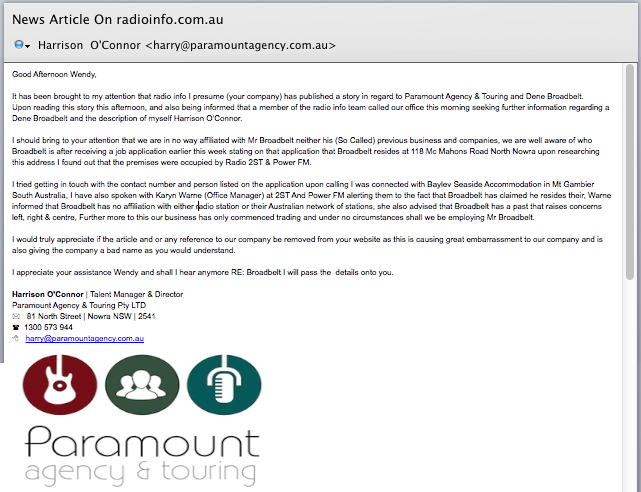 It has been brought to my attention that radio info has published a story in regard to Paramount Agency & Touring and Dene Broadbelt… Upon reading this story this afternoon, and also being informed that a member of the radio info team called our office this morning seeking further information regarding a Dene Broadbelt and the description of myself Harrison O'Connor.
I should bring to your attention that we are in no way affiliated with Mr Broadbelt neither his (So Called) previous business and companies, we are well aware of who Broadbelt is after receiving a job application earlier this week… Further more to this our business has only commenced trading and under no circumstances shall we be employing Mr Broadbelt.
I would truly appreciate if the article and or any reference to our company be removed from your website as this is causing great embarrassment to our company and is also giving the company a bad name as you would understand.
After some email correspondence with 'Harry O'Connor' we gave him the benefit of the doubt and unpublished the report while investigating his identity further. In the correspondence, O'Connor claimed that the company was new, but on the company website Paramount claimed to have been running for ten years.
We also investigated the fast growing roster of artists and found that most of them were young musicians looking for their first break. Musicians who we asked to review the Paramount website were astonished that an agency could recruit so many artists so rapidly, and service them all at the same time with such a small staff.
Harry offered to be interviewed by us, so we played along, then he claimed he had to go on an overseas trip to America. We never heard back with the answers to the questions we asked about how long the company had been operating, the roster of artists and his past history.
We later received two pieces of evidence that confirmed to us that Harry O'Connor was indeed Dene Broadbelt: a driver's licence and some official legal correspondence about bankruptcy proceedings against Broadbelt, who was listed as 'also known as Harrison O'Connor.'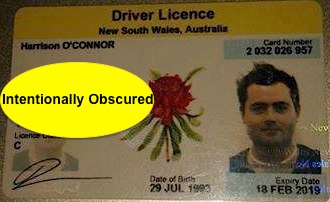 We also investigated the Paramount Agency and Touring website and found that many of the images were appropriated from other websites. A studio pic on an earlier version of the website originated from a recording studio in the USA. The photo of 'Harry' on the current site is from an article about an American record producer named Gene Freeman on a US entertainment website.

We have been in contact with the producers photographed on the Paramount website and have now received a
statement
saying they have no affiliation with O'Connor or Paramount Agency.
The other staff member pictured on the site, Emma, is believed to have resigned after finding out details about Harry's past business ventures.
Facebook pages and other references to Harry and the Paramount Agency are currently being removed from the internet.
Paramount Agency and Touring is not registered as a company or business name in Australia.
Dene Broadbelt has previously been the subject of bankruptcy proceedings, a tax office probe and a police investigation for unpaid invoices from previous failed ventures.
It appears that none of the artists signed to the Paramount Agency are out of pocket at this stage, perhaps because Dene/Harry's identity was revealed early enough not to have run up too many debts.
A range of small suppliers were paid for their services in the first month of the Paramount Agency's operation, although it is not yet known whether other larger invoices for items such as studio hire, advertising and office rent have yet been paid in full.

A spokesperson for Clarence Professional Offices told radioinfo that the Level 11, 65 York St address used on the Paramount Agency website had been appropriated and used without permission. "They don't have any offices here," she said.
See some of our previous reporting on Dene Broadbelt here or click on the tag cloud below.