Just when you thought all the hype and hoopla of triple j's Hottest 100 Countdown was done for another year, the controversy surrounding the lockout of the chart busting diva Taylor Swift has grown new legs. It turns out another song that got no airplay on triple j did make it onto the Hottest 100 where Taylor Swift's song missed out.
Despite a concerted social media effort by her fans to include Ms Swift's hit song, Shake It Off, in the Hottest 100, triple j management refused to budge. They were, however, happy to explain "why" to listeners and trolls alike, so they produced a web page with the heading "8 Hilarious But Totally True Reasons You Won't Hear "Shake It Off" In The Hottest 100."
The simplest and most plausible of these reasons and the one picked up by most media, including radioinfo, was #6….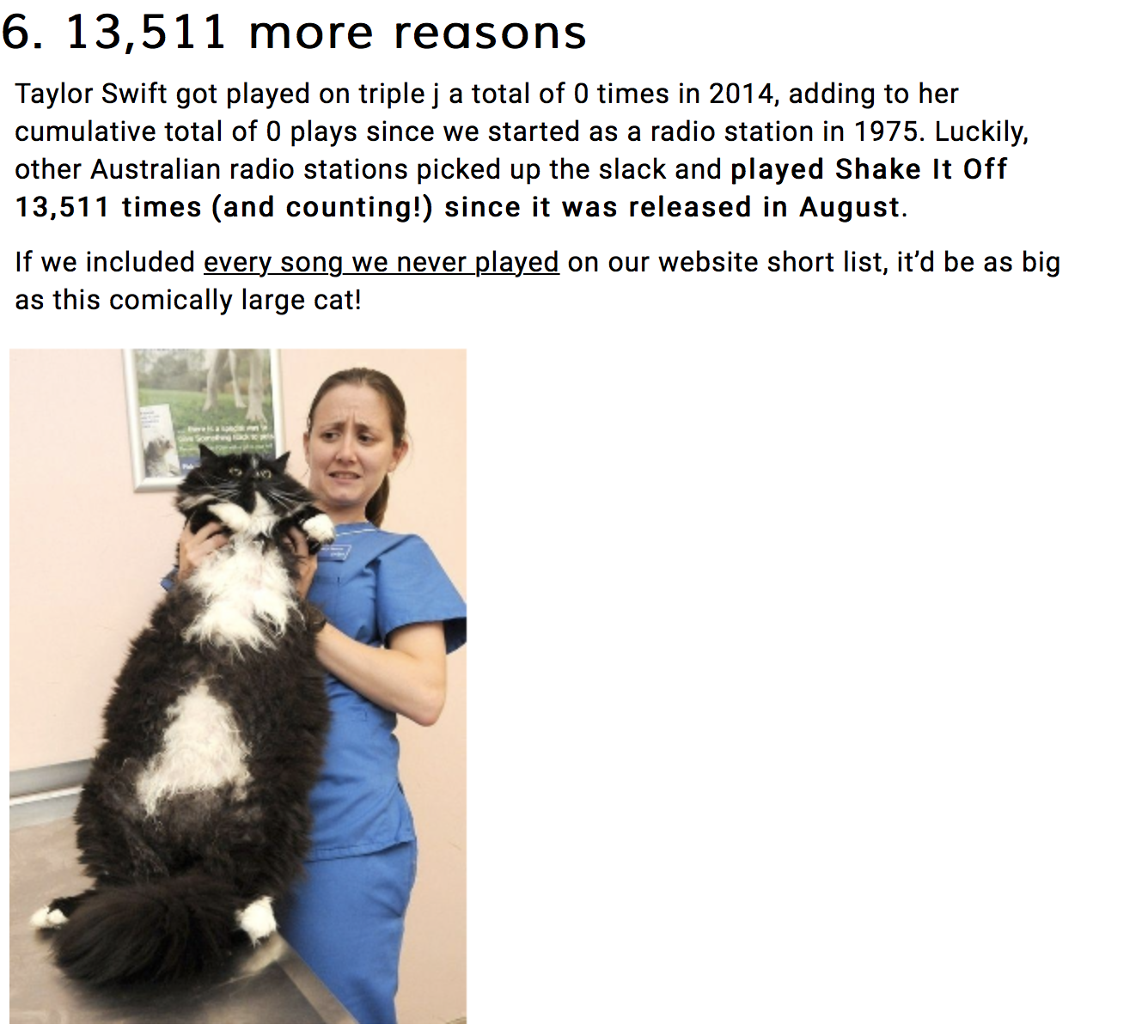 Now it has emerged that the song listed as #9 on the Hottest 100, Sia's mega-hit 'Chandelier,' was never played on triple j either – at least not until the Australia Day broadcast of the countdown itself.
So, what gives? A closer look at some of the other seven reasons on the above mentioned site as to why triple j refused to air Taylor Swift's song provides more of a clue. In particular, reasons #1. Don't (Buzz)feed the trolls. and #4. Not every KFC idea is a good idea. Together, these two reasons suggest that the "fan" backing of Ms Swift may have been more of a marketing exercise for BuzzFeed and KFC than a grassroots movement.
Still, that doesn't answer why triple j broke it's own reason #6 for not playing Taylor Swift. Station Manager Chris Scaddan told music magazine Tone Deaf, "Chandelier was never on rotation, but was played on triple j House Party and Mix Up programs and won the 2014 J Award for best music video, so was included in the Hottest 100 voting list.
"triple j has been playing Sia for more than 15 years, since she was a young artist in Adelaide," Scaddan added. "We played 4-5 songs from her 1000 Forms Of Fear album on triple j in 2014."