The future of radio is a multi-platform one. Audiences expect us in more places and on more devices than ever before.
Yet, radio comes with no visuals, no instructions, no way to go back. So if we're going to ask our audience to do something, let's make it really, really simple. Here are a few things I've heard on radio stations across the world which have left me scratching my head recently:
"And, don't forget, here at 'HeyHey FM' you can listen online via the CrazyRadioTuner app! Just search for that in your app store then search for HeyHey FM once you've installed it!"
So, this station doesn't have an app. Instead, it points people towards a different app, the CrazyRadioTuner app, owned by its parent company, whose name I now have to remember. Once I've downloaded and installed the app, I have to then search for the radio station I was listening to. It's messy, clunky, and ugly.
Either have your own app – by far the best option for your P1 listeners – or, just say "…here at HeyHey FM, you can listen online on ANYTHING! Just visit heyheyfm.com and we'll tell you how." – and leave the clutter and confusion off the air.
Here's another:
"Visit our website on www.heyhey-fm.com. That's www dot heyhey dash fm dot com, or you'll find us on Facebook at facebook.com/heyheyfm13"
First: you really don't need the www's. Please stop reading them out.
Second: yes, I've heard radio stations with punctuation in their website domain or their Twitter handle. Seriously? Wow.
Third: be on Facebook. Hugely important. But don't read out Facebook addresses on your radio station. Unless they've paid.
Fourth: do you have a reason why listeners should visit your website?
How about… "Loads going on in town tonight: what are you planning? There's a full list at heyheyfm.com, but here's my favourite…"
And let's not even start with how radio stations direct their listeners to additional HD or DAB channels – we are really bad at assuming folks understand what is still brand new technology. Explain often. Hold listeners' hands. Do as we're taught in programming: constantly reset, never assume a listener knows, keep it simple.
Keep it simple, and radio's multi-platform future is assured.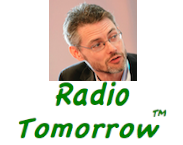 James Cridland is a radio futurologist, and is Managing Director of media.info, a companion website to radioinfo and AsiaRadioToday.
He has served as a judge for a number of industry awards including the Australian ABC Local Radio Awards, the UK Student Radio Awards, and the UK's Radio Academy Awards, where he has also served on the committee. He was a founder of the hybrid radio technology association RadioDNS.
James is one of the organisers of nextrad.io, the radio ideas conference each September, and is also on the committee of RadioDays Europe. He writes for publications including his own media.info, Radio World International and RAIN News.
James lives in North London with his partner and a two year-old radio-loving toddler. He very, very much likes beer.
Radio Tomorrow is a trade mark of Radioinfo Pty Ltd