Maz Compton has reunited with Dan Debuf in the first episode of Dan's new podcast.
Debuf has realised that "creative and interesting people have creative and interested brains that are easily obsessed. They're dying to talk about their latest or lifelong obsessions, if only someone would ask… well, he's asking!"
The new podcast, Totally Obsessed with Dan Debuf, will focus on creative people and their obsessions.
In the first episode he reunited with Compton, who was on air with him at 2Day a couple of years ago.
"We just picked up where we left off… It's hard to find two people who are so different but have such great chemistry," he said.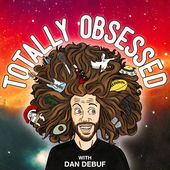 The first episode of the new series is now available.
The episode begins with a long backgrounder from Debuf then moves to the interview about 5 minutes in, when the energy between the two emerges and continues through the 30 minutes episode.
Compton talks about her obsession with conspiracy theories as a vehicle for the two to banter about a range of topics.