A number of new entities appear in the Triton Digital Podcast Ranker Top 100 this reporting period, including Betoota Daily News Bulletin (Diamantina), It's A Lot with Abbie Chatfield (Nova), and The Minds of Madness – True Crime Stories (Wondery).
Satirical news podcast The Betoota Daily News Bulletin and Chat 10 Looks 3, with Leigh Sales and Annabel Crabb are from independent publisher Diamantina Media DM, which has joined the ranker following its partnership with the ARN's iHeartPodcast Network Australia.

Commercial Radio Australia chief executive officer Joan Warner welcomed DM to the ranker and says, "DM has a stable of well-known and successful Australian podcasts and it's great to have their results reflected in the ranker for the first time.

"Australians continue to seek out audio as an important part of their life, and this is reflected in total podcast downloads hitting 40.2 million in January."

The Betoota Daily has two associated titles, the Betoota Advocate interview podcast hosted by editors Errol Parker and Clancy Overell, and Generation Betoota.

Other DM shows include So Dramatic! with gossip reporter Megan Pustetto and Chat 10 Looks 3, in which Sales and Crabb discuss what they're reading, watching and cooking.

Clancy Overell says, "Reading the writing written on the wall by our online team, we at The Betoota Advocate moved into the world of podcasts after being told quite a few people listen to them. Hoping to replicate the success we had by moving the paper onto the internet, our newsroom seeks to bring people an unbiased regional take on stories that matter to them. So, now we send out our honest, independent news in audio form, through our Daily News Bulletin, as well as weekly and longer format conversation shows."

ARN's head of digital audio, Corey Layton, says, "The addition of Diamantina's slate to the ranker showcases their strength for both Australian listeners and brands alongside ARN's iHeartPodcast Network Australia."

The addition of DM follows independent publisher Podshape joining the ranker in December.

Podshape owner Jay Walkerden, says "I've been a big supporter of the ranker in Australia since its inception. It allows advertisers to have a robust set of numbers to make informed commercial decisions on. For an independent like Podshape, it means we can have a seat at the table with some of the large publishers."

Additionally, Stuff You Should Know (ARN/iHeartMedia) reclaimed the #1 spot as the most downloaded podcast in the country this reporting period.

As for the All-Australian Top 100 Ranker, new entities this reporting period include The Betoota Advocate Podcast (Diamantina), The Marty Sheargold Show – Triple M Melbourne (SCA), and On Guard – Stories From Inside Australia's Toughest Prisons (News Corp Australia).

Casefile True Crime (Audioboom) remained in the #1 spot as the most downloaded Australian podcast in the country.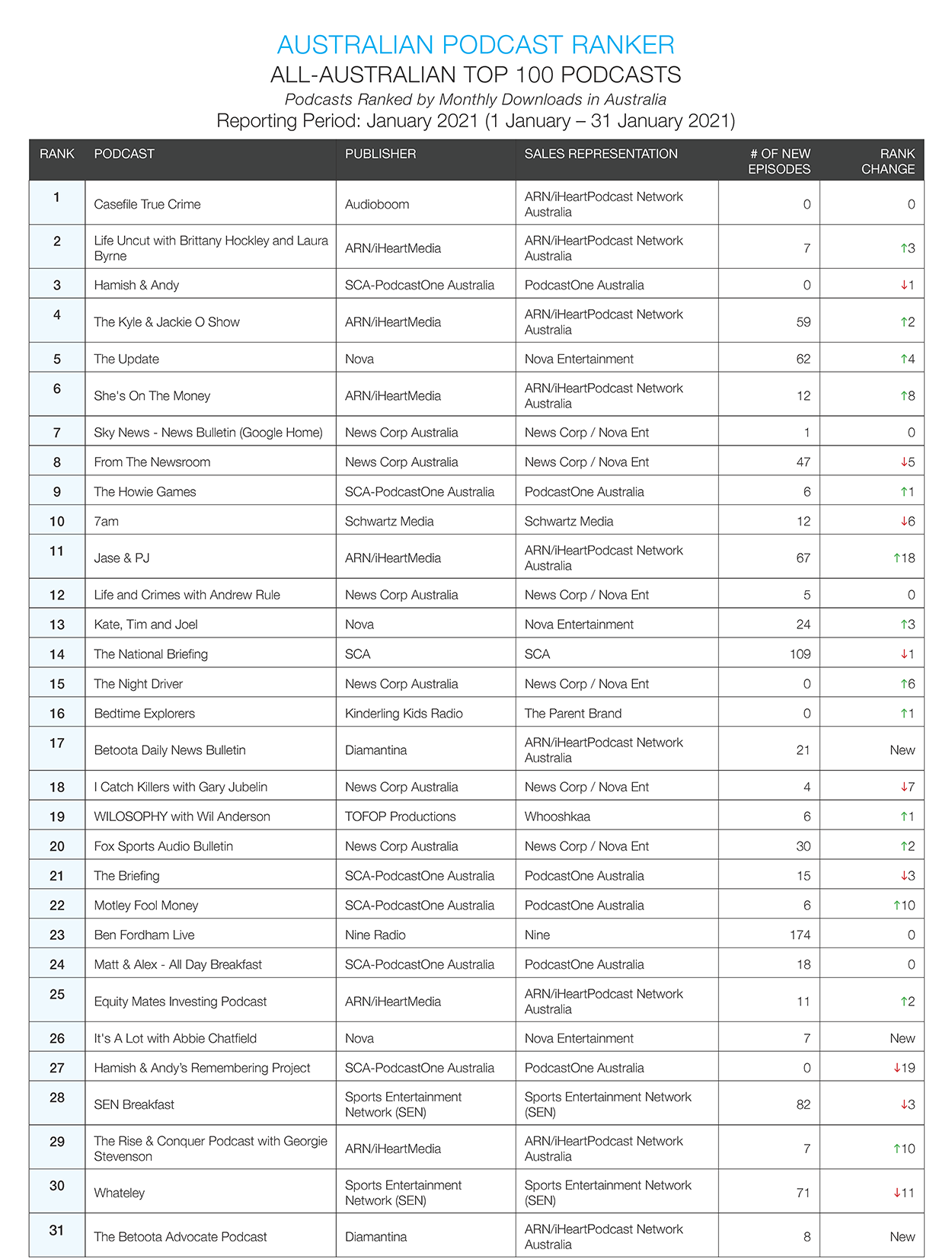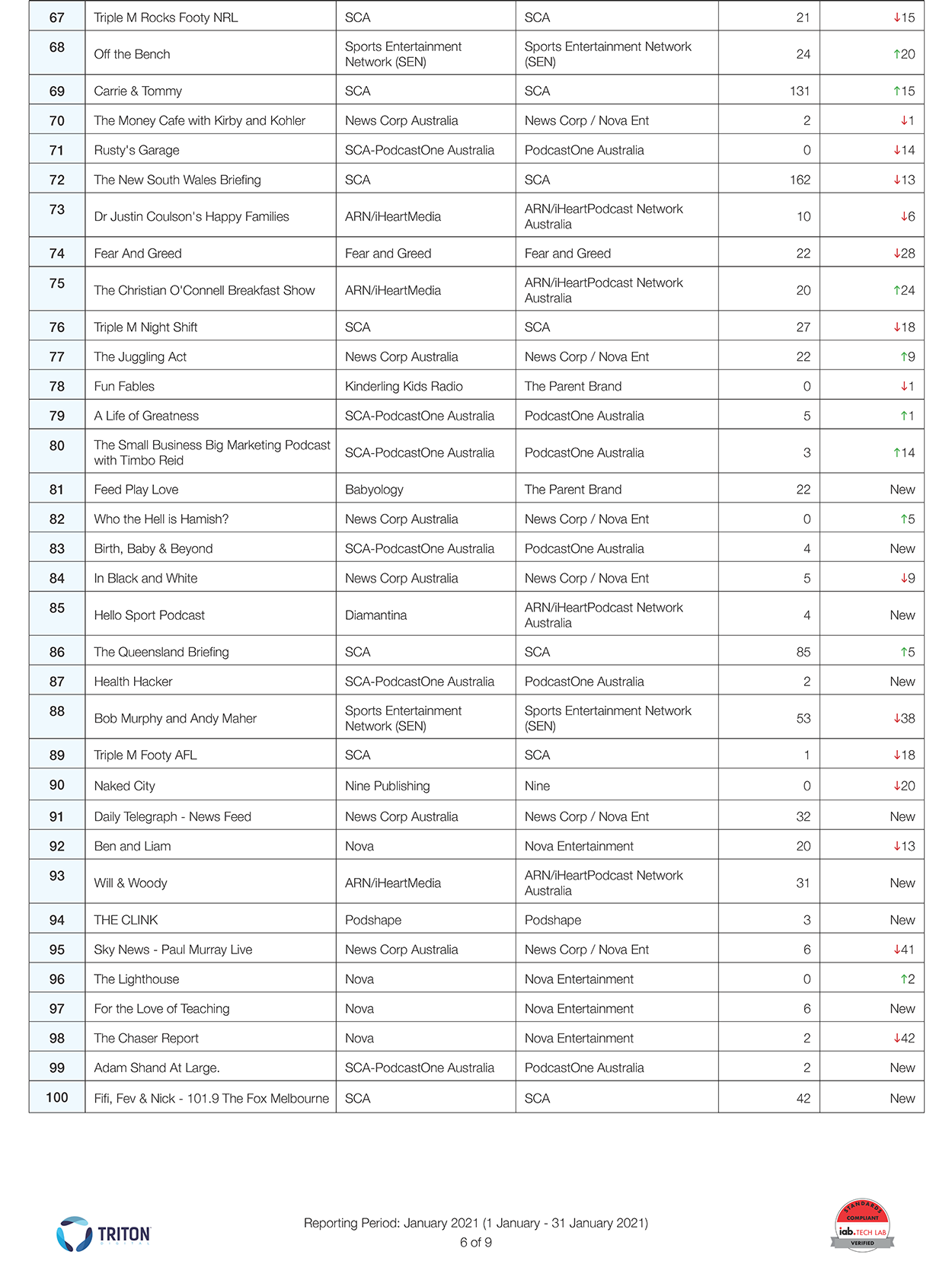 Total downloads of all shows by all participating publishers in the month of January is 40.2M.
---
Subscribe to the radioinfo podcast on these platforms: Acast, Apple iTunes Podcasts, Podtail, Spotify, Google Podcasts, TuneIn, or wherever you get your podcasts.