Continuing his series of columns, Melbourne radio legend Doug Aiton recalls his interview with Sue Townsend.
---
Sue Townsend remains one of my favourite interviews. She is the woman from Leicester, in England, who invented the character Adrian Mole, and wrote several books about him which were in fact extracts from his diary.
Adrian Mole was a Leicester boy too and his observations of his life showed him to be an "intellectual", a loser, and generally a not-too-bright teenager, young man, et cetera whose ramblings made the most interesting, candid, and very amusing reading.
Just one example: he observed the local vicar at the supermarket buying classy and smooth toilet paper when he could have saved money by buying a lesser brand and giving the difference to the poor! "Boy, what a hypocrite!"
I had not met Sue but she came to Australia and I wanted her for my program desperately. When she arrived she was exactly as you would imagine: a small, innocent and anonymous person with a face like the map of Leicester. She spoke in a very Leicester voice and was extremely amused at my fascination with her.
She was 47 at the time and Adrian Mole, bless him, had already become a legend in British literature. It was 1997.
She referred to the above quote with a smile and told me that so many people had been taken by it including a mob of vicars who understandably enough objected. She smoked incessantly and had I had a drink for her I'm sure she would have received it avidly.
She told me she had been divorced and was now happily married to someone called Colin Broadway. She agreed, though, that Adrian Mole would not have been invented if she had not gone through a painful divorce.
She said, in fact, that her four children watched her first husband through a window leaving the house. Everyone was so upset.
She described divorce as a tragedy, and this was the only time in our interview that she looked despairing. It was at this stage that I asked her if Adrian Mole was based on any of her children, and she said (for the umpteenth time) that no, he was not based on any particular person, and certainly not her children.
She said that as a child she had read the books of Richmal Crompton, that is the William books, and she did not mention any other reading. She went on to mention that her books were all written with a Japanese pen which she bought by the dozen. Then someone else typed it up for her.
She had been very poor, and now she was not. But she had objected strongly to an opinion from Paul McCartney of the difficulties of being rich. But she agreed, on thinking about it, with his statement. "I don't know the price of a loaf of bread any more," she said.
She went on to say that she did not miss being poor in the least.
I then asked her what she liked to spend money on. She said: "books, shoes, good soap, good perfume." When I asked her what sort of soap she said: "Do you know you're the nosiest person I've ever met. The soap is called Seashell."
We moved onto politics. Here, she said she was a rabid socialist. "In fact I'd say I was a Communist." She added that she was also Christian. "But I don't believe in God. Jesus was wrong about who his father was."
She disliked Margaret Thatcher enormously but also felt sorry for her. "She's so unhappy," she said.
I asked what made her cry. She said, "oh all sorts of things make me cry. People saying goodbye to each other at the airport, Bambi's mother being shot…" then she went on to say that she thought having a three-year-old on your lap was among the happiest feelings she knew. "Also, drinking and smoking. And buying shoes. And violin concertos, particularly the Tchaikovsky one."
Adrian was born, she said, when she heard someone young say: "why don't we go to the carpark like other people do?"
She met her current husband, Colin Broadway, when she tried canoeing. He had to rescue me.
She left soon after taking her Midlands face, and her Leicester accent away, and leaving me to feel that she could talk all day and I was happy to listen.
She died in Leicester at the age of 68.
(photo credit: Penguin Group).
About the Author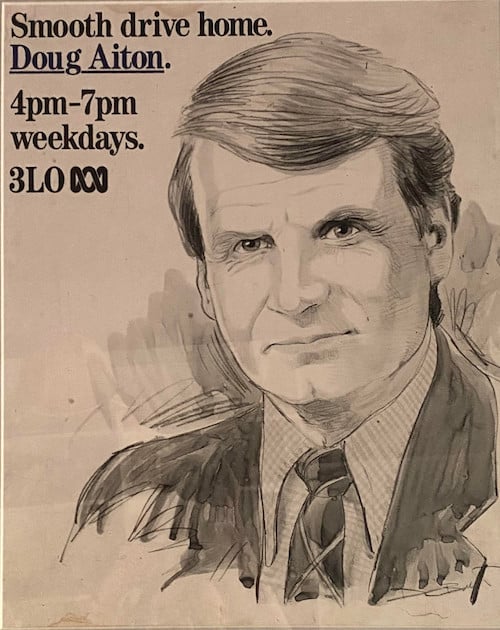 Doug Aiton was the Drive time Presenter at Melbourne's 3LO from 1987 – 1997.
He has a combined past of newspapers and radio including a weekly column for the Sunday Age for about ten years. He is married to Judy and has three children.
Now in his 70s, Doug still presents a regular program on The Pulse Geelong.