Em Rusciano returned to her 2DayFM breakfast show with Harley Breen this morning.
After losing a baby early in her pregnancy Rusciano took a couple of weeks off to mourn her loss, telling her listeners and Facebook followers:
"About 10 weeks ago I got the most wondrous surprise. I found out I was pregnant. I was going to announce it this Monday as we'd hit 13 weeks, but … yesterday I found out that my little boy, was lost to me."
Today, she was back behind the microphone.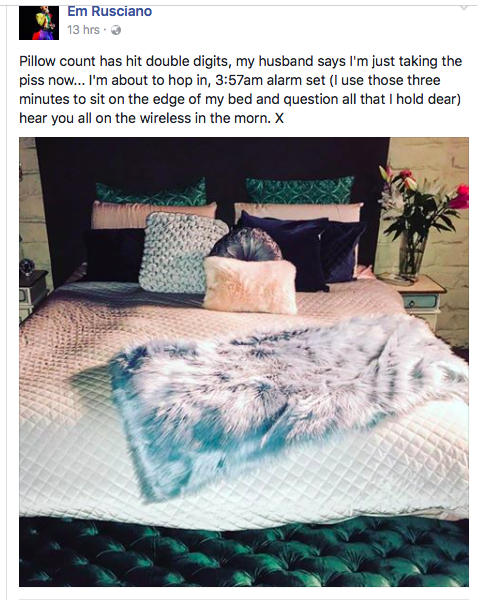 Em opened up about her loss and the exchange with a stranger accusing her of 'milking' her miscarriage.
"I'm finding it very painful to talk about it now and I'm reliving it now," she said.
"I think it's something that has rewired my cells and my DNA and you know, you I found myself Googling 'where do I bury my foetus?' Which is something that is so dark and bizarre and if you don't laugh you cry.
"These are the things you don't get told about pregnancy and we just assume it's going to be easy cause my last two pregnancies were so easy… and I just want to address it once today and I was worried every time I laugh and have fun I was betraying his memory… but what I found out in the last 2 weeks is you can be happy and sad at the same time, which is what I have been.
"I had someone come up to me at a dinner on Saturday night and say I was milking my miscarriage and that I need to get over it… and sometime people have been saying to me, 'you just need to get over it.
"I only buried my son six days ago and I don't know that I'll ever get over that…and I don't think you get to tell someone there is time limit on their grief…
"I just want to let all the women know that I feel you and I see you and I know that the fact got you through it and you were able to tell me that there is a light under the door has really helped me."