"We hope that we will be back on air next Monday.
"I think from what I'm hearing that will not be the case… we are definitely done… oh… ok, as it stands now we are ending sports radio now…"
Eon Sports Radio breakfast team Cam & Big Rich broke the news to listeners this morning that there would be no more local programs on the station as they said their goodbyes and flicked the switch to the network feed from TalkSport UK.
The station is still broadcasting on its online and digital radio channels, but with no local announcers.
It was in July last year EON Sports Radio created history, launching Australia's first national 24-7 sports radio station.
At the time, the then EON Sports Radio Chief Executive Glenn Wheatley said the station was "proud to be leading the way in this new era of broadcasting." Entrepreneur John Wall funded the launch, and later Wheatley left the company to pursue other interests (such as the purchase of 2CH). Wheatley has not been associated with the station in recent months after changes in the company structure and a search for a new investor.
In March this year, SEN founder Danny Staffieri came to the rescue but not before Wall, according to theguardian.com, had reportedly outlaid in excess of $1.5m of his own money, and was paying some full-time staff out of his own pocket due to lack of commercial revenue.
After the company's recent financial problems, staff left the station this morning without jobs and without last month's pay.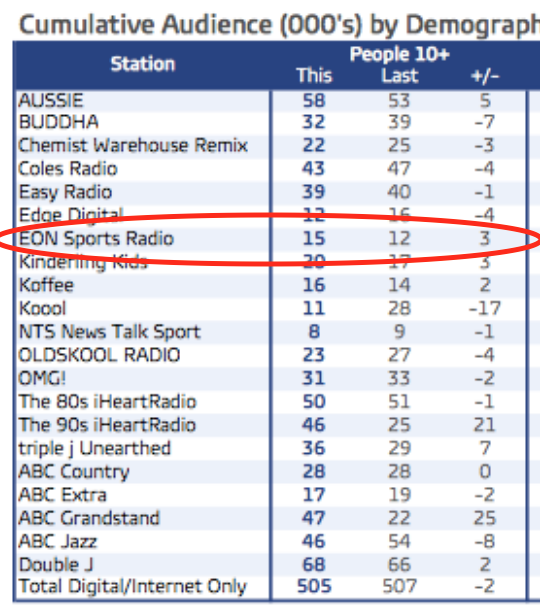 Sadly for EonSports, it appears the station was not able to capitalise on its growing digital radio audience (latest digital ratings left) to generate enough to keep the business going. Whether other investors will now come in as part of the restructure is unknown at this time.
Late Friday afternoon Mr Wheatley told radioinfo that the station had not closed down, was still on air and was planning a restructure. He was backed by EON Sports Broadcast Engineer, Darren McKenzie who says, "We are still on air, and will be into the future. Stay tuned whilst internal re-structuring takes place." See our comments section below.

Renowned former ABC sports broadcaster Dan Lonergan, now EON Sports morning host, joined the breakfast team to say his goodbyes:
"I'm coming in to say goodbye and tell everyone I have enjoyed it… it's a sad day, I wish it could continue because we've all worked very hard… we had a point of difference, we have very talented people here, but it's sad that we just haven't been able to make it work."
Followers and former staff posted messages of support on social media as the last local show went to air.
Listen to the last half hour of this morning's breakfast show below.