In this exclusive chat with radioinfo's, Peter Saxon, Ben Fordham reveals…
What he thinks of surveys and why he wasn't fussed losing 2GB's Breakfast crown to Kyle and Jackie O – or winning it back again.
The biggest influencers he's had in his career.
His dreams of becoming Prime Minister.
The new award he believes should be introduced at the ACRAs
His advice for young people starting a career in radio.
After Survey 4, when Ben Fordham's 2GB Breakfast show lost its 19 year grip on the number one spot to KIIS 106.5's Kyle & Jackie O, the News Ltd media took aim at Nine Management with the kind of venom they usually reserve for the ABC and some horror movie called "The Woke."
"This is a disaster for 2GB!" railed The Australian's Sophie Elsworth in a chat with Andrew Bolt on Sky News.
Amongst the litany of falsehoods and misrepresentations aimed at management for letting Alan Jones go, they were careful to ring fence Fordham from direct criticism, perhaps because this was always a stoush between two titans of Australian media, News and Nine or because the Fordham family had long been friends with Alan Jones from before he became a radio presenter, when Ben was just 10 years old.
Perhaps it's because Ben Fordham was born to a family that went into the entertainment business, that he is a total professional, such a class act that he can sincerely congratulate his successors and brush aside all the knives that came out after Survey 4.
When asked: Were you disappointed about the pile-on in The Australian and Sky News saying that 2GB should have kept Jones," he replied…
"Well, I think when you are paid to give your opinion every morning, you can hardly complain when other people give theirs. I mean, it's a bit rich for someone who does what I do to then complain when someone else, whether they're on social media or work in traditional media, decide they want to express a view as long as they're not threatening to kill you or harm someone you care about."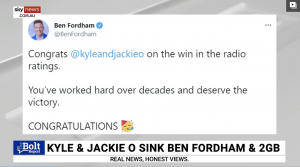 In the most recent GfK Survey, Survey 5, Fordham bounced back, retaking the lead in Breakfast with a whopping 16.8 share.
radioinfo: After eight years of Drive, Alan Jones leaves 2GB and you're offered arguably the biggest job in Australian radio. As someone said, it's like following Bradman at bat. How did you feel at the time?
Fordham: I felt shocked, I think would be the best way to describe it. I was shocked because it wasn't something that I was after, so I said no several times when it was first raised with me, and that's because I was really satisfied and happy with the way my family was rolling at the time. And my wife,Jodie (Speers), works early in the morning on Channel seven, so I just thought, this is not going to work, both of us wake up at three o'clock in the morning and I was also probably intimidated by the prospect of going into bat after Alan.
Of course, there's going to be a level of intimidation taking on a job like that. And it's one of the reasons I didn't necessarily want to do it, but I was convinced to do it and I'm glad I was convinced.
radioinfo: How would you describe the year and a bit you've had since taking on the Breakfast showat 2GB?
Fordham: Interesting.
radioinfo: How so?
Fordham: Look, it's been a real thrill. I've had a lot of fun doing it. It's kind of… it's a bit like saying, what was the roller coaster ride like? There was lots of action, a little bit of screaming and scary moments, but overall, a hell of a lot of fun. I've got a great team behind me and there's no doubt that2GB's got a really strong presence in Sydney, and that makes my life easier.
radioinfo: Many radio pundits predicted that a lot of Alan Jones audience would go elsewhere. They didn't do that, obviously in the first instance. Was COVID a factor in moving people to talk?
Fordham: I think it moves people towards talk and away from talk for exactly the same reasons. It's been so all-consuming in our lives that part of us wants to know what's going on and part of us wants to pretend that it's not going on, and we want to escape it all and listen to some music.
radioinfo: COVID aside, how did you survive the ratings rollercoaster with peaks and troughs greater than I can recall in 50 years?
Fordham: I think it's just a reality with ratings that they go up and they go down.. Once you understand the fact that they go up, they usually go up a couple of times in a row, maybe three and then they go down. And then they might go down again and then they go up and then you might go up and down and up up and down down… but ultimately, certainly my experience of radio is, 'what goes up must come down' and what goes down ends up getting back up. That's been the story of my life in ratings.
radioinfo: Still, ratings are the yardstick by which all major talent is measured in radio…
Fordham: I don't know. I'm very lucky, Peter, in that a long, long time ago, I realised the difference between worrying about things you can change and not worrying about things you can't. And once you understand that there's no point in worrying about things you can't change, you then put all your energy into the things you can change.
So, I've never been obsessed with ratings. I've never really understood them as much as most people in radio do. Sometimes people ask me questions about the sample or the book or the wave or the trend or the demographics or a whole range of other things, and I always have to point them in another direction to get the answer on that because I just find that I'm better off focusing on the content on the show and let the rest of it play out behind the scenes.
radioinfo: One of the parts of Survey 5 that should please both you and 2GB management, shows that the if the idea was to attract a younger audience, then that seems to be working…
Fordham: I couldn't tell you only for the reason I stated before, that genuinely, when it comes tostatistics and demographics, I'm not the bloke to talk to if it's about my own show… and that might be a bit naive. But I also think that you can allow yourself to get bombarded with information and graphs and snapshots and analysis and what they're telling you one day, they'll tell you something else six months later.
I've always taken the view that there are other people getting paid to worry about that stuff around here. I'm just here to do the show and I and turn up and then do it every morning. And look, I think radio audiences are largely always there for whatever show they listen to. I don't buy into this idea that one month they're listening to Ben Fordham and the next minute they're listening to Kyle and Jackie O, and the next minute they're listening to Ben Fordham again.
radioinfo: You come from… what would you call it, a showbiz family or an entertainment business family, or something else?
Fordham: I call it a small business family. But that's only because I was there from the start of it when my mum and dad built an office in our garage and started their own business, that (just happens to) have been around those industries of media, sport and so on. But ultimately, for us as kids, it was a case of mum and dad being brave enough to start their own business and work their arses off to build a really successful company that's now run by my brother, Nick.
radioinfo: Speaking of sport, and NRL in particular: looking at Panthers coach Ivan Cleary's son Nathan who is the team's star player, it's obvious that the professionalism of the father has rubbed off on the son. The kid's ice cold on the field. He doesn't let ego get in the way of his game. Would that be true of you?
Fordham: To a degree. But I'm equally influenced by my mum, and I always have been.
When people used to say to me, as a kid, you're just like your dad. I used to always reply by saying, 'Well, I'm more like my mum,' and I meant that with the greatest of respect to dad. But I I'm very happy about the fact that I got a bit of both because mum and dad always had a winning combination, and part of that was that they are very different people.
There are certainly many lessons that I've taken on from dad, and I've drawn on the strength that I've received from him many times since he died, particularly in moments of challenge, but equally,mum's the common sense one. So, I hopefully have a bit of Veronica Fordham in there as well, or The Big Kahuna as we call her.
People laugh at me when I say this, but I've never made a major decision in my life without bouncing it off the Big Kahuna, ever. And I have made big decisions in my life without bouncing off my dad. Anddad used to acknowledge this all the time, mum's probably the wiser counsel. So, whether it was a big investment or taking a new job or someone I thought I wanted to marry, I've never been afraid of double checking with mum what she thought of the situation.
radioinfo: Yet, your dad had a huge influence on your life…
Fordham: There are times, Peter, particularly recently where I've caught myself going, 'Oh, hang on a minute, that's dad. And there was one just the other day. It actually involves radio: I was sitting around and was wondering whether someone's going to bring out an award in recognition of John Brennan. And I started talking to Jodie about it, and she said, what do you mean? I said, 'Well, you know, there should be a John Brennan leadership award of the ACRAs or something like that where people should be able to nominate someone who has been a mentor in their workplace and there should be a "Brenno" in memory of John Brennan that would a bit like the Brian White Award.
So, the next thing I found myself on the phone to Peter Brennan to check with him whether the family would be happy for me to propose such an idea. And when I got the call, I thought on you are your old man… this is something that my dad would have done. And I've caught myself thinking, Hang on a minute, you've turned into that. So, there's certainly many parts of my personality that I've linked to him, but just as many linked to mum.
radioinfo: What was your earliest memory as a child of wanting to be when you grew up?
Fordham: I wanted to be Prime Minister.
radioinfo: Okay, that hasn't worked out… yet.
Fordham: No, it hasn't work out yet. I remember when I when I became interested in politics at a young age, I remember asking lots of questions about it and getting in in deep conversations with mum and dad about it. And then I said to mum at one point, 'I think I'd like to go into politics.' And she said, 'Please, no.' And I said, 'What do you mean?' She said, 'You don't want to get involved in something like that, that's so personal and vindictive. And I said, 'I want to be prime minister.' And she said, 'No, that's even worse. No, please. So that's my only memory of kind of something that I said (as a young child).
radioinfo: Having taken mum's advice and given up on becoming PM, you settled on radio…
Fordham: I did work experience when I was 15 at 2UE on the Alan Jones Breakfast Show. I met a couple of blokes from the sports department. I thought they were the funniest people I'd ever met in my life. I'd never heard language like I heard around the sports department at 2UE. And as a 15 year-old, I was pretty impressed by this and I thought, geez this looks like a fun to work. So that was the beginning of it. And then I started working there on weekends for Ray Hadley on the continuous call team and landed a cadetship in the newsroom.
radioinfo: You never wanted another career – a sommelier, perhaps?
Fordham: When I was working in the in the radio newsroom, we used to watch the six o'clock news on the TV. I can remember thinking to myself, I'm going to give that a crack at some point because I don't want to be someone who thinks to myself later on, 'You know, I should've done it.'
I've been involved in TV for probably 20 plus years now, and I love doing that. But it's nothing like the experience of going on radio. And it's hard to explain and I don't think anyone really knows how to explain it all that well. I certainly don't. But there's just something that happens when you go on radio that it really makes you feel alive. I got a taste of that early on and I've stuck with it ever since.
So that's from when I was 15 to now at 44. So, I'll be coming up to a significant anniversary of my time in radio, even though there was a break there in the middle for some time when I was just focused on TV.
radioinfo: Growing up, you would have met a lot of celebrities at different gatherings and such. Can you recall any of them? Which ones influenced you?
Fordham: I think early on, probably, Alan (Jones) because when I was growing up, Alan was the Wallabies coach. And he was friends with my mum and dad through rugby. So that became an early exposure to Alan because I used to write to him about rugby when I was under 10 years of age, and he would always write back as he does. And then I got to see his radio career take off and everything else that'sgone on with it. So that was certainly something early on that I took a lot of notice of.
The other person I met through mum and dad's association who's had a major impact on my life is Ricky Stuart, the coach of the Canberra Raiders. Ricky was a teenage rugby union player when I was growing up, and he was a bit older than me. And at one stage, dad broke the news to me that we were donating my bed to Ricky because Ricky was living in a share house and didn't have a bed and dad always loved Ricky. It was big news for me, because I got a new bed and that was a big deal to mebecause I never had my own brand-new bed before.
Ricky has become a great mate of mine because as a 21 year-old, when I was posted to Canberra as a political correspondent, I called Ricky and asked, 'what suburb should I be looking for a rental?' And he said, 'move with me'. And I told him he's crazy. But he convinced me and and I lived with him for about nine months when I was living in Canberra.
And now I'm involved with his charity, the Ricky Stuart Foundation. And I love his wife, Kaylie and his kids. And, you know, he's been a great supporter of mine and a great mate of mine. Out of all of the people who mum and dad looked after when I was growing up, I'm probably closest to Ricky and he's gone through a few challenges and I've gone through a few challenges and we look out for each other.
radioinfo: What words of wisdom did anybody impart to you that you can recall that really had some impact on your life?
Fordham: Well, there's a line that my dad frequently used that we recall often. And that is, 'If yougrab the tiger by the tail, you get the whole tiger. And that was my dad's way of sending a message to us that he always had our back. And if we were ever in any trouble, he was always going to be there to go to bat for us and to support us. And I probably learned a little bit through my dad when it comes to his strong sense of loyalty and commitment to helping the people that he cares about.
So, that's something that has stuck with me. It was a bit of a philosophy of dad's – unspoken largely. But now that we think about it, he used to use that line regularly.
radioinfo: And today, what words of wisdom would you have for a young Ben Fordham type starting out in radio?
Fordham: Good question. As crazy as it sounds, I tend not to worry too much. I think I learned a long time ago that the usefulness of worrying only lasts so long, and then you've got to put it behind you and just move on. You know, so I haven't, you know, usually when people give advice to the to themselves at a younger age or when they were starting out, it's about don't worry about this because everything's going to be okay. The reality is, I was probably not worrying too much about a lot of them.
Worrying should be a part-time thing, not a full-time thing.