Fitzy & Wippa, one of NOVA Entertainment's much loved and respected shows, will celebrate 10 years as Nova 96.9's Sydney breakfast show on Friday 17 September.
The Fitzy & Wippa breakfast show launched in September 2011 and has become an intrinsic part of the fabric of Sydney radio, taking to the airwaves for over 2,000 shows.
Joining Ryan 'Fitzy' Fitzgerald and Michael 'Wippa' Wipfli each morning is Sarah McGilvray , newsreader Matt de Groot and the backbone of the show Executive Producer Tom Ivey, who has been the helm since the show's inception.
Fitzy says, "A decade of decadence. No, not Wippa's rider but the excessive pleasure we've had doing this show. Nova have been extremely loyal, along with our magnificent team. Most of all we have to thank our devoted listeners, opening up your lives and letting us expose them has been so gratifying."
Wippa says, "10 years, it feels good to just be getting warmed up. It's been an honour to stare into the beautiful blue eyes of a bald man for over 2,000 shows, what more could you ask for? Love the team like they're my own family, but I would never invite them to Christmas. Here's to 10 more."
NOVA Entertainment's Chief Programming & Marketing Officer, Paul Jackson, says, "Where did 10 years go? Fitzy & Wippa sound as fresh as they did a decade ago. I think I speak for all listeners; we've grown up with them and been a part of the ups and downs and important moments in their lives, from weddings, having families and all the hilarity and chaos that goes with raising children. Fitzy & Wippa have provided listeners with so many laughs and put such an entertaining spin on everyday life that I couldn't image not waking up to them on Nova in the morning."
The Fitzy & Wippa breakfast show has won eight ACRA's including Best Networked Program, Best Station Produced Comedy Segment and Best Station Promotion for Fitzy & Wippa's Backyard Cricket.
They have also secured several Guinness World Records including Fitzy & Wippa's Bob Katterpult, engineering the world's furthest catapult, and the World's Longest Hot Wheels Track, sending a toy car down 2624 feet of track.
The boys have broadcast from the top of the Sydney Harbour Bridge, pitched to the experts on Network Ten's Shark Tank, have pulled a plane, been suspended from hot air balloons, and undertaken many over-the-top stunts.
The show has been broadcast internationally from South Africa, Los Angeles, London, Bangkok and New Zealand.
During the 2020 lockdown the team had just 72 hours' notice to successfully broadcast their show live from their homes, at five separate locations across Sydney.
With a strong commitment to the community, Fitzy & Wippa have raised over a million dollars for Australians doing it tough and vital charities through various campaigns including the 'Best Community Service Project' ACRA winning Barry the Parody Bear, Fitzy & Wippa's long running We've Got Your Back initiative to help local families in need and into which singer Sia threw an additional $100,000 in 2020, Fitzy & Wippa's Backyard Cricket with the Prime Minister which raised funds to support students in developing countries and Fitzy & Wippa's Mega Farm Rescue with Bendigo Bank for Rural Aid to provide critical support for farmers.
In addition, the boys are proud supporters of causes close to their hearts, Fitzy is an ambassador for RAISE Foundation, a youth mentorship program, and Wippa an ambassador for the Cooper Rice-Brading Foundation, the charity he chose to represent on Channel Nine's Celebrity Apprentice, raising over $184,000.
From interviews with Hollywood and Australian A-listers, to Fitzy & Wippa's infamous stitch ups, song parodies, rap battles and hilarious segments, to interesting stories from everyday people and seeking out insights from leading experts on the news of the day, Nova's Sydney breakfast show looks to entertain, inform and provide an escape for listeners every morning.
An extensive array of celebrity guests have joined the show over the past 10 years including Brad Pitt, Nicole Kidman, One Direction, P!nk, Russell Crowe, Tones & I and Sia.
Approaching interviews with their signature cheeky and highly interactive style, from Wippa serenading Taylor Swift or singing a duet with Hugh Jackman, to taking on some of Australia's most well-known stars in their highly competitive rap battles, Fitzy & Wippa approach every moment with fun in mind and keep their guests wanting to come back.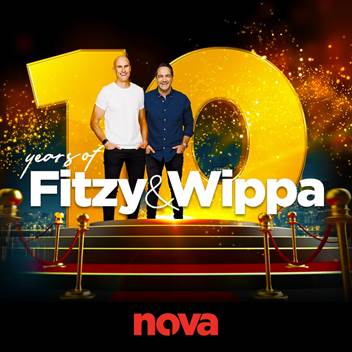 And there were plenty of well wishers on the program helping to celebrate the Ten year milestone.
Hamish Blake: "10 glorious years. As a close mate Wippa, I've watched you age 50 years in 10 years, and you already looked about 40 years too old anyway. As a 39-year-old man to have a best friend who's 100 it's like a buddy comedy!."
Ray Hadley: "I'm ringing to congratulate you blokes on a miraculous achievement, I can't believe it myself. On a serious note, we take the piss all the time but it's a really big effort to get up every morning and do 10 years of breakfast radio. Keep doing what you're doing".
Tim Blackwell (who is celebrating 20 Years with Nova Today): "I got a small cake for you guys, something to fit all your radio awards in. You guys being on breakfast for 10 years and having me on four or three times has been such a lovely support. My highlight of your show has been you guys, because if you didn't leave drive I wouldn't have got on drive!".
Dr Chris Brown: "I want to say thank you quickly, for the 10 years of really destroying a number of relationships, it's really marked a special time in my personal life."
Gladys Berejiklian: "This is officially the last time I'm coming on this show just for the record" (after the guys ask about possible about engagement to Arthur).
"I can say something that nobody else can say, I congratulate you on behalf of the people of New South Wales". "Thanks for keeping everybody happy during a difficult time, cheers to the next 10 years".