The last Gold Coast survey for the year has been released.
Hot Tomato, ABC91.7 and Sea FM scored slight gains, Gold FM slipped a little and triple j had the biggest gain overall.
Top station Gold FM slipped 0.7 to 14.3%, with Hot Tomato hot on its heels on 14.1%, up 0.2 share points overall.
Third placed Sea FM gained 0.7 to 9.5%, followed by triple j, up 1.8 to 9.4%. Local ABC91.7 was in fifth place with a gain of 0.1 bringing it to 6.7%.
Hot Tomato won the 10-17 demographic, Sea FM won 18-24s, triple j won 25-39s, Gold won 40-64s and ABC91.7 won the over 64s.
Breakfast was a tie between a steady Gold FM and Hot Tomato, which scored a good increase in this timeslot. Gold won mornings, Hot Tomato won afternoons and drive, ABC917 won evenings and Gold won weekends.
The surey was conducted for CRA between Sun May 4 to Sat Jun 21, Sun Jun 29 to Sat Jul 5 and Sun Aug 17 to Sept 20, Sun Sept 28 to Sat Oct 18, 2014.
Click the chart to enlarge it.
Refresh this report later today for the latest updates.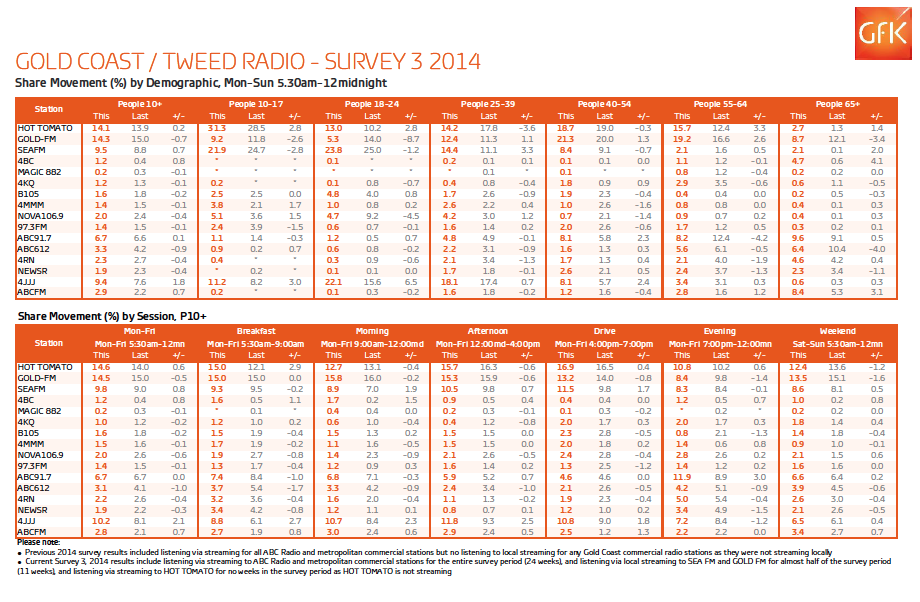 SPIN CYCLE