After 9 years, Easymix Ten-71AM will cease to exist from midnight tonight and a new era will begin in Bendigo, Ballarat & Central Victoria with the launch of GOLD.
Covering more of Bendigo, Ballarat & Central Victoria, GOLD enjoys the benefit of broadcasting on 98.3FM in Bendigo and 1071AM across Central Victoria.
GOLD will continue its focus on relevant, local information and news, including the launch a local Drive Show 'The Home Stretch,' the only local drive show on commercial radio in Bendigo.
As well as the award winning Neil Mitchell show and comprehensive sports coverage including AFL Live, Off the Bench and Sportsday. the station will now add a new identity and a new mix of instantly recognisable music for 40-60 year olds.
Grant Broadcasters Director Dugald Cameron, pictured below at last night's launch function, says the beginning of the new format is an exciting time:
"We had a lot of conversations with our listeners and our clients and now we are delivering on what they wanted. Our commitment to Bendigo & Central Victoria remains as strong as ever and we are excited about the new direction."
Since Grant Broadcasters acquired Easymix Ten-71 in 2007, the company has tripled the number of full time staff and invested in new facilities located in the heart of Bendigo.
"Our company philosophy is built on local, relevant content and this underpinned by people who live in the local community," says Cameron.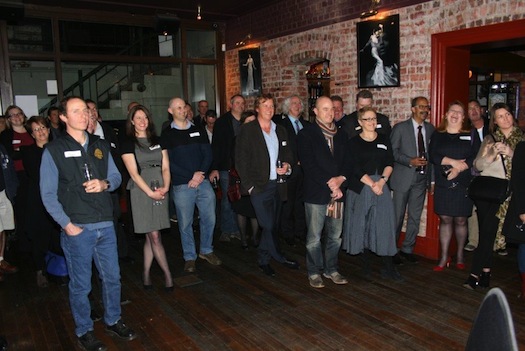 Over the coming months GOLD will launch a comprehensive marketing and promotional campaign that will include giving away four gold nuggets, each valued at $1,000.