Chart Highlights – 13 June 2019
Local Music: Guy Sebastian's 'Choir' lands at No.19, airplay up by 109%​
High Point: Katy Perry reaches new peak with 'Never Really Over' at No.4​
New Entry: OneRepublic's 'Rescue Me' jumps 36 places to No.35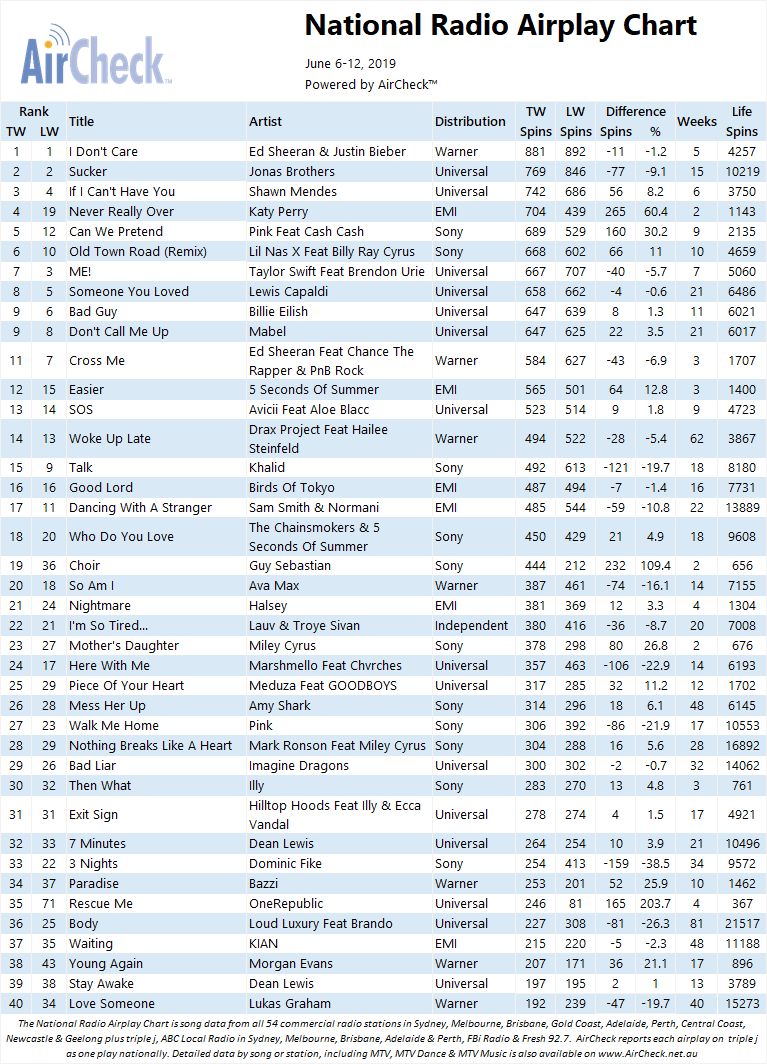 It was a big week for Guy Sebastian with 'Choir' gaining 232 spins, landing at No.19 on the AirCheck National Airplay Chart. In its second week on air, the Nova network showed their support for the Aussie artist, accounting for 40% of all airplay.

20 stations spun the track, with Star 104.5 Central Coast and The Edge Sydney jumping on the bandwagon last week.
After earning the highest new entry last week, Katy Perry continued to climb, reaching No.4 with 704 spins. Nova100 Melbourne and Nova 969 Sydney were out in front adding 57 spins each.

Pink also reached a new high, cracking the Top 5 with Cash Cash on 'Can We Pretend'. Lil Nas X & Billy Ray Cyrus continued their ascent to No.6 as 'Old Town Road (Remix)' secured spins on 2GOFM Central Coast and Gold 925 Gold Coast.
OneRepublic returned to the chart with 'Rescue Me' at No.35 with 246 spins. KRock Geelong championed the track delivering 30 spins last week.

Local country artist Morgan Evans also entered the chart with 'Young Again' receiving 207 spins, ranking at No.38.