Comment by Jen Seyderhelm
A friend told me the other day that podcasting is what the radio industry would look like if women were in charge. I liked that.
For me podcasting is something even better.
I see commercial radio as a quickie. Sometimes it is exactly what you need when you are running late for work. It is a means to an end. Reliable. Spontaneous. Sometimes messy or unfinished (or automated). Mostly, you get what you are expecting. No surprises. Unless there is a format or personnel change prior to utilisation.
Podcasting is making sweet, sweet love.
There's no hurry to the finish line. A podcast can go for 15 mins or an hour. You can pause and come back to it. Or repeat, if you enjoyed yourself. There's the sweet anticipation of the next one.
The mental stimulation of replaying snippets in your head. Trying something new, and maybe not what you'd normally do and finding you like it. I can keep going for hours (I mean about podcasts!)
No one actually knows, as you listen, laughing to yourself, whether it is Stephen Fry or The Wiggles.

I did children's meditation the other day with a group of (adult) friends and thoroughly enjoyed it. On the recommendation of my niece, I embraced Guys we F***ed in the car, with other motorists none the wiser. As I walk the dog, I can savour whatever I damn well please.
There's no pressure, expectation nor need to conform. It is illicit and delicious.
What I also love is that we don't (yet) have podcast influencers. Even better, in a throwback to the 1980s, this fantastic recent article from the ABC suggests that the best way to get your podcast known is.……gasp…….word of mouth. When we hear something we like…..no….when we hear something that resonates, we tell our friends. And that is the power of podcasts. Without any visual medium, they make us feel.
A podcast production is rarely a solo affair. Chemistry makes for better audio. It requires investment from both parties, especially if the relationship is to be ongoing. Kirstie Fitzpatrick, my friend and 20/40 partner is equally committed to our podcast baby, and her input and impetus keeps us on track. We've recently released our 20th episode, and are midway through season two. A lot of love, sweat and tears have gone into the process so far.
Like any relationship, an ongoing podcast also needs funds, patrons or a stipend of sorts, to keep it going outside the loving bubble of its creators. Initially, when we started 20/40, I was certain that what we'd made was so special it would be like the movie Field of Dreams – "If you build it, they will come."
Nope. Doesn't work like that.
You've literally got to dig roads, promote the crap out of yourselves on social media and have contacts in audio and arts organisations. Rinse and repeat. Then there's the paperwork and production time! It tarnishes the romance, but all are necessary evils.
I got into broadcasting 20 years ago because I wanted to be around music all day. Commercial announcers are never free to play their mixtapes any more than they can say whatever they want when the mic is on. Stations can have as little as 2 minutes of actual talk time across each hour. Others, you'll get in trouble if you move the position of a single song in the music log. I can feel some MDs eyes twitch from here. Talk is now largely sanitised.
Radio has become the missionary position.
I've got three other podcasts besides 20/40 on the go at present. Each are dramatically different but all have transpired from an idea where I've thought, "If there was a podcast around this, I'd listen to it." It is an audio space where we can still be wildly creative. You can be you, or you can play a role. It can be straight, educative, serious or funny. You can hear my story or I can tell you someone else's. We can solve crime, rewrite or rediscover history, find out how things work, visit foreign countries, catch up with friends and change our thoughts and opinions on life and the universe in the space we inhabit.
Podcasting is the kama sutra. Even better, for this creative soul, I like to listen as much as I like to make.
Irrespective, you'll never think of podcasts the same again.

About the author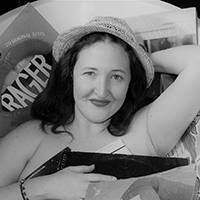 Jen Seyderhelm is a radio announcer, producer, news reader, lecturer, Rockwiz victor and podcaster.
Her podcast, 20/40, celebrates friendship and conversation between two women with a 20-year age gap. In her spare time, Jen does stand up comedy, is writing her first book, and posts music trivia around her vast collection of vinyl singles daily, online.