Advertising has been hit hard during the Corona Virus lockdowns. How hard, and how will radio recover?
Steve Ahern explores various viewpoints.


Standard Media Index (SMI) data for March, the first month of pandemic shutdowns, reflected falls in all advertising categories. The early weeks of March were relatively normal, but the impact was felt significantly during the last two weeks of the month.
Cinema advertising was hardest hit, due to cinema closures, decreasing about 40% in Australia and 33% in New Zealand. Magazines were the second hardest hit category, with revenue down 21% in Australia and 12% in NZ.
In New Zealand, traditional media (radio, newspapers and television) all showed growth during March. In Australia, all categories were down, with radio decreasing by about 12%. CRA's Deloitte figures for metro radio revenue in the March quarter were down 12% to $159.404 million.
Indications from all our sources are that April revenue will be down further than March. SMI's Managing Director Jane Ractliffe confirmed that trading is weak for April, but says SMI figures are not all in yet, promising the final figures for April as soon as they are available next week.
Advertising agency sources confirm what I have heard from the networks, that revenue continues to decline as the pandemic lockdowns play out across Australia and New Zealand. April is expected to be down by about 30% in Australia, but the New Zealand ad market seems to be holding up much better. It's the same story in the Asia Pacific. Last week I contacted more than 40 stations in the region and all of them reported significant drops in revenue.
In regional Australia, ACE Radio reported declines of over 40% in revenue. The regional decline is not universal however, with some markets reporting almost no change in local advertising, while others are hit hard, depending on the dominant industry in the region.
So what about May and June?
No one is optimistic, but, surprisingly, some were not as pessimistic as they were a month ago. The carefully managed plans for a step by step return to a 'new normal' life are progressing faster than expected in many areas, so some advertisers and media companies are forecasting a cautious return to normal ad spending earlier than they thought.
Growth categories are expected to include: computers, household supplies and financial services, while small traders in areas that will open up next month should also return to the airwaves, with beauty services and cafes expected to be among the first small businesses to resume advertising.
Radio is poised to take advantage of both large and small advertisers as they return to air. With governments signalling in advance the business categories that will reopen, one of the best ads I heard on air this week was a different version of an ad each day counting down the days to reopening (We'll be back in 3 days… 2 days from now we reopen… tomorrow come see us…)
Group M CEO Mark Lollback has a strategic view of where radio fits into the wider advertising mix, but believes the industry should move quicker in the audio space:
"Radio has a very specific place on any media schedule – the role it plays is two-fold. Firstly, it is used as solid reach mechanism to deliver desired reach and frequency, at a competitive cost position. Secondly, it is used as part of an overall campaign strategy, leveraging multiple areas of the audio ecosystem including talent, digital platforms, podcasting, segmentation.
"I don't believe that the audio category have moved as quickly as they could into the 'Total Audio' space – which COVID is now enabling much faster."
All the ad agencies I spoke to this week had heard and seen the data from the radio industry about audiences increasing during the shutdowns and how listening peaks have evened out across the day. The five agencies I spoke to were continuing to include radio in the normal way in their advertising mix.
Mark Lollback says clients will be "balancing the re-planning of existing campaigns, dealing with changes in direction and global impacts" at the same time as radio audiences are growing, so there may be no immediate increase in money spent on radio. "A lag effect would be expected," he says.
"How the radio market responds now, as we move through into a new normal will be key – enhanced strategies that speak to 'total audio', talent that continues to engage consumers, the re-prioritisation of data and tech projects will be a priority," according to Lollback.

Group M has "been working with our clients and planning for recovery and growth throughout this pandemic, all the while dealing with immediate concerns," says Lollback. "Radio is core for messaging for many advertiser categories that will continue or recommence spending again sooner, such as government, banks, insurance, utilities."
The radio industry's message about increased listening has reached the ears of advertisers, but they want to ensure the new trends continue. Lollback says: "Radio networks need to make sure that they maintain the gains in audiences that their talent have attracted during this time, and encourage these new found radio habits."
With all of Australia's radio network Sales Directors communicating a consistent message and working together, Lollback thinks the radio industry "can leverage this moment in a more successful way as a solid cohort backing their medium and the exciting proposition of total audio. There are many opportunities to tap into, for instance, while there has been growth in usage of smart speakers, something like only 14% of brands have an audio/sonic brand – so for the 86% of clients who don't – now is the time to turn their focus to it."

Mark Hartwell, the Director of Client and Agency Strategy at the UK's Global group outlines three strategies where a business in the current environment can leverage the uncertainty of the pandemic to its advantage.
"Some brands will have an immediate need to connect with an untapped demand during this time," he says, citing FMCG brands which are not heavy radio advertisers as an example of brands which are now investing in radio as a way of reaching new customers who have changed their shopping habits during lockdowns.
"The second scenario involves new or lapsed brands which may not see the need to advertise… now is the perfect time to advertise because people are trying your product. Dramatise brand and product promises to reinforce new memory structures with your customers to drive long term purchasing habits."
"The third scenario concerns products which have been hit by supply or demand shock during the crisis… Retreating from your audiences now may impact your brand for many years to come. Keep communicating with your customers with an empathetic human tone, which radio is best at," says Hartwell.
Singer Ronan Keating, who is now also a breakfast radio presenter with Harriett Scott on Magic FM in the UK, told a virtual conference this week that presenters are closer to their audiences now than they have ever been, because they are doing exactly the same things as everyone else.
"Everything is very relatable, we're all in our own homes, with the kids around us, home schooling, cleaning our own toilets, everyone is doing exactly the same thing."
His point is that radio presenters, singers and other people in the public eye often live in a different world from their audiences, but not now. Their experiences, jokes, fears and daily routines are currently the same as everyone else. The pandemic is a shared experience that is unfolding for everyone in the same way. Radio can capture that experience better than other media due to its live nature and the relatable talent.
Even the shared experience of social distancing is common to people and to brands. K97 in Canada has reflected it in its signage (main picture), as have iconic brands from all around the world. No words are needed, the common experience of social distnacing is shared by everyone now.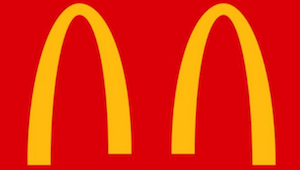 ---
Subscribe to the radioinfo daily flash briefing podcast on these platforms: Acast, Apple iTunes Podcasts, Podtail, Spotify, Google Podcasts, TuneIn, or wherever you get your podcasts.