Comment from Peter Saxon
I was at the Podcast One launch back in September 2017. It was the fore-runner to LiSTNR.
It was held in a vacant warehouse in the once industrial suburb of Alexandria in the inner south of Sydney, currently undergoing a massive transformation to dog-friendly middle class apartment blocks.
The warehouse interior had been made to stage an extravagant series of live tableaux that began with guests entering a long narrow tube that could be interpreted as a birth or, perhaps re-birth canal, or maybe an aural canal. Either way, the tube served as the gateway to a lavish "theatre of the mind" experience.
We walked into a footy locker room where some legend of the game was pouring his heart out to Mark Howard for the Howie Games. After a few minutes observing them, we moved on to a true crime murder scene narrated by Adam Shand followed by a few more genres depicting the depth of possibilities that podcasts have to offer before ending up sitting down at a beautifully laid table where we enjoyed some gourmet treats.
Yet, for all its buzz, flashy props and art direction pushing the promise of more content than you could shake a stick at, the whole show somehow lacked context. I came away feeling there was more sizzle to this than steak.
Fast forward to last Thursday and another former industrial site, the historic and exquisitely refurbished Campbell Stores at Watersedge, Circular Quay. Once again, entry was through a tunnel, slightly more spectacular than the last, which opened onto a series of tableaux. Was this déjà vu all over again?
Well, no. Guests walked through a day in the life of a typical LiSTNR user, in SCA's prime 25-39 target demographic, from waking up in the morning listening to Steve Price on Australia Today, heading to the gym listening to Abbie Chatfield's It's A Lot podcast, catching the train into work while being entertained by Triple M's The Marty Sheargold Show to cooking dinner in the evening with the Hit Network's national drive show, Carrie & Tommy, just to name a few.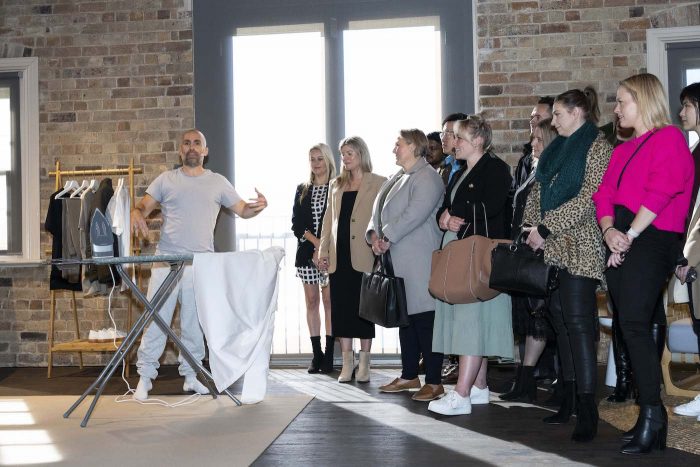 In other words, the whole exhibition had shifted focus from the podcast content of Podcast One to a whole listener experience with LiSTNR and how it actually works and interacts with the listener as it integrates with smart speakers and other devices such as smart phones – all the while able to shift seamlessly from live to on-demand radio and all genre of podcasts.
For advertisers, the integration that the LiSTNER app offers now competes directly with other online platforms in audience measurement and buying habits. For example, it can track a listener on a train to work and serve up a specific ad to make a personalised offer which the listener can accept on the spot by simply shaking their smart phone.
What is remarkable is that the platform for all this and the technology that drives it, was all built here in Australia. We were told by SCA CEO Grant Blackley that he has already fielded interest from several parties to use the LiSTNR software and business model internationally. If that eventuates, we hope that at least a majority shareholding remains in Australian hands. And, why not? if a small country such as Sweden can own a global organisation like Spotify, Australia could own LiSTNR.
But we're getting ahead of ourselves.
There's one more difference between the LiSTNR launch 17 months ago and the presentation last Thursday. And it's a big one. It's in the attitude of everyone involved. BTW, "everyone," staff numbers at LiSTNR have grown from 17 when it was launched 17 months ago to 85 today.
Since the day in 2013 that you-know-who went to you-know-where, SCA, has endured more than its biblically allotted seven years famine. The promise of seven years feast is long overdue. Indeed, from a radio network that was once the leader in almost every facet of broadcasting, it has at times struggled to post a number one survey result in any metro market.
While that may or may not change anytime soon, LiSTNR is shaping up as both a game changer and a much bigger game that's been growing exponentially for SCA over the past 17 months. Suddenly, the company finds itself back in the game competing head on with global giant iHeart through its partnership with ARN.
It's clear that as radio inexorably moves to digital delivery, it will evolve in a similar manner to television where online is taking over from satellite and transmitters because it is way cheaper to maintain while offering more functionality. As smart TV's now have a myriad content apps onboard, from Nertflix to iView and each of the local commercial channels that offer both live broadcasts and on-demand, viewers have been migrating away from terrestrial broadcasts.
Radio will go the same way. It will be delivered as part of an Audio ecosystem augmented by on demand replays and a host of podcasts that like Netflix and Stan provide a vast variety of content that boggles the imagination.
Grant Tothill, Jen Goggin, Mark "Howie" Howard, Abbie Chatfield and Grant Blackley
SCA, along with much of Australia's radio networks, has placed a pretty big bet on this horse some time ago and it's starting to pay some serious dividends. So much so that Mr Blackley confidently predicts that SCA might at some point change its name to LiSTNR.
From Grant Tothill, who heads up LiSTNR, and Grant Blackley down, the enthusiasm is palpable. Everyone seems to have a new-found spring in their step. Last Thursday they were selling more sizzle with more enthusiasm, than I've seen from SCA in a long time. But this time, there's plenty of steak to back it up.
Peter Saxon