Kyle and Jackie O have spoken out amid rumours the radio duo were in talks with SCA for a $20 million contract to leave KIIS 1065.

"I would never go back to Austrero, even if they gave me the radio station" – was the reaction to the reports from Kyle on KIIS 1065 this morning.

Meanwhile Jackie confirmed that she hasn't been contacted by SCA at all.

Currently SCA'a breakfast slot is filled by Rove McManus and Sam Frost who finished the ratings in 2015 with 3 per cent audience share with Kyle and Jackie O holding a 10.1 per cent share at KIIS.


Meanwhile Australian Radio Network (ARN) has launched new marketing campaigns for the KIIS Network across all markets as part of its ongoing growth and continued investment in its brands and talent.
The campaigns, which launched on Monday January 18, to coincide with the first day back for all on air talent, include targeted outdoor, TV, digital and social channels for breakfast and drive shows on stations across the KIIS National Network – KIIS 1065 Sydney, KIIS 101.1 Melbourne, 97.3FM Brisbane, Mix102.3 Adelaide and 96FM Perth.
In Sydney, the KIIS 1065 campaign will roll out in phases with the first stage of the outdoor campaign having launched on Monday January 18, to coincide with the return to air of Sydney's #1FM breakfast team Kyle & Jackie O and #2FM Drive show team Hughesy & Kate.
This is the new KIIS 1065 Kyle & Jackie O TVC.


The Sydney campaign has featured station dominations at key train stations, Central and Parramatta, and a powerful presence across the Adshel Rail and Adshel Live Digital networks along with high impact APNO large format outdoor.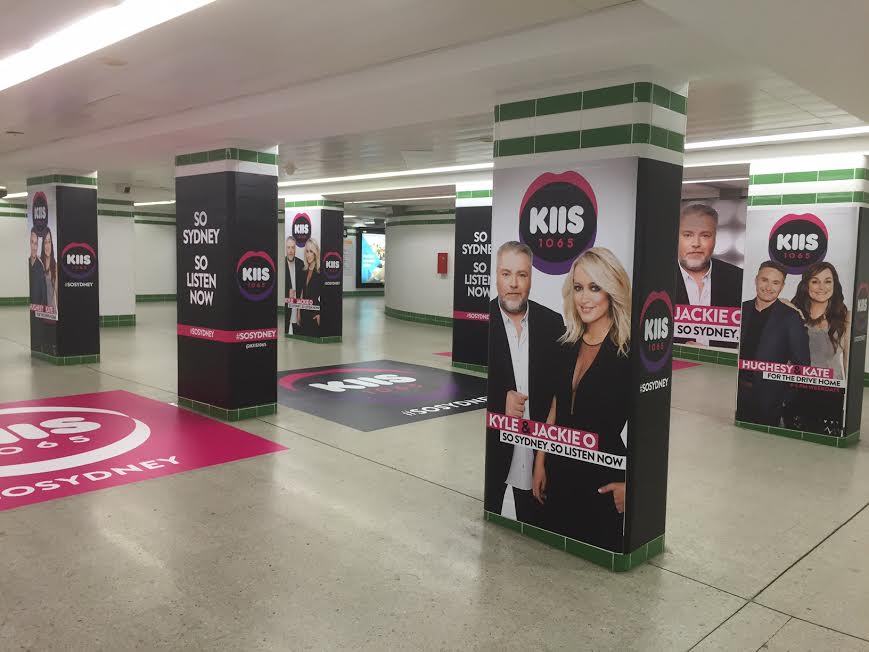 In the very competitive Melbourne market the strategy is to drive awareness of the entire KIIS 101.1 offering over the coming months beginning with a highly impactful outdoor domination on Flinders Street, above Young & Jackson.


For Brisbane and Adelaide it is a similar approach with high impact campaigns planned and led by a strong outdoor strategy.

In Perth, the media investment in 96 FM continues across TV, outdoor and digital, off the back of an extensive campaign launch in late 2015.

ARN National Marketing Director, Anthony Xydis said this campaign is the most extensive since the KIIS National Network launched.

"These campaigns signify ARN's ongoing commitment to invest nationally across our portfolio of brands and across multiple channels.

"In Sydney, a very competitive market, we chose a high impact campaign utilising digital outdoor as well as station dominations in the key transport hubs of Central and Parramatta. The campaign is further strengthened by TV which launched on Sundayevening and reinforces KIIS 1065 and the Kyle and Jackie O Show as the home of the world's biggest stars.

"In Melbourne, with the launch of new breakfast team Matt & Meshel in the Morning teamed up with #2FM Drive Show Hughesy & Kate, we chose sites that would deliver maximum impact and reach for our core demographic. Flinders Street domination, above Young & Jackson with APNO, is a key element during one of Melbourne's busiest periods.

"The entire campaign across all cities will be complemented by an extensive digital marketing and social campaign and will feature an expanding outdoor presence and TV campaign in the coming weeks."

KIIS 1065 TVC credits – Creative Agency: JOY Production: Brilliant Films
***