Peter Saxon delves into smooth's success with Georgie Page
It's every bean counter's dream: a radio station where the entire talent roster costs less than just the breakfast show on its main rivals. What's more, the talent isn't all that "difficult." And some of the biggest stars in the world from Michael Buble and Blondie to Barry Gibb line up to present their own show on air and forget to send an invoice.
But while most of those dreamy bean counters would be happy for such a station in Sydney or Melbourne to attain a 6.0 share and return a modest but reliable profit, few would dare to think that it could get to 10.0 and be the number one music station in the market.
Sometimes dreams come true.
As if it were a movie script, just a few weeks before the station's 5th birthday, May 21, Survey 2 was released to reveal that the smooth twins of Sydney and Melbourne are number one FM – each on exactly the same 9.9 share.
"Its like both my kids won at sports day," says smooth's Program Director Georgie Page whose words are both factual and prophetic as she is heavily pregnant with her first child – gender unknown.
Georgie's only been in the PD's role since October last year and readily ascribes smooth's success to NovaEnt's Group PD Paul Jackson and her predecessor Peter Clay.
But success, as they say, has many fathers (and mothers). smooth's unique music content, goes hand in hand with it's near flawless execution of launch and ongoing marketing, led by Marketing Director Tony Thomas.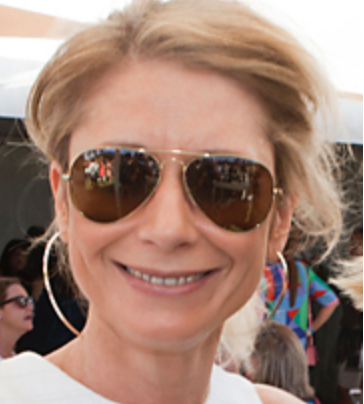 NOVA Entertainment's Publicity Director Jane Elliott (left) had this to say, "One of my career highlights has been working on the launch of smoothfm in 2012.There is so much passion for the brand across all of smoothfm's platforms from on-air and our digital assets as well as smooth on Foxtel and smoothfm Festival of Chocolate that you can't help but feel proud."
Although Georgie's been PD for just six months, it would be wrong to downplay her role in the brand's success. Not just for what she has achieved, personally, but because Georgie represents the kind of culture every workplace should strive for – where staff can see clear pathways to advancement. And advance, she has.
Georgie's been with Nova since 2009, long before smooth was conceived. She worked her way through the production ranks from Nights to Drive. And then, fulfilling her goal to produce a breakfast show by age 25 she landed the gig with Fitzy and Wippa on Nova 96.9.
In 2014 they put her in charge of "celebrity content" at smooth.
"That was very exciting for me because I was a massive fan of the station," says Georgie, "So when the opportunity came up it was a no brainer. I produced the weekend shows for Melissa Doyle, Richard Wilkins and David Campbell. I also did the celebrity records – my first was going to Rod Stewart's house and recording shows with him which was frightening but wonderful.
Having successfully filled in as PD for Peter Clay when he went on holidays, she was offered the job in October last year. "I was shocked and said Yes. 100 times yes! I said something along the lines of, 'I should have all these intelligent questions. I have none. Leave it with me over the weekend.' And on Monday I didn't have any questions."
A mentor of mine, the late Keith Graham, when I was about Georgie's age told me, "Son, bite off more than you can chew and then chew like buggery."
"Im chewing madly – absolutely madly," says Georgie. "Im very lucky to have Peter Clay and Paul Jackson so available to me.
So what is the key to smooth's success?
"The music. It is so important to us. and our More Music Less Talk logo is not something that we put on a billboard and will potentially change next year. Its something we deliver every break every hour.
"I am personally a massive fan of our music. I love how this evolved and I love the passion that listeners have for our music. And our team. It's a very small team in terms of Sydney and Melbourne program and integration teams go but it's a hugely dedicated.
"I think that just being consistent and ignoring any sort of early survey results when we were slowly growing. Paul and Tony could have gone completely the other way and made massive changes based on survey. We've never done that. We've run our race, ignored every other competitor and I think its worked," says Georgie.
There's nothing unique about playing more music with less talk – or less ads, especially when you haven't sold many. Stations tweak the numbers all the time. But smooth's music mix is completely different. It is much more to do with quality than quantity. It might all fit broadly into an "easy listening" style (although Queen's, I Want To Break Free might be pushing the envelope) but other than that it's impossible to predict what's coming up next.
It sounds like a couple music buffs working through a vast collection of albums dating back to the 1950's going "Wow. What a great song this is, let's put this on next."
As I listened to breakfast last Monday, having switched from a talk station befitting my age, the soothing affect was immediate. smooth is the station my cardiologist would prescribe. Yet, it's more exciting than that. It's not that every song they play is a gem – how could it be for every single person listening? But an absolute standout comes along often enough to get you totally immersed. For me it was a duet from Patti Labelle and Michael McDonald from the 1980's, On My Own. For someone else it might be Slow Hand by the Pointer Sisters, or something new from Ed Sheeran. Here's the playlist, courtesy of smooth's Zoe Walsh.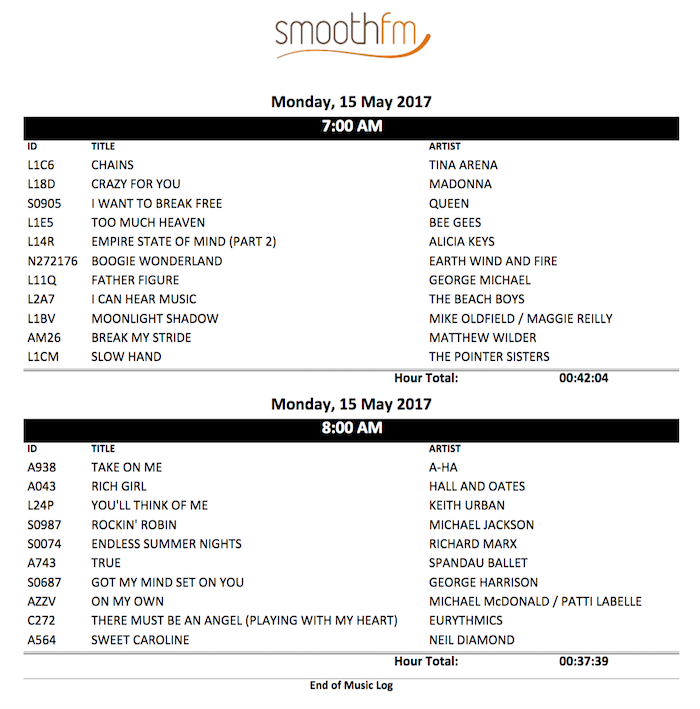 So who picks the songs?
"The music is done by Kate Mason our music director and Paul Jackson," says Georgie. "They are both hugely passionate about music. I never met two people who know more it and you can hear it every day through the speakers. There's no algorithm involved. Everything's done on 'feel' It's beautifully picked and its beautifully placed."
Of course, being an announcer on smooth is a dream job. How hard can it be to back announce a few tunes and mention the weather?
Not so says Georgie. "More Music Less Talk is the hardest format that Ty Frost, Simon Diaz and Byron Webb say they've ever worked on because we give them a much shorter period of time to invoke a feeling from someone, give them information and provide interesting content to keep them there and its all about getting back to the music. It's actually very, very hard to give someone 15 seconds to do a talk break as opposed to giving them three minutes."
With the incredible success smooth is, as a the PD, how do you crack the whip? "Luckily I really don't have to crack the whip with these guys. The fact that I can sit in a meeting and go 'Guys- we need to keep it tight and bright' and they go on the radio and do it I think is a tribute to them. Im very lucky because there would be a lot of people that you would say talk for a shorter period of time to and it would go down very poorly."
Like any station that popular, smooth gets a lot of feedback – almost none of it negative. "The complaints I've seen at other stations have been unbelievable," says Georgie. "We have a lot of feedback from new mums and maternity units because I believe we're played in many of the maternity units around Sydney and Melbourne 24/7. Beautiful way for a baby to enter the world, I think. We have a lot of feedback from businesses who say that the energy of their workplace changes because of the music we play.
"We don't get bad feedback. We get a lot of suggestions about music. We get people who say I don't like a particular band but I don't see anything coming in that doesn't say 'I love your station and I want to hear less of this but I want to hear more of this this and this."
Any professional CD or PD worth their salt is just as capable of programming Country as they are Heavy Metal even if their personal taste is Jazz. Happily for Georgie, smooth is singing her songs. "People in radio tend to listen to other things when they get home – understandably, just to switch off. So when I got the job at smooth, my husband said 'So, we're going to be listening to other things around the house?' And I said, 'No, not at all. I love it!"
Peter Saxon
"If music be the food of love, play on." William Shakespeare, Twelfth Night
Other coverage of smoothfm's 5th birthday