This morning, hundreds of pre-schoolers across the country donned red noses and their dancing shoes in support of Red Nose Day at iHeartRadio Little Rockers Red Nose Discos in Sydney, Melbourne and Brisbane.

Ahead of the official Red Nose Day next Friday June 24, which raises much needed funds for the life-saving work of SIDS and Kids, families filled Luna Park in Sydney and Melbourne and BOUNCE Tingalpa in Brisbane, creating a buzz of excitement that saw little ones dance playfully to the dedicated Red Nose Disco radio station, Little Rockers Radio on iHeartRadio.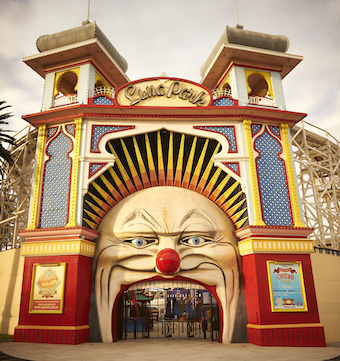 Much-loved pre-school artists including The Wiggles, Justine Clarke, Playschool and Sesame Street pumped through the speakers, fuelling the energy in the room.

With the support of media partners iHeartRadio, Australian Radio Network and Little Rockers Radio, ARN on-air hosts donated their time to support SIDS and Kids and entertain little ones in each city.
The Sydney event was hosted by Intern Pete from the Kyle & Jackie O Show, and the audience treated to live performances from ABC Kids favourites Nay Nay, who performed hit songs including 'Bubble Pop' accompanied by a huge bubble machine, and Splashdance, who played popular tunes including 'Tiger Roar' from their latest album.

The Wiggles' Dorothy the Dinosaur (pictured above) made a special appearance to a room full of delighted children, who presented her with her favourite snack – a big bunch of red roses, in celebration of Red Nose Day.

Other special guests in Sydney who brought their delighted children and family included Channel 10's The Living Room host Barry Du Bois, country music singer Amber Lawrence and Sydney Swans Co-Captain Jarrad McVeigh's wife Clementine McVeigh.

A metre long cake was also supplied by Sydney cake queen Leane Economou from Sweetmama Cakes.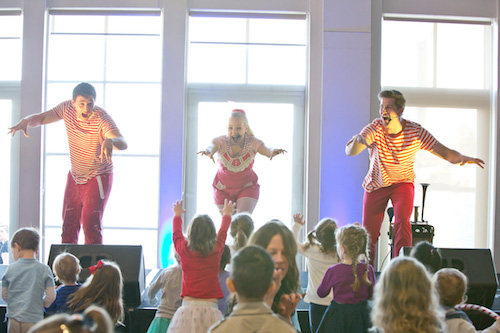 GOLD 104.3s weekdays host Gavin Miller hosted the Melbourne disco, where the audience enjoyed live performances from entertainment dynamos; The MikMaks, who recently performed on Channel Nine's hit national TV show "Australia's Got Talent." Kids were also excited to meet the world's best drumming panda, "Drums the Panda," the star band member who jumped into many photographs with guests.
Face painters weaved their magic throughout the venue, turning cute faces into tiger, panda and even big red-nosed masterpieces; and cupcakes from Melbourne's famous Ferguson Plarre Bakehouse provided a special treat.

Luna Park Melbourne itself also got into the spirit for Red Nose Day by raising a giant red nose on their famous "face," providing a fantastic photo opportunity for guests to the park and passers by.

97.3's weekdays host Daniel Thomas hosted the Brisbane disco, where an awe-inspiring free-jumping demonstration from one of BOUNCE's expert instructors provided a welcomed surprise for guests and inspired the pre-schoolers when it was their turn to hit the trampolines for a free bounce.

An enormous chocolate mud cake in the shape of one of Red Nose Day's new plush toy characters, "Katie Cakes,"provided not only an impressive centrepiece for the event, but a treat for the children when it was time to enjoy a slice; and balloon twisters brought smiles to little faces with elaborate creations ranging from giraffes to frogs, and even big red noses.

With a primary aim to raise awareness ahead of Red Nose Day on June 24, the SIDS and Kids fundraising teams were also on hand in each city to collect gold coin donations, and sell Red Nose Day merchandise including adorable plush toys, bracelets, necklaces, baby bandana bibs, pens and of course iconic red noses.

Through these donations and merchandise sales, the iHeartRadio Little Rockers Red Nose Discos collectively raised over $1,000 of which all proceeds will go towards SIDS and Kids' world-class research, safe sleeping education and bereavement support for families impacted by sudden and unexpected death in infancy.
SIDS and Kids CEO, Associate Professor Leanne Raven said: "We rely on community support to continue the work of SIDS and Kids', and these discos in Sydney, Melbourne and Brisbane are a perfect example of people coming together to aid us in our mission.

"Not only did we raise crucial funds so we can continue our work to reduce sudden unexpected death in infancy, but we reached hundreds of attending families with our message, and further – garnered nation-wide publicity for Red Nose Day ahead of next Friday June 24.

"I was thrilled to see the community rally together in support of Red Nose Day at these three events. And importantly, everyone seemed to be having a whole lot of fun, dancing to our fabulous dedicated Red Nose Disco on Little Rockers Radio."

Red Nose Day is on June 24, and Australians are encouraged to get involved by purchasing a red nose or other special Red Nose Day product online at rednoseday.com.au or from Big W, Target and other leading retailers.

Additionally, childcare centres and primary schools around Australia are invited to host their very own fundraising discos on a date in June – using iHeartRadio stations Little Rockers Radio (for childcare centres) and Red Nose Radio (for schools) as their soundtracks.