"You don't know what you've done… he's going to die…"

Ash Bradnam talked about his podcast Addicted during a Radio Alive conference session about podcasting, playing some audio of his wife's response to seeing him come out of a bottle shop.

The podcast is his story of alcohol addiction.

"I needed the time to tell my story. I'm an alcoholic, three years sober.

"I got fired from my radio job along the way because of my addiction. I carried a lot of shame and I hadn't told my story before… what was holding me back was fear.

"When I chose to tell my story I decided to tell it through podcasting because I'm in the radio medium. I told my story with very little bullshit and I made it in a safe place, in my living room."

Ash told his story in the first two episodes of the series, after that he has been speaking to others who have been where he has been.

"The podcast is for addicts like me, I didn't want to do PR about it, I just wanted it to reach people like me who needed to hear it.

The feedback from people has been huge… broadcasting on breakfast radio is broad and I'm trying to guess what people are interested in, but with the podcast this is what we are talking about and come to it if this is what you want. People who come to my podcast are addicts, people who love the addicts and also people who want to find out about the addition."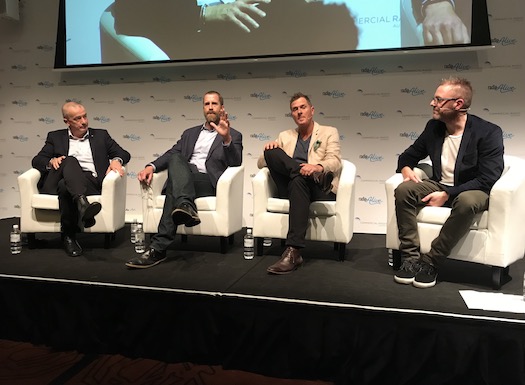 Also in the session were Adam Shand (PodcastOne, Southern Cross Austereo), and imaging producer Matt Nikolic (PodcastOne, Southern Cross Austereo), who worked together on The Trials of the Vampire.

Consensus on the panel was that the best podcasts seem to be the ones that are most highly defined. The Vampire podcast is a well defined True Crime series.

Audio producer Matt Nikolic said he was "able to give it time and explore the dark side of the topic, unlike producing a radio show." He used actors to recreate the evidence and commissioned music to increase the tension and emotion.

"It was a new challenge that we had never faced on radio, we had to make the music, use actors, there was more than radio."

His colleague Adam Shand, a former newspaper and tv journalist, continued: "Matt was creating this amazing soundscape, creating a dark atmosphere, it drew us in, it was a personal journey, it was hard to remain objective from a journalism point of view."

The intimacy of the podcast medium was a particular focus for all on the panel, chaired by Jay Muller.

"Podcasting is so intimate a medium. On the radio you usually shout, but in a podcast you can take your time and talk personally into someone's ears…
We try to calm the presenters. Coming from radio it is difficult to bring people down a bit to the new medium."

Another difference between radio and podcasts is the long form of delivery which gives an opportunity to "let it breathe and to be real."
Adam Shand talked about writing for podcasts:

"I knew how to write it because I knew about that audience from the books I had written, but I had no idea how the soundscape would add to it. True Crime books have declined in Australia, but people are now looking for this content in podcasts.

"We got lots of conflicting advice… we ignored it and took the approach that we just want to make it good."
For branded content, is having a high profile host more important than the content?

"It comes down to the brand strategy," according to Jess Hamilton.

"For Mercedes Benz a high profile host was important, but in a recent project with Nova for a disability company it was more about engagement – we adopted a documentary style, which was right for their strategy, which didn't need a high profile personality to host it."

BRANDED PODCASTS
The second session in the podcasting strand was about Branded Podcasting.
"Engagement is going through the roof, it's a real lean forward medium. It's important for brands to understand this is a medium that can help them have one to one conversations with listeners," said Whooshkaa's Rob Loewenthal, the session moderator.
Other panel participants were writer and audio producer Jess Hamilton, Chris North (Macquarie Media Limited) and podcast producer Kate Montague (Audiocraft).
For branded content, is having a high profile host more important than the content?

"It comes down to the brand strategy," according to Jess Hamilton.

"For Mercedes Benz a high profile host was important, but in a recent project with Nova for a disability company it was more about engagement – we adopted a documentary style, which was right for their strategy, which didn't need a high profile personality to host it."

A podcast about fertility, produced by Jess, had a number of different topics, which had varied levels of downloads. "Each episode tackled a different concept and a different medical problem in IVF treatment. If you have a certain problem you would listen to the podcast about your problem, but may not be interested in other episodes about things that are not relevant to you."
A lot of people think, just make a podcast and throw it up on iTunes and hope for the best, but successful podcasts also need amplification.

"Amplification across socials was important for us… Radio is also important to promote branded podcast content."

Chris North said Macquarie Media uses reach in a radio space, but it is not just run of station random placement, "we get the most engaging bit of the content and we carefully place it in the commercial space. The association with the client is important and it shouldn't be thrown away… we also use social platforms and other platforms outside of the radio medium."

Advice from the panel was to put time and effort into the production, even though the purpose is very commercial.

"You have to find the narrative, strong characters, interesting sound design… people don't just want to listen to a long ad. As soon as someone smells an ad you've lost them."