Chart Highlights – March 24, 2022
Top Debut: Becky Hill & David Guetta's 'Remember' debuts at No. 39
Heating Up: Latto's 'Big Energy' blasts into the Top 10 with 623 spins
Biggest Mover: Megan Thee Stallion & Dua Lipa advance to No. 19
Becky Hill & David Guetta's 'Remember' climbs into the Top 40 on the latest National Radio Airplay Chart. Nova upped their spins by 18.3% nationally, which was enough to lift the song to No. 39.
Interestingly, the song was released prior to Hill's former airplay No. 1 single 'My Heart Goes (La Di Da)' feat. Topic, which currently sits at No. 3. 'Remember' received its first spin in Australia on Fresh 92.7 in June 2021 and finally enters the chart nearly nine months later.
Latto storms into the Top 10 with 'Big Energy'. The single moves up six spots to No. 9 as it continues to make an impact at commercial. SCA's Hit network increased their support as 'Big Energy' became the third most played song across the Nova network this week.
Also moving up is Megan Thee Stallion & Dua Lipa's collab 'Sweetest Pie', which ascends to No. 19 on its second charting week. An additional five stations jumped on the track this week, helping the song to an overall spin increase of +125.4%.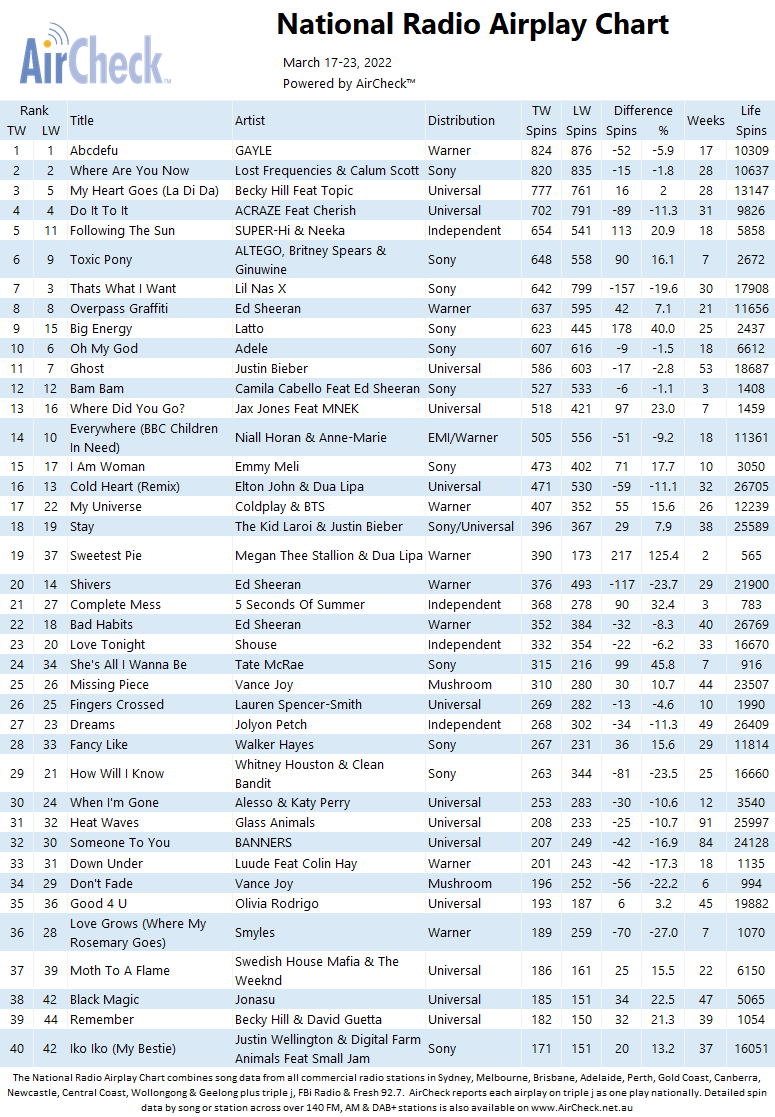 Sony artists have the biggest share of airplay, closely followed by Warner.