Radio Adelaide is back up and running after moving from its home at 228 North Terrace Adelaide to new studios, co-located with Fresh 92.7, a few blocks down the road.

It was the end of an era for the hundreds of volunteers and staff who had worked in the building since the station moved there in 1989.

The station launched this week from its new studios and radioinfo spoke with General Manager Rob Popplestone, on the station's next chapter asking firstly if they're happy with their new enivronment.

"I think with anything new, it takes a little time to adjust, but the early signs are very very good," he said.

"Staff and Volunteers, even our listeners have been challenged by the journey, but are getting enormous satisfaction from being part of the process that now has them back with the Radio Adelaide Community.

"New Premises and New Studios have definitely helped in bringing a new excitement to what we do."


How are staff feeling about the new era?

"Staff have been so appreciative of the volunteer's resilience and their desire to remain a part of the Radio Adelaide community.

"It's expected that close enough to 300 volunteers would have been inducted at Number 3 Cinema Place within a fortnight."

Do you have a run down on current programming?



"Jennie Lenman (left) is to be the station's foundation at Breakfast, with a program that will remain as the launching pad for great things."

Jennie has been working at Radio Adelaide since 2011; first as a volunteer, then as a staff producer and now as the host of the Breakfast Program. After completing her UniSA degree in Arts (Communication and Media Management) in 2009, Jennie produced content for FIVEaa and ABC RN.

"Luke Penman , much respected in the Local Music industry hosts our new Morning show that spotlights South Australia, and for that matter Australian music talent. (replacing Classical and Jazz 9-12)."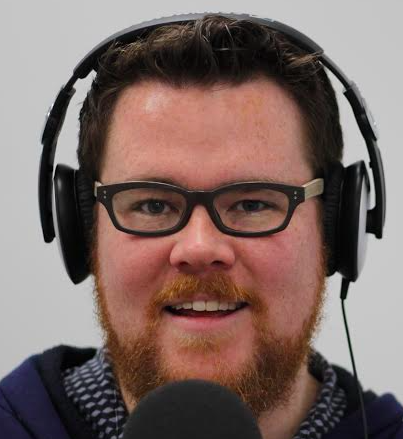 Luke (left) has hosted and coordinated Radio Adelaide's Local Noise program for the past four years as a weekly celebration of South Australian music, including a live performance each week from a local artist or band of any genre. In that time, Local Noise has won numerous awards including SACBA's "Best Local Music Program".

Mr Popplestone says, "Both are young, passionate presenters, who have an affinity for their respective audiences.
"Both shows are the BEST of their kind in the state and equal to any program nationally.

"With even further support planned, …. wow, its exciting!!"

In terms of programming are there any changes in the wings that you'd like to share.

"With the changes above – it has meant that our Classic program can now be heard on Wednesdays from 2-4 and Jazz on Thursday nights from 7-9pm."

"What lies ahead for Radio Adelaide is the most wonderful opportunity to build on what has and remains one of Community Radios greatest success stories.
"Volunteers will be given even greater attention, Communities will not only hear, but touch and feel our contribution.
"Processes are being planned for greater participation and the future looks bright for any person wherever they might be that supports Radio Adelaide individually or Corporately."