Some interesting results in the latest set of cumes from GFK for Survey 7 with Melbourne's Gold 104.3 getting the big numbers with 1,105,000 listeners, ahead of Fox FM (1,072,000) Nova 100 (1,069,000) and Nova96.9 (1,034,000) with KIIS 106.5 the only other station to get over 1million listeners.
The top 20 stations
,center>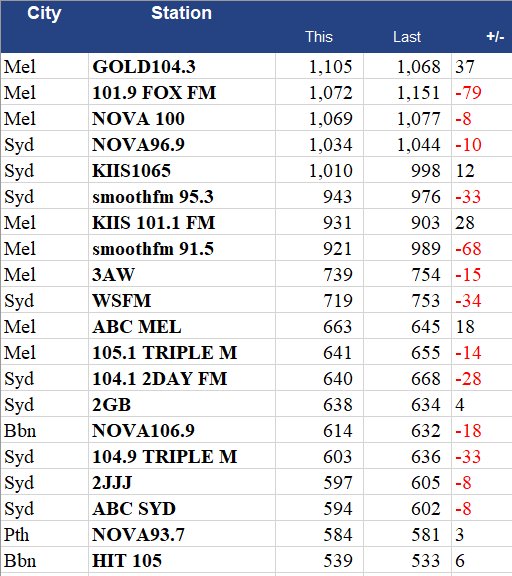 Kyle & Jackie O return to the top with 634,000 in breakfast, leading Fifi Fev & Byron (596,000) and Chrissy Sam & Browny (584,000) while Ross & John moved into 4th spot with 568,000.
Top 20 Breakfast programs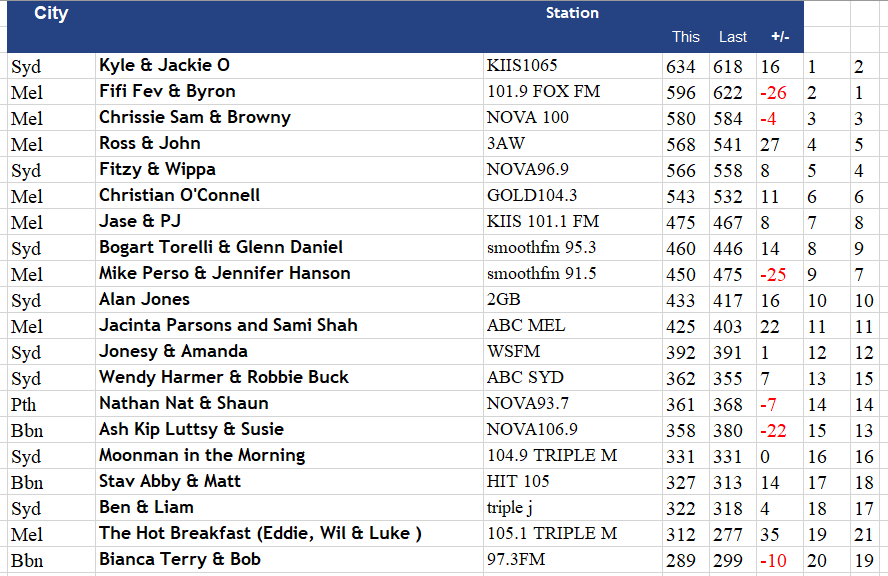 City by city, in Sydney Kyle & Jackie O lead Fitzy & Wippa (Nova 96.9) from Bogart Torelli & Glenn Daniel (smoothfm) and Alan Jones (2GB). Nova 96.9 has the biggest numbers overall, leading KIIS 106.5 and smoothfm.

In Melbourne Gold is of course leading overall while in breakfast Fifi Fev & Byron lead Chrissy Sam & Browny from Ross & John and Christian O,Connell.

In Brisbane Nova still leads though Hit 105 and 97.3FM have swapped places , while the breakfast order remains unchanged Ash Kip Luttsy & Susie (Nova 106.9) leading Stav Abby & Matt (Hit 105) from Bianca Terry & Bob (97.3FM).

Nova's Dylan & Hayley still have the numbers in Adelaide while Jodie & Soda (Mix) and Bec & Cosi (Hit) continue to post solid numbers.

Perth also remains pretty much unchanged with 96FM's Botica's Bunch (Fred Botica & Lisa Shaw) not gaining any more numbers this survey while Nova's Nathan Nat & Shaun still lead the rest.