Gold 104.3 begins 2020 with big numbers, leading all stations with 1.182 M listeners, from Nova96.9 (1.123) and Nova100 (1.074M) while FoxFM (1.067M) is the only other station with over one million listerners.
triple j has also begun the year well by breaking their reach record in the 5 cities for the second time running, attracting 2.249 million listeners each week.
Content Director Ollie Wards says, "This is such a great result for our all new line-up, especially seeing Sally & Erica increasing share on triple j Breakfast with the best result for a new breakfast show to date. Ben & Liam's 5 city share in their first survey of 2017 was 5.7%, while Sally and Erica have started their tenure on Breakfast with 6.4%."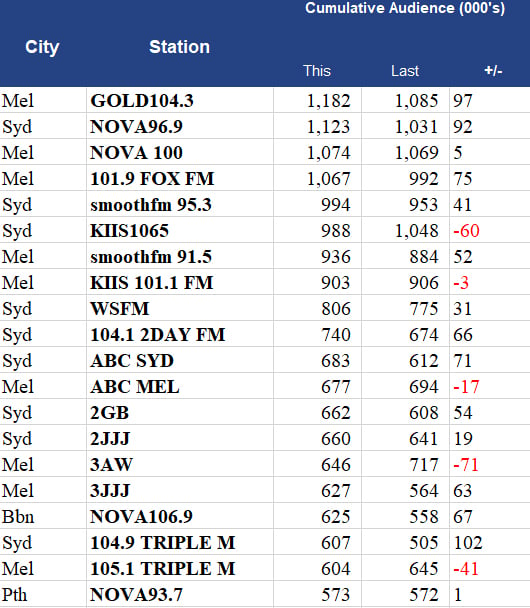 Christian O'Connell's breakfast show has also moved into the top five nationally with 536,000 listeners, but it is Kyle & Jackie O still on top with 601,000 despite shedding 66,000.
Chrissy Sam & Browny lead in Melbourne while their Sydney Nova stablemates, Fitzy & Wippa, have edged closer to Kyle & Jackie O.
Sally & Erica made some solid gains in Melbourne and Brisbane while Ben & Liam have added audience at their new home in Adelaide.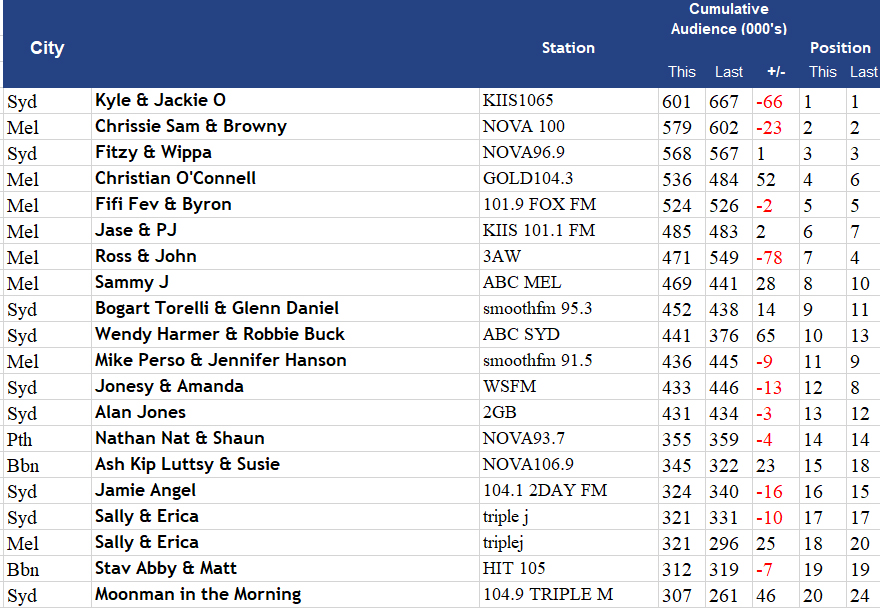 Wendy Harmer and Robbie Buck (+65,000) and Moonman in the Morning (+46,000) have made significant gains in Sydney with the Triple M breakfast team adding back a lot of the audience they lost at the end of last year.

Tim Webster hasn't started as well as he would have liked at 2CH, but he hasn't lost much ground on the rest, while Jase & PJ continue to hold their own in Melbourne and Sammy J has done well at ABC Melbourne, adding 28,000.

In Brisbane both Craig Zonca &Loretta Ryan (ABC Radio Brisbane) and The Big Breakfast both added over 30,000 to their audience, but still trail Ash Kip Luttsy & Susie who added another 23,000 listeners.
Robin Terry & Bob didn't make any gains for 97.3FM in Brisbane, but haven't lost any audience either.
Botica's Bunch (Fred Botica & Lisa Shaw) at 96FM in Perth are on the move upwards while both Clairsy Matt & Kimba (Mix) and Xavier Pete & Juelz (Hit) had significant loses.
---
Subscribe to the radioinfo daily flash briefing podcast on these platforms: Acast, iTunes Podcasts, Podtail, Spotify, Google Podcasts, TuneIn, or wherever you get your podcasts.
Ask Alexa
:
'Alexa, play radioinfo flash briefing'
or
ask Google Home
:
"Hey Google. Play the latest Radioinfo flash briefing podcast."
---