ARN will launch a new night show JAM Nation, featuring Jonesy & Amanda, across the Pure Gold Network from Tuesday, 9 June.
The program will air weekdays from 6pm – 7pm on Sydney's 101.7 WSFM, Melbourne's GOLD104.3, Brisbane's 4KQ, and Adelaide's Cruise1323.
Amanda Keller said: "It's a huge privilege and a joy to be able to do our radio show every day to share laughs, silliness and the occasional teary blub with our fabulous audience, and I am really excited that we are being unleashed on the Pure Gold Network. Get ready everyone, it's going to be fun!"
Brendan Jones added, "The only thing that could be better than doing a radio show with Amanda every morning is knowing that our antics can now also be heard at night! I can't wait to get on her nerves in front of an even bigger audience, it's going to be a blast,"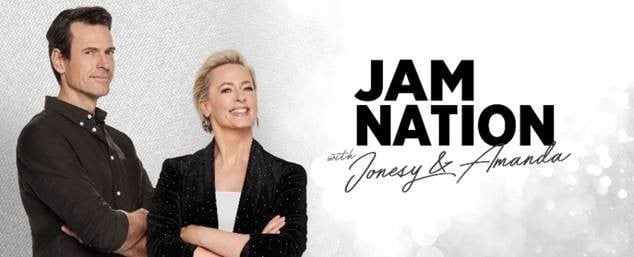 ARN's National Content Director Duncan Campbell said: "Jonesy and Amanda have unquestionable chemistry, a genuine friendship and sense of humour that we know our Pure Gold audience loves. Their unique ability to balance humour and wit with personal and heart-felt stories that resonate and connect with listeners is what makes them some of Australia's most loved radio talent with fans across the country. This new show is part of ARN's ongoing strategy to remain the #1 national network by providing engaging content and entertainment for our audiences."

Chief Commercial Officer Pete Whitehead said: "This night show extends Jonesy and Amanda's reach and strengthens ARN's complete commercial offering for clients across our broadcast and digital assets on the Pure Gold Network. Jonesy and Amanda are loved by audiences and their ability to create engaging content for integrated campaigns that connects with their listeners and delivers results for clients make them an important part of ARN's commercial strategy."


---
Subscribe to the radioinfo daily flash briefing podcast on these platforms: Acast, Apple iTunes Podcasts, Podtail, Spotify, Google Podcasts, TuneIn, or wherever you get your podcasts.