The last nine months have been an eventful time for LGBTIQA+ radio station JOY 94.9.
From multiple large scale event broadcasts during COVID, new training rounds for marginalised communities, exciting and diverse new content, and the move into new studios at the Victorian Pride Centre.
CEO of JOY Ange Barry says, "JOY's relocation to Australia's first Pride Centre located in St Kilda Road has enabled us to work closely on site with LGBTIQA+ sector stakeholders. Now using the latest digital equipment supported by the Victorian government and AVC, we are empowering our content maker team to build both our community representation and quality of sound."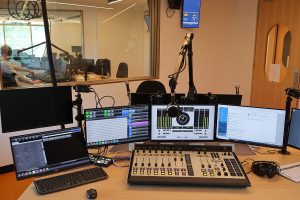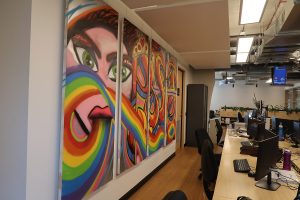 Earlier in the year, JOY held their annual Mardi Gras Broadcast special, only this time the on-air team Ruby Mountford, Rebeckah Loveday and Triana Butler was in Melbourne watching a live feed with two roving reporters on site in Sydney's Cricket Ground.
Pivoting to remote broadcasting during lockdowns has become second nature to JOY, with 2020 preparing them for continued periods of self-isolation during these last nine months.
As an essential broadcasting service, JOY has been able to continue to support their team, keeping them safe, by providing a range of options to those who would work remotely. For those who require in-community connection to feel support, JOY has been able to provide safe, regularly cleaned studios and spaces for the on-air teams.
JOY's response to COVID has been a large part of their work these last few months as they have begun leadership work including vaccine uptake for the LGBTIQA+ community. COVID Vax News Updates have begun on air with more projects in the pipeline as they continue work encouraging their community to get fully vaccinated and keep safe.
Outside of event broadcasts like Mardi Gras, JOY has also been further establishing its range of services and opportunities for community. Earlier this year, they launched their Our Rainbow Country project, a project created with support from BHP and funds raised through GiveOUT Day in 2020.
The Our Rainbow Country project provided 24 scholarships for rainbow community members living in regional, rural, and remote Australia to be trained in podcasting and radio, reducing isolation in their community by providing a platform for them to share their story.
Through this project, JOY has been able to meet and work with some amazing LGBTIQA+ people across the country and provide opportunities for these community members to join the JOY family as volunteer team members and they are now looking forward to regularly aggregating content from across these parts of Australia to better represent community.
On the success of some of their recent youth focused work, JOY will be creating an Under 18 Our Rainbow Youth version of their project for funding on GiveOUT Day on October 15th.
What first started in 1993 as a community radio station located in a small upstairs shop in South Melbourne, has since grown to be an expanding multi-media organisation in Australia's first ever Pride Centre.