The ABC's Director of Radio Kate Dundas was farewelled yesterday at a function at the national broadcaster's headquarters in Ultimo, Sydney.
During her five years in charge of the radio division Dundas has had many achievements, including substantial growth in the market share of the ABC's radio networks, and a push into digital which saw the lauch of 11 radio stations across the country including the launch of the new Double J, building of 2 triple j apps and the ABC Radio app and a new online radio player.
ABC Radio has increased and broadened its audience during her time at the helm by pushing into new areas and developing cross platform activity. See more details in our earlier report.
Dundas said in her speech to radio staff and managers gathered from across the ABC, that it had been a privilege to be the Director of ABC Radio and although the ABC was a seductive place to work, in the words of the inimitable Kenny Rogers – "you've got to know when to hold 'em and know when to fold 'em, know when to walk away……."
Dundas intends to take a short break and is currently undertaking part time study as a Vincent Fairfax Fellow at the Centre for Ethical Leadership at Melbourne University. She will remain based in Sydney while she weighs up other career opportunities.
Michael Mason will take on the role of Acting Director of Radio until a permanent appointment is made.
Kate Dundas, pictured below at yesterday's farewell, with Director of News Kate Torney and ABC Managing Director Mark Scott.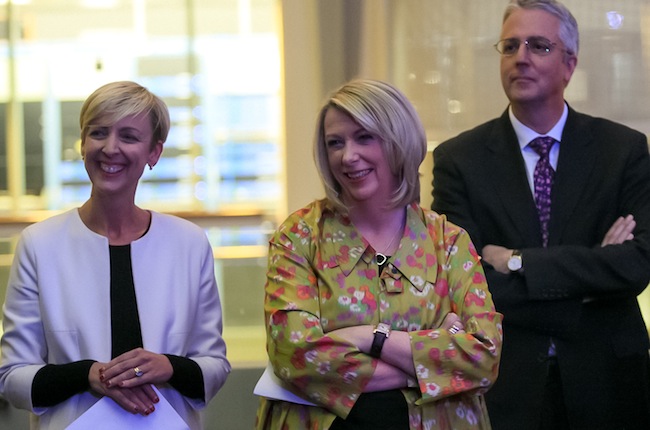 Search other reports mentioning Kate Dundas here, or click her name in the tag cloud below for indexed reports.