ARN's iHeartPodcast Network Australia has launched a new podcast providing informative and entertaining advice on how to navigate family life and keep kids sane while living in isolation.

Presented by Brisbane 97.3 FM's newsreader Monique Dews and Breakfast co-host Robin Bailey, Keeping Up With Corona, features the latest family-related Corona news, expert discussions covering a range of subjects, and real-life listener experiences, as Australia locks down.

Monique Dews said, "As both mums and broadcasters, Robin and I have a unique take on the corona madness. We're covering off on all the corona news you need to know, but also getting into the nitty-gritty of family life in iso, and how to manage it. We want to deliver a positive spin on the daily challenges, and a few laughs. I call it 'isolation appreciation'."

Robin Bailey added, "Many people will be feeling out of control during these uncertain times, and we'll be sharing tips and tools, based on our experiences. Monique and I will also offer advice on beating the boredom during lock-down, which will be invaluable to any parent! We're looking forward to sharing our journey with families across Australia."


ARN's Commercial Product and Audio Partnerships Director Corey Layton said, "Podcast consumption for coronavirus content has increased alongside a demand for light entertainment, and this new podcast delivers both. ARN continues to curate and create the most informative and entertaining podcast offering through the iHeartPodcast Network Australia. The new Keeping Up With Corona podcast will provide a much-needed space to discuss the topics that matter to families during these uncertain times."

Using dynamic podcast technology, every evergreen episode of Keeping Up With Corona will constantly update to feature the latest Corona news.

Upcoming episodes will feature a range of stories including:
Dr Justin Coulson discussing the best techniques to get kids organised.
Australian journalist Natalie Peters offering a unique insight into battling and surviving Corona Virus.
Scientist Dr Hannah Sassi discussing how to handle groceries at the shops and home.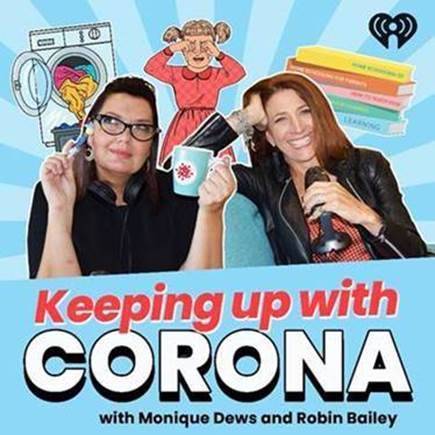 ---
Subscribe to the radioinfo daily flash briefing podcast on these platforms: Acast, Apple iTunes Podcasts, Podtail, Spotify, Google Podcasts, TuneIn, or wherever you get your podcasts.