Steve Ahern has his last morning cuppa at the local coffee shop.
I just spent the past hour working at Chicho's coffee shop Hunters Hill, supporting one of my local small businesses before the mandated shutdown of coffee shops, pubs and clubs came into force in NSW at midday.
Chichos employs several local staff, some of them radio and music industry casual workers in-between jobs.
The proprietor told me, as he packed up the tables, that Chichos is planning to stay open for takeaways and will rotate its skeleton staff of casuals so that as many as possible can keep earning during the Corona virus lockdown.

The radioinfo team always works remotely, so it is business as usual for reporter Wayne Stamm and his 'assistant' this morning.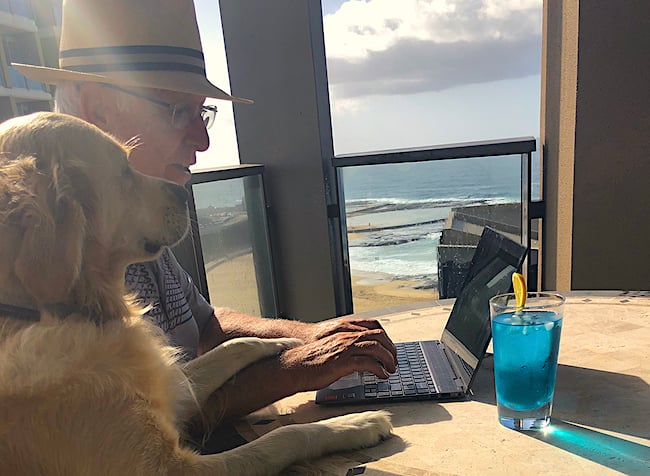 Meanwhile, around the country, more presenters have been working remotely.
Over the weekend we asked for pictures of your remote studio setup. Here's a selection of facilities from our readers, ranging from a 'tent' in the living room for accoustic purposes, to sophisticated remote studio setups in others' home offices.
ABC Perth breakfast presenter Nadia Mitsopoulos began broadcasting from her study last Friday, dailling in co-host Russell_Woolf via an iPad propped up on a music stand, sitting on a pile of books. She is using a Tieline OB mixer and headset microphone. Nadia has told radioinfo: "We were on air together from 6.15 till 10… it worked perfectly."
Joy FM's Dean Arcuri and Joseph Lindsay built their home studio this weekend, so that they can continue their regular program on the Melbourne community station. Dean has told radioinfo:
"The entire set up was created with stuff I already had around my home. I've got 3 SHURE Mics plugged into my Samson Mix Pad sound desk and have plugged them into my Mac with another screen attached. That way it's similar to the set up we have at the studios so other members of the JOY team can come and prerecord content if they wish (I have one JOYster coming round after work today to prerecord his Wednesday morning [show], and tomorrow arvo one of the news readers will be creating and packing their news content for every hour.)
"For MAD Wednesday's on Wednesday (the drive show) it'll allow me to control my volume levels and stream directly into the studio while my co-host panels from there. I'm also able to access the JOY clock so we are working off the same timeframe and see the music logs and messages being sent in by listeners. I'm pretty pleased that we have replicated something that many volunteers are used to so they aren't overwhelmed. With the right tech and a simple set up we can continue to be out, loud and proud even from home!"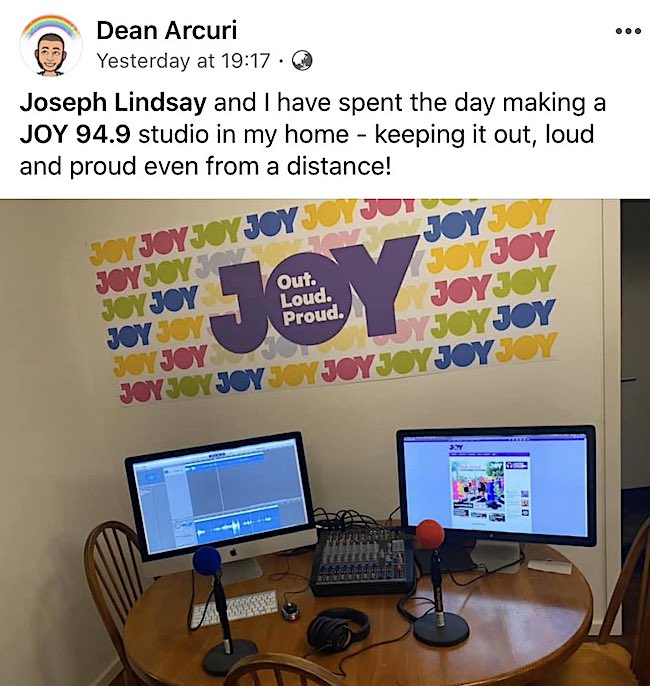 Edge 96.1's Mike E is still broadcasting from the ARN North Ryde studios, but has a 6 channel Yamaha mixer and Rode mic on a desk stand set up at his home in case he has to work from home at some time during the Corona lockdown in coming months. Kitty reports that the level test was successful, "test, meow, one, meow two, meow three," although we think she needs some lessons in mic technique.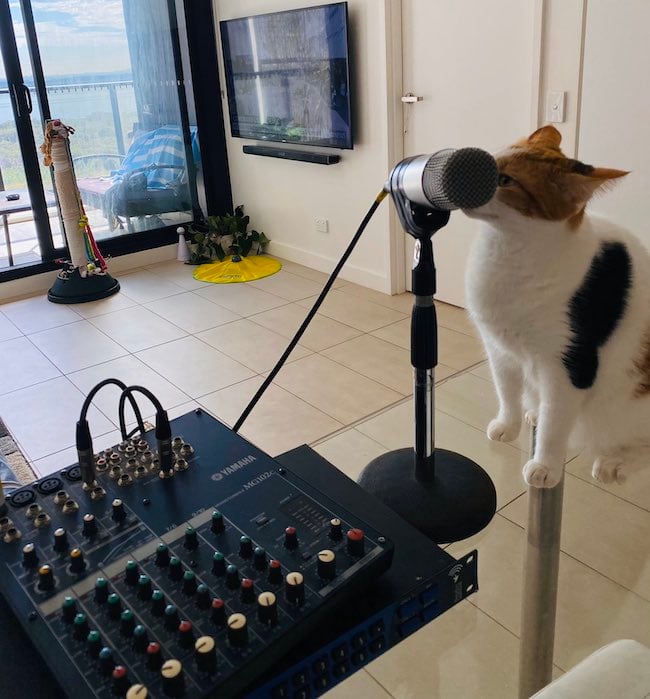 Canberra Mix 106.3 drive team Wilko and Courts sent us a photo via Facebook showing their remote home studios, which are using video links, the NexGen playout system and PhoneBox so they can still take calls.
Variety Digital Radio has a sophisticated home set up, using an 8 channel mixer through a computer interface, and even has an electronic sign.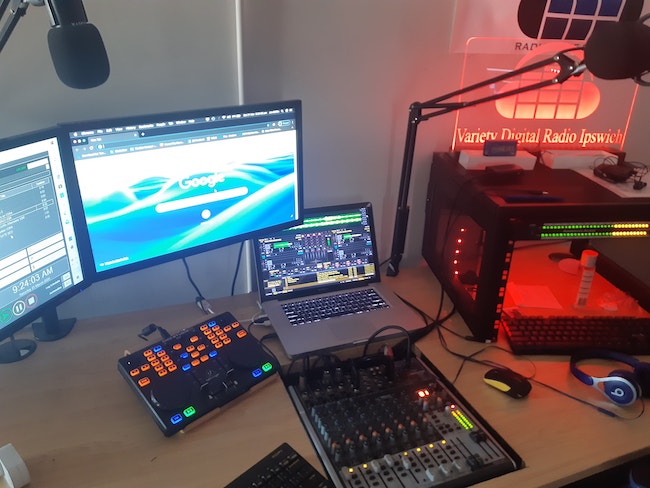 And this one from Gene Baxter who has soundproofed his living room with a kind of make-shift tent.
What do sports commentators do when there are no matches to cover and they are confined to their local area. Nick Heath has pioneered #LifeCommentary.
Radio is considered an essential service in most jurisdictions, so if you are able to go to work, you are allowed to do so.
Feel free to tell us about your home studio by replying to our Twitter or Facebook posts, or sending your pictures and equipment description to [email protected].
Comments are also welcome below.
If you are shut in and working remotely, keep in contact with colleagues, keep your spirits up, encourage your listeners to look after eachother and help them through this lockdown so that we all emerge at the other end united and healthy.
Good luck!
Related articles
Previous remote studio articles: Will & Woody, Kyle & Jackie Amanda & Jonesy,
Mic Shields
Alan Jones opinion
Keep advertising
Studio hygene
---