Comment by Jen Seyderhelm
This is really going to boost radioinfo's SEO.
I've been teaching Podcasting Essentials to TAFE students and teachers with a view to creating a training package that broadly covers this booming industry.
I am from a radio background and have spent a fair chunk of time perusing the scintillating Codes of Practice and guidelines for commercial and community radio, plus the additional tomes of ACMA, APRA, AMCOS, etc. Podcasts that are radio catchups are obviously governed by these in the first instance. When it comes to original content podcasts, the only thing that guides me is my mother's voice telling me it is not ladylike to swear or say words like "vagina" out loud.
I can't believe I just put vagina in inverted commas!
Not everyone is internally covered by the Mum's handbook of how to not be naughty, so when one of my podcast partner Kirstie Fitzpatrick and I dropped a F bomb and decided to leave it in during the editing process (all me, Kirstie NEVER swears) I had to make a decision about whether to tick the explicit box in the picture below.

Does one F word mean explicit content?
I went to Dr Google and asked her what explicit content for original content podcasts meant. Copyright and royalty implication are there. We've seen some legal implications via the Teacher's Pet podcasts. Generally, on the definition of explicit, most people had posted their own inner Mum Handbook in lieu of a governing set of rules.
Radio is a funny beast. An off the cuff comment can ruin a career. As one of my students said last weekend, they could literally create a bomb making podcast (they aren't planning to FYI), call it High School Experiments, and upload it to each and every platform without any ramifications.
radioinfo's SEO is really getting a workout now.
Even if you did download and listen to High School Experiments, and then realised the explicit/inappropriate/illegal (I have no idea which categories this might fit into) content, who do you complain to? Do you report it to police? If you report it to the platform you listen to it on, let's say iHeartRADIO, and they take it down, does that mean it gets taken down from ALL other platforms? Are there implications for you having accidentally downloaded it? Outside of word of mouth, the most common way people locate a new email is via a catchy heading. It's a minefield.
Possibly literally.
Some podcasts in the US, like Keith and The Girl, proudly flaunt the fact that they are free to say and do whatever they like. I can only imagine how many underground podcasts with perfectly innocuous headings are in reality (as compared to the alien world – ask Dr Google for a podcast about that!) out there. There's a podcast concept idea in underground podcasts.
I like that a podcast still allows someone to pursue further knowledge on a subject in the comfort of their home. I also like that it is a space where we can learn about each other at a deeply personal level. More than 50% say they are overwhelmed by the amount of podcast choice available. I'm one of them. It's not my competition I'm worried about or too many options – it's the fear that my teenager might download something he shouldn't, he'll not realise and I'll never know.
RadioInfo has guidelines, as does TV and now much of the internet, particularly relevant with the rise of YouTube. If I say certain words or phrases on Facebook or if I (GASP) post a breastfeeding photo I could get banned from my own account. We must be so careful in our workplace and schools. Fair enough.
We are over regulated, political correctness is ruining all our fun and false news can catch any of us out on a bad day (H2O is dangerous because of all the hydrogen!). Having an easily accessible media platform with no regulation is scary. I can't help but feel that this is the year where one little podcast somewhere will be unwitting catalyst for all that to change.
We'll see.
About the author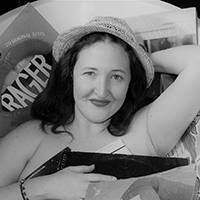 Jen Seyderhelm is an announcer, podcaster, producer, writer, news reader and music historian. She works for 2CC in Canberra.
Jen's podcast, 20/40, celebrates friendship and connection between two women with a 20-year age gap. She is taking her podcast, teaching and storytelling skills on the road in 2020 as part of an exciting national conversation project.