Comment from Jen Syderhelm
I read with interest Steve Ahern's comments in a recent radioinfo article about the lack of radio jobs at the moment. I've never seen the various Australia media pages I follow without a single opportunity.
Then came this glorious and tongue in cheek video from ABCTV with a surprisingly frank response to those of us, famous and not, who have started podcasts while in isolation.


I've been surprised at the uproar from the podcast community who must know that most of the protagonists are poddie regulars (I'm looking at you Leigh Sales). As a mum of boys, I know, and trust me the ABC knows too, that the best way to encourage people to do something is to tell them not to.
So here we are, with restrictions easing and no clear pathway to our media future. All networks and stations have been forced to tighten belts and adapt. There will be no return to the bounties of 80s prize cupboards. But, for those seeking a job in radio, there is something of a return to the more frugal 90s job applications; and that's the expectation that you bring a diversity of skills to the table. Yes, that includes podcasting (and stints on the Bachelor also count, alas).
Right now, podcasting is as much a buzz word as Pokémon GO was four years ago. Due to the slow burn build up to where it sits right now, I think radio, audio books platforms and even TV providers like Netflix need to give it due respect. Podcasts, really, are not that removed from radio serials like Blue Hills that were essential listening in the 50s and 60s before television took over. What is it about audio as a medium for entertainment that has never been superseded?
Radio's continued relevance lies in its currency, spontaneity, and personality. Podcasting can delve deeper. The appeal is that we can seek out new information, catch up on favourite programs or news and/or follow a hobby or interest via a specialised series. April's Australian Podcast Ranker showed there were 5.5 million downloads from the top one hundred that month alone! I have no idea how many podcasts there are in Australia. Slightly more than a hundred I suspect. Imagine the listening audience if we counted the stats for every one of them. Even Greg's one where he talks about his bellybutton lint.
Unlike Pokémon GO I think this podcasting craze is here to stay. Good thing too as I have six that I'm involved with currently, with a hand in around 50 more via my training courses. The reality is that plenty are saying much the same things. Some are passion projects. Others business tools. Every now and then though I hear a really special concept that the success of is basically down to the motivation and perseverance of the creator/s. Motivation and perseverance are the most important factors in the success of anything you are trying to achieve currently in the media world.
My first podcast, 20/40, which is about 20 episodes into its second season, has never earned me or my podcast partner Kirstie a cent. Via this podcast though I have received (paid) teaching and speaking opportunities, voice over work and made some new friends and professional colleagues.
Podcasting as a business tool can lead people to your product in a way that cold calling or digital marketing can't. You put a voice to your skills and abilities.
As a passion project; a ukulele podcast here in Canberra is a prime example, it links them to likeminded uke enthusiasts all over the world.
Information podcasts like Stuff You Should Know (which is No 1 on The Australian Podcast Ranker) apparently have around 30 million downloads every month!
True crime podcasts like Dirty John are being made into TV shows.
There's definitely a market for whatever your podcast idea is. You just need to know your audience, time restraints and commitment to the project.
That brings me back to the lack of jobs in radio. While radio and podcast listening has flourished with COVID-19, once things return, somewhat, to normal, what will happen to those cutbacks, reshuffles, and networked programs?
I have a suggestion.
Actually, it's not a suggestion. This is my work reality and food for thought for my beloved radio industry.
I approached my GM about what I could offer my radio station whilst in lockdown. For those of you who have had reduced hours and perhaps more spare time why not consider the same? Most workplaces are doing their darnedest to keep you. Being a product of the frugal 90s in radio I can announce, produce, read news, provide sporting commentary and have a side hustle as a Music Historian. There's a lot I can make and do from my home studio. My GM suggested something along the documentary lines. I connected with a few people I knew, and the idea snowballed into a Government supported podcast that will be broadcast on my radio station after the podcast is released. Reversing the traditional order somewhat.
Am I being paid for creating this?
Yes.
I've seen a great many radio people starting podcasts while bunkered down. You never know where one may take you even if it doesn't provide income directly. Ask yourself what you can do or offer if you have some additional spare time to your workplace or, to a place you'd like to work. The outcomes might surprise you – financially, personally, and creatively. Lots of people are waiting for job ads to re-emerge from hibernation. When they do competition will be increasingly fierce.
Start now.
Don't shut the XXXX up.
Make a podcast if you want to
Invite Leigh Sales, Peter Fitzsimons, Matt Moran, Anthony Callea or Deborah Mailman as your first guests.
Tell them I sent you.



About the author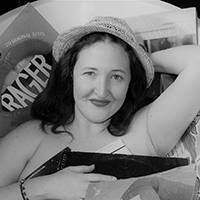 Jen Seyderhelm is an announcer, podcaster, producer, writer, news reader and music historian. She works for 2CC Canberra and is part of the Raiders Call Team.
Jen is a trainer in voice over and podcasting; her website is jenxaudio.com.au – you can find her Australian One Hit Wonders page here.
---
Subscribe to the radioinfo daily flash briefing podcast on these platforms: Acast, Apple iTunes Podcasts, Podtail, Spotify, Google Podcasts, TuneIn, or wherever you get your podcasts.