Continuing his series of columns, Melbourne radio legend Doug Aiton recalls his interview with Cathy Freeman.
"She received two suitcases of congratulatory faxes sent to her after the Canada Commonwealth Games. She replied to all of them except two."
---
The following is a mixture of an interview I did with Cathy Freeman for the Sunday Age and for 3LO in 1996.
I was meandering through the Windsor Hotel when I encountered a memorable culture clash.
First, the Windsor Hotel: a microcosm of nineteenth century colonialism, top-hatted doormen, rich carpets, foreign speaking tourists, grand paintings…
On the other hand, there was Cathy Freeman. Curled up on a leather chair that almost enveloped her, dark eyes gazing about with languid interest, and dressed as minimally as possible among the silver tails of the Windsor foyer: black tee shirt, black shorts, black sandals – she looked out of place.
I approached her… "Cathy?"
She leapt from the chair and shook my hand, enchanting me with her flashing smile. Suddenly she was Cathy Freeman, world champion athlete, and I could feel people around me turning and staring.
The centuries between this Indigenous woman and the Windsor Hotel evaporated in that moment.
We went into the Windsor lounge and ordered cool drinks. In answer to my question she said, "I enjoy training. Sometimes I do not feel like it but then I'm happy when it's over."
She was laughing, pushing the ice in the glass up against her mouth, her eyes still soft and patient. "The last time I was angry? Well, when my cat died. He died a month ago. I don't like it when something is taken away from me – especially things I treasure.
Unfortunately because we travelled away for so long, Mykey had foster parents down the street, but he came home. Every now and then he came home.
"And when my nanna died, I was angry then.
"Tell me about your nanna," I said.
"Well she had twelve children so it was a little bit tough on a single mother. She was brought up on a Mission. She didn't know her father. It turned out he was Syrian. So my nanna was a half caste (yes she said half caste) and she was taken away from her mother when she was little. Her name was Alice Sibley. This is back in Mackay, my home town. She died of a heart attack."
You often hear the phrase, "not an ounce of fat on her". I have never met anyone to whom this applied more accurately than to Cathy Freeman. She was under eight and a half stone, all muscle, and I suppose the word is 'lithe'. She was also nimble and restless, so the overall effect was of a hard brown body twisting about in the soft leather.
Cathy told me that during 1993 she had a vision of doing a victory lap at the Olympic Games. "Sometimes there's just something in the back of your mind. In my mind, I had already done it. It was just a matter of waiting."
Cathy's sister, Anne-Marie, died in 1990 aged 25 on the day that Cathy returned home as a heroine from Auckland Commonwealth Games. She did not attend the parade in Brisbane because of Anne-Marie's funeral, where she placed her relay gold medal, the first athletic medal won by an Indigenous person, on her sister's coffin.
She received two suitcases of congratulatory faxes sent to her after the Canada Commonwealth Games. She replied to all of them except two. They were unpleasant. She can remember that one said she should emigrate.
One of her comforts was religion. Cathy Freeman was brought up in the Barhi faith. She sat up and clasped her hands in prayer, "Oh my God. Guide me, protect me. Illumin the lamp of my heart. And make me a brilliant star. Thou art the mighty and the powerful."
She said she did not like being famous, "No! No! No! Fame? Nuh."
She was shaking her head, eyes closed, elbows outstretched with her hands on her ears.
But she answered my question about her favourite film. The Wizard of Oz. "The moral was great, the lion wanting courage, the Tin Man wanting a heart, the Straw Man wanting a brain. One thing I will never forget was that line by the wizard, 'You are not judged on how much you love, but on how much you are loved by others.'
"I thought that was really nice."
About the Author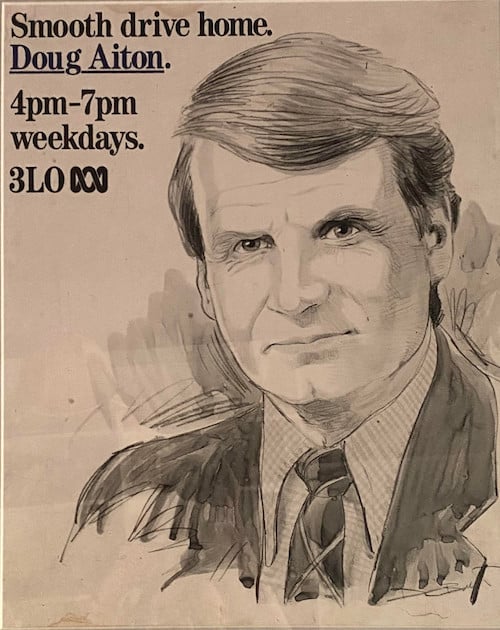 Doug Aiton was the Drive time Presenter at Melbourne's 3LO from 1987 – 1997.
He has a combined past of newspapers and radio including a weekly column for the Sunday Age for about ten years. He is married to Judy and has three children.
Now in his 70s, Doug still presents a regular program on The Pulse Geelong.
Edited by Jessie Aiton