In the latest in a string of high-profile resignations and redundancies from New Zealand's MediaWorks, CEO Mark Weldon has let the board know of his intention to step down which has been accepted.

It follows the resignation of top newsreader and presenter Hilary Barry after 23 years amid a controversial restructuring of the company since Mr. Weldon took the reigns two years ago

Mr Weldon revealed in a statement "the personal cost is now too high to continue in this role".

MediaWorks, is the parent company of TV3 and a range of Radio networks.
MediaWorks has a network of 10 unique radio formats on 190 frequencies throughout New Zealand, including some of the country's best-loved radio brands. The Radio business operates out of 23 markets and consists of nationwide brands MORE FM, RadioLIVE, The Sound, The Edge, The Breeze, The Rock and Magic, as well as regional stations Mai FM (10 markets including Auckland, Northland, the central North Island, Wellington, Canterbury), Times FM in Orewa, Radio Dunedin, Coromandel FM, and George FM.

Chairman Rod McGeoch has thanked him for his "success in driving change through the entire organisation and under his leadership MediaWorks has truly become an integrated company. Mark has agreed to assist the board on strategic projects and we would like to thank him for his efforts and successes."
Along with Hiliary Barry several broadcast journalists who left the organisation under his rule, including John Campbell and John Campbell who quit after his popular prime-time show, Campbell Live, was axed along with investigative programme 3D.
A number of other ex employess have taken to Twitter with their say on the CEO's resignation.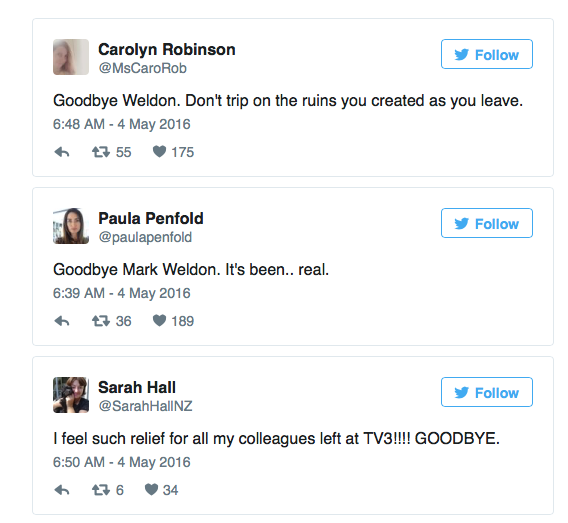 MediaWorks' CFO, David Chalmers will act as CEO until a replacement is found..