Compiled by Jen Seyderhelm
To celebrate International Women's Day I asked women in the industry what advice or reflection they would offer those just starting out:
Amanda Keller – WSFM Jonesy & Amanda in the Morning:
"I've always done radio where I am 50/50 with my male co-hosts where I try not to fall into the trap of feeling like you have to temper the male's behaviour. Don't let them be the 'creative fun one' while you placate and be polite."
Deborah Knight – Afternoons with Deborah Knight, 2GB:
"My advice for young women wanting to get into media is… don't get into media! I'm joking of course – but it's a tough industry for women and men. Always maintain a passion for asking questions and hearing people's stories. And work hard – learn new skills always – and enjoy it. There's no career like it!"
Zan Rowe – Double J Mornings
"If you're curious about something, others will be too. Always ask the questions you want to know the answer to; these are the stories the world wants to hear."
Lise Carlaw and Sarah Wills – Those Two Girls, Breakfast Hit 90.9 Gold Coast
"You can't sell a secret. Don't keep your dreams and goals to yourself. Tell people, ask the right questions and send those airchecks to content directors. Listen to your gut, actively respond to feedback and keep creating!"
Natasha Jobson – SCA National Head of News and Current Affairs
"Seek out the people in your world who have great leadership qualities, no matter if they're a woman or a man.
Don't try to be one of the boys – or the girls – just be the best version of yourself and you'll never look back."
Belinda Doyle – Programme Director of Jack Radio UK (Your Favourite Female Artists)
'Be true to yourself. Trust your instincts. Never assume. And, if in doubt, leave out. It really is the little mantras that have got me through, and mostly kept me out of trouble. Otherwise I would say "Learn as many skills as you can. The multi-tasker is a valuable radio asset."'
Michelle Stephenson – NOVA Entertainment's National Newsroom Manager/Nova Network Drive News Journalist
"We are lucky to do jobs we are passionate about, so take the time to enjoy it. As women we tend to labour over the minutia of things, which can be a real asset in this game, but also can take the lightness and fun out of our work. So be confident in who you are and what you represent – you deserve to be in the room."
Margaux Parker – Triple M Brisbane Co-host of The Big Breakfast with Marto, Margaux and Nick Cody
'Grab the opportunities that present themselves, run with them and don't look back. Never hesitate or question yourself – you are there because you are meant to be.'
Brooke Corte – Money News 2GB & 4BC
"In interviews always think of yourself as being the voice of your listener or viewer. Ask the questions you think they'd ask if they were in your (privileged) position, not questions aimed at making you sound smart. Also, don't take yourself too seriously!"
Ebony Boadu – triple j House Party
"Community radio is always the best place to start. Get as much experience and practise as you can as a volunteer! Link up with mentors and network. Put your hand up for as many shifts as you possibly can. I started off doing all-nighters and wouldn't be where I am today without it!"
Polly 'PJ' Harding – KIIS 101.1's Jase & PJ in the Morning
"Don't be afraid to chase what you really want to do. If you have a dream, work hard, manifest it and back yourself 100%. Do not compare yourself to anyone else! Focus on your own strengths and stay committed to your vibe."
Mel Tracina – Nova 100 afternoon announcer
"There is so much strength in being a female in the industry so never let it be a weakness. Champion others and surround yourself with those who champion you."
Bridget Hustwaite – triple j Good Nights
"The best advice I received was from Jane Gazzo. She said you cannot wait for doors to open, instead you need to f*#cking kick them down! That really stuck with me and rising through the ranks, I really tried to seize every opportunity. I started saying yes so much that management started calling me their seagull! That willingness and determination definitely helps."
Amie Meehan – 2GB News Presenter
"Working in the media can be cutthroat – but I'm really lucky to work alongside some really extraordinary women. I think it's important to share our knowledge and help those coming up the ranks.
And it works both ways. It's certainly the young team members teaching me about apps and Twitter. I didn't get where I am on my own. Women in our industry who came before me who offered tips and advice. It's that phone call when I pronounce something incorrectly, the email of congratulations when you get a scoop. After 15 years I'm still learning."
Cherie Romaro – General Manager Classic Hits 2CH, 2CH DAB+ Digital Channels.
"It may take years… not months to get your first break into the industry.
But it's worth the wait when you do… because Radio is a rewarding and all-consuming career no matter which area you specialise.
Work hard, be flexible, commit to as many additional skills as you can and never stop learning, and if an opportunity presents, you can take that step up.
Be determined, don't let the small stuff get you down, keep focussed on being the best you can be for your listeners, clients and importantly your work family.
Treat everyone with respect and how you would like to be treated.
Don't take anything for granted, it's a privilege to work in an industry which can give so much to audiences around the nation."
From one woman to another – no one is harder on you than you. You are good enough and deserve your place in this industry. There is a network of support, guidance and friendship to help you be the best you can be.
Thank you to everyone above who contributed their time and advice.
About the author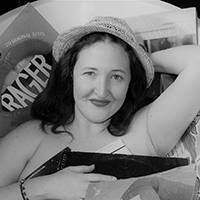 Jen Seyderhelm is an announcer, podcaster, producer, writer, news reader and music historian. She works for 2CC in Canberra.
Jen's podcast, 20/40, celebrates friendship and connection between two women with a 20-year age gap. She is taking her podcast, training and storytelling skills on the road in 2020 as part of an exciting national conversation project.
---
Subscribe to the radioinfo daily flash briefing podcast on these platforms: Acast, iTunes Podcasts, Podtail, Spotify, Google Podcasts, TuneIn, or wherever you get your podcasts.
Ask Alexa: 'Alexa, play radioinfo flash briefing' or ask Google Home: "Hey Google, play the latest radioinfo podcast briefing."
---