With over 20 years radio experience, Mike Perso has worked in numerous cities for multiple networks as an on-air announcer and in programming, promotions and marketing.
Mike's start in radio was as an announcer in his home town of Wangaratta on 3NE.
In 1987, he joined Melbourne's Fox FM as an announcer, became Program Director in 1989 and anchored the Fox Morning Crew as it climbed back to number 1 in the early 90's.
After spending years behind the microphone Mike later went on to program Gold 104 and headed up programming for MCM before returning to MMM Brisbane as Program Director in 1996.
Mike returned to Melbourne in 1998 as Program Director for Melbourne's TTFM (now Mix FM) then three and a half years later he joined Nova 96.9 in Sydney as Promotions and Marketing Director.
From 2003 Mike held the role of Group Program Director for DMG Regional Radio, overseeing 60 stations across five states and launching Hot 91 on the Sunshine Coast and Star 104.5FM the NSW Central Coast.
Mike returned to Melbourne in 2005 as Assistant Program Director and announcer for Vega 91.5FM.
At the end of 2009 he left DMG Radio to set up Mike Perso Media, specialising in programming consultation and freelance voice-overs. In 2011, the lure of radio was too great and Mike returned to host the smooth 91.5 More Music Breakfast Show in 2012.

It was Nova Entertainment's Paul Jackson who approached the seasoned presenter to host breakfast. It wasn't even called smooth at that stage.
Perso, who had already been one of a bevy of discarded talent in the ongoing shuffle to find some spark, says he wasn't jumping on any bandwagon. Rather, he took the job because he felt Jackson was "switched on with a pretty good background" and hence had the potential to "add something richer to the Australian radio landscape".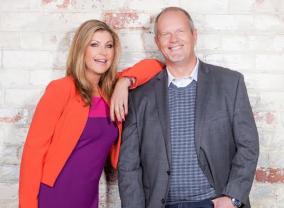 Now as smooth is about to celebrate its 5th Birthday, the brand, having tripled its audience, is number one FM in both Sydney and Melbourne.
Mike eases listeners into their mornings from 5.30am and is joined by journalist Jennifer Hansen, with the latest news.
radioinfo caught up with Mike to find out why he thinks the brand has been so successful and to hear more about why he chose to take the job Jackson offered him back in 2012.

"They just rang me up before it became smooth and said, "Look would you like to come back and do the breakfast show." And I thought "Yeah, why not." So, I did."

So obviously at that point you had no idea of what was about to unfold?

"No, I didn't. I met with Paul Jackson and he seemed like he was pretty switched on, he had a pretty good background from the UK, and a lot of different experience I guess. He had the potential to add something richer to the Australian radio landscape and it turns out that was the case. He had this little plan in his back pocket all along that he wasn't telling too many people about and I was lucky enough to be invited along for the ride."

So now that you're there, what's attractive to you about the smooth brand?

"I guess it's … It's in part because it's what I always loved about radio as a kid growing up. And that is I just loved great music. So, from a personal point of view I love the music on the station. There's a lot of music we're playing on the radio station now, that wasn't getting a run for a long time, so it's good to welcome those songs back. From the professional point of view, it's just very well executed, it's well thought out, it's got a very clear position in the market, and I think that's it's, in a lot of ways, the key to its success.

"Jackson said, "We're not going try and be all things to everybody, we're just going to be what we reckon we need to be." Which is just this radio station that's easy to listen to."

And as a brand, it doesn't seem to be in your face in terms of marketing. So, for it to be so successful without all the hype surrounding it, is cool.

"It is. I'm very, very, proud of that. Especially the breakfast show. I mean we can't rely on big international guests or a hot new talent coming through. We have the big station promotions like the mystery word, or Smooth stars. That doesn't start on the breakfast show till 8:30, so it's only the last half hour of the show that it really impacts, so what we've been able to achieve both in Sydney and Melbourne on breakfast with just basically some hopefully nice people playing good records and having a meaningful relationship with their audience, it's not stunt driven, or celebrity driven… I'm very proud of that."

Melbourne really is a tough breakfast market with 3AW, Eddie McGuire's Hot Breakfast on Triple M, then you've got the ABC. What are you guys doing within your show to remain so competitive?

"I think it's actually just answering a need that's there in the market. There are lots of radio stations doing, in a sense, very similar versions of very similar stuff. You know, what's the hot new show-biz interview, what's the controversial sort of topic, and sometimes I wonder if that's more about them than it is about the listener. And what we do on smooth, what is absolutely upper-most in our mind always, is "What's the value of this to the listener, and does it sit within what we promise smooth is?" Which is an easy place to relax, somewhere you can escape. And I think as long as we stay true to that, to think about the listener, I think we'll be alright."

So, as Melbourne's fastest growing brand, is that why smooth has captured the city?

"Yeah, and this is the thing. We're very much like the duck on the water…gliding along smoothly on top but paddling like buggery underneath. You know what I mean? We really make a big effort with everything we do, from what's going on in the city, what's going on in people's lives, and to make it something that they feel at home with, and belong with us. And we get such great feedback from our listeners. They tell us how we're really a part of their lives, and that to me is the most gratifying thing."

As a former programmer, what are the powers that be doing right that has seen smooth become such a force within what is really, in terms of radio life, a very short period of time?

"Well I think two things. One is that they came out and they decided "We're not going to try and carve out part of someone else's turf. We're going to go out and create our own niche in the market." And there's a great saying that I think really holds true, "It's good to be better, but it's better to be different." You can try and be a version of someone else, that's a long, long, hard road to go. Or you just say, "Right we're going to try and do something that's unique and different.

"We've done that and then the key to it is sticking with it and delivering on a promise. If it's smooth, it's got to sound like smooth.

"The day it doesn't sound like Smooth when you turn it on is the day that you're going to be in trouble. So, it's very much a case of you do what it says on the box."

So, by adhering to that, do you believe smooth can continue to remain a dominant force?

"Ah look … dominant's not a very smooth word is it?

"What we can do is we can remain a, I think, valued and welcome part of people's lives. And I think that, to me, is the most important thing of all. I mean, from just a hard-nosed commercial point of view, if you're a radio station that people really feel like they're connected with and belong to, then they're probably going to be much more loyal listeners for a longer term. We're not going to be the one that ebbs and flows on the hot new fads, because we're lucky. That's the other thing that I think they've done very cleverly in putting smooth together, is that if there's a brand-new song that really suits smooth, then we'll play it. If there's a million old songs that really suit smooth then we'll play it. We're not stuck in a particular category, or era, or anything really. Just as long as it sort of fits the mood of the radio station. I think that gives us long legs as a brand."

You said a lot of the promotions, kick off after 8:30. Will you be recognising smooth's fifth birthday within your show?

"Look I don't think we'll make a big song and dance about it, it's not really our nature to do it, but I think we'll probably … this sort of says a lot about how much thought we've given it, doesn't it? Look, we'll probably mention it, but we won't be patting ourselves on the back too much. I think when we get to 10 years we might really think about it, but I think five, we'll just say "Whoo, here we are."

Other recent coverage of Smooth: