Americans listen to 4 hours and 7 minutes of audio per day, according to the latest Edison Report, measuring Share of Music.
3 hours 16 minutes of that is spent listening to music.

79% of listening is to music, with 9% listening to news and another 9% listening to talk personalities. 3% of listening is to sport. Click here to pop out a large image of the chart (right).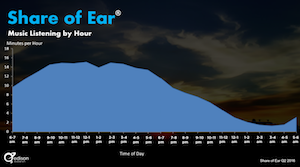 Contrary to established ratings data, the Share of Ear report (left) shows peak listening between about 9am – 1pm.
Place of listening results show that longest listening takes at home (52%), followed by time spent listening in a vehicle (28%), with the third largest TSL being at work (15%).
AM/FM Radio is still the platform with the longest time spent listening, but owned music and streaming audio are increasing their TSL compared with previous surveys (see chart below).

In car TSL is the most significant, with 67% of listeers choosing AM/FM radio for their commute. The research makes that point that the average vcar in the USA is over 11 years old, suggesting that when cars are upgraded, consumers may change their habits if they have other listening options such as connected dashboard audio. Only 12% of American drivers currently have an in-dash entertainment system.
Of streaming services, Pandora still has the highest recognition with consumers, although Apple Music is catching up fast, and is then second most recognised streaming brand. iHeartRadio is third and Spotify is fourth most recognised music streaming service in the USA. Smartphone users listen to more of thier owned music and streaming music than they listen to radio on their smartphones.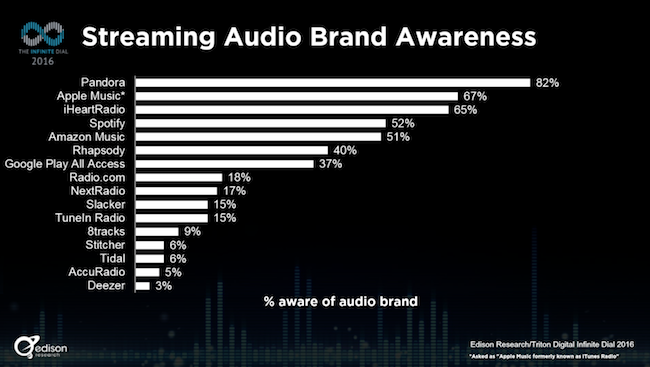 Edison's Share of Music and Share of Ear research is conducted quarterly. Click the tag cloud to see earlier reports.